DEPARTMENT OF LAND AND NATURAL RESOURCES
News Release
DAVID Y. IGE
GOVERNOR

SUZANNE D. CASE
CHAIRPERSON
For Immediate News Release July 23, 2018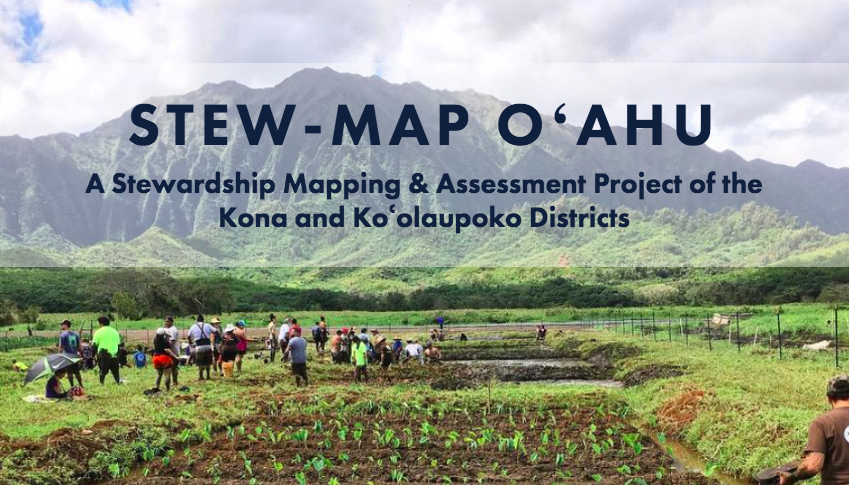 GETTING STEWARDSHIP PROJECTS ON THE MAP
Are you a part of the community that cares for our lands and waters?
If so, get on the map!
(HONOLULU) – Are you a part of the community that cares for our lands and waters?  While natural resource managers and conservation professionals prepare to gather in Honolulu this week for the annual Hawaiʻi Conservation Conference, they represent only a part of the larger community of stewards.  Community-based and civic stewardship groups are crucial to the well-being of our communities, yet many of their activities are not understood or even recognized.
If you are part of this larger stewardship network, the Stewardship Mapping & Assessment Project wants to hear from you!  The project is an effort to better understand, highlight, and support community groups that care for the many special places in Hawai'i.  The first phase on Oʻahu is focused on Kona and Koʻolaupoko districts, with other districts and islands to be included in the future.  To receive the survey so your group can get on the map, or to refer us to other groups, email[email protected]net or follow the links in our website: StewMapHawaii.net. The deadline is August 13th, so sign up today.
The Stewardship Mapping & Assessment Project collects survey data to create a public online stewardship database and map of community, civic, and other organizations that mālama ʻāina and kai. This database can identify gaps and overlaps, and create resources to strengthen capacity to mālama ʻāina; it can also serve as a networking tool for organizations, volunteers, and agencies.
The project was launched ten years ago in New York City and has since been applied in a range of cities including Chicago, Seattle, Philadelphia, Los Angeles and internationally in France, Colombia, and China.
Last year, the project focused on West Hawaiʻi island (North Kona and South Kohala districts) where 129 groups and agencies participated.  Preliminary analyses show that the community-based network of stewardship is profound— extending and cross-cutting from mauka to makai and including formal, informal, large and small groups.  Not all are solely focused on stewardship, per se, some are canoe clubs, schools, faith-based organizations, neighbors, and ʻohana, yet they all contribute to the care of the land. The full results will be shared in the coming year.
The Stewardship Mapping & Assessment Project on Oʻahu is supported by the U.S. Department of Agriculture Forest Service Region 5 and the Department of Land and Natural Resources Division of Forestry and Wildlife. It operates in partnership with the Kaulunani Urban & Community Forestry Program of the Division of Forestry and Wildlife, (DOFAW) and the University of Hawaiʻi at Mānoa; and in collaboration with Kākoʻo ʻŌiwi; Smart Trees Pacific; Paepae o Heʻeia; Hawaiʻi Coastal Zone Management; The Outdoor Circle; Resilient Oʻahu of the Honolulu Office of Climate Change, Resiliency, and Sustainability; Kuaʻāina Ulu ʻAuamo; Pacific Internship Programs for Exploring Science; Promise to Pae ʻĀina; and the Polynesian Voyaging Society.
For further information contact:
Heather McMillen, Ph.D.
DOFAW Urban & Community Forester
Phone: (808) 587-0054
[email protected]net
# # #
Media Contact:
Deborah Ward
DLNR Communications Specialist
Phone: (808) 587-0396