DEPARTMENT OF LAND AND NATURAL RESOURCES
News Release
DAVID Y. IGE
GOVERNOR

SUZANNE D. CASE 
CHAIRPERSON
For Immediate News Release: September 29, 2018 
NEW INFORMATION KIOSK
AT 'ĀHIHI-KINA'U SHARES MALAMA MESSAGING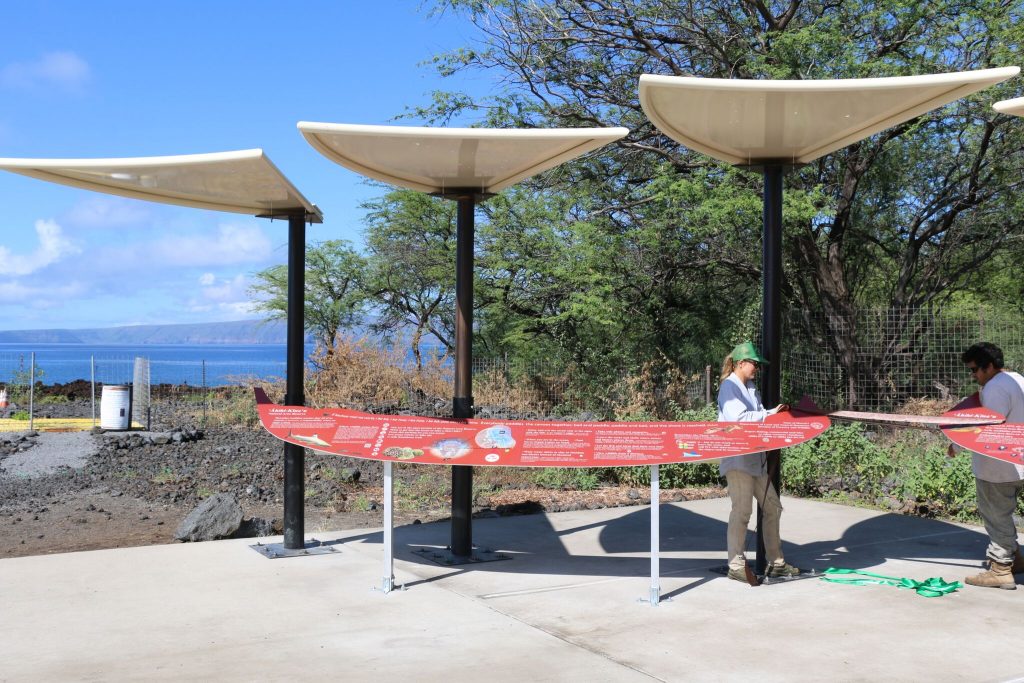 (Click on image to watch video)
(Kihei) -A wise old saying, an 'olelo no'eau, sums up what the staff at 'Āhihi-Kina'u (NAR) hope people will get out of its new information kiosk: Everybody paddles the canoes together; bail and paddle, paddle and bail, and the shore is reached (E lauhoe mai na wa'a; i ke kā, i ka hoe; i ka hoe, i ke kā; pae aku i ka 'āina).
NAR staff is asking everyone, residents as well as visitors, to paddle together, to protect its resources each time they visit.  They hope the central idea, that caring for a place is everyone's responsibility, comes through loud and clear with the new outdoor information kiosk. This is why the information panels are in the shapes of two wa'a, or canoes, and the shade structures overhead are in the shapes of canoe sails. 
'Āhihi-Kina'u is the third most visited outdoor site on Maui, with up to 900 people snorkeling the reefs at Kanahena, and an average of over 2,000 passing through its main parking lot daily. People come to snorkel, swim, surf or take a short hike.  Jeff Bagshaw the reserve's Information Specialist explained, "Most of our visitors don't realize the reserve's first mission is to protect its exceptional resources, not to create recreational opportunities.  Fewer still understand the collective impact so many people can have when doing simple, careless things, such as getting in and out of the ocean at random points on the coastline, standing on either corals or algae covered rocks in the ocean, or wearing chemical sunscreens into the water."
"Nowadays, most people don't have the patience to go through a visitor center and learn about a place, they want to have an adventure first and ask questions later," notes Jeff Bagshaw.  "That's why we designed an outdoor kiosk that we hope everyone will stop to read for just 60 seconds before they go hiking or get into the water.  The canoe-shaped panels will hopefully attract people to stop and look at the map to see where they are, read the rules, the reasons we have them, and then do the simple things to care for themselves and this place each time they visit, to make less of an impact." 
The 'olelo about paddling appears on the southside or left panel which explains about the reasons for the reserve's existence. Many people think about the reserve as only one thing: their favorite snorkel or surf spot, but there's more to it than that.  So the northside or right panel starts with a quote from the Kumulipo: Hanau ka 'Uku-ko'ako'a, hanau kana, he 'Ako'ako'a, puka (Born was the coral polyp, born was the coral, came forth).
Corals are the first living organisms cataloged in this creation chant, which means for many generations they have been recognized as a basis for island life.  The reserve's famous reef is just one of five major resources it was created to protect.  It also contains the youngest lava flows on Maui, from origin point to sea. In addition, there are anchialine pools, dryland forests, and many important archeological sites.
"This is a cultural landscape too and that's probably the hardest resource to visualize or grasp.  This is what a healthy reef should look like, as close as we can get to the way you would have seen it hundreds of years ago, this is what a new lava flow would have looked like to people many generations back. You can swim in their footsteps," said Bagshaw.  "That's another reason we chose the shapes of the wa'a, to honor and recognize traditional wisdom."  For the observant, other cultural messages are woven-in.  On the left panel, all the animals pictured are also 'aumakua.  On the right panel, all but one species shown are endemic, or found only in Hawai'i.  Even strategically placed holes in the shade panels overhead contain some clues about traditional navigation. 
QR codes and URL addresses direct the curious to more in-depth and up to date information about the resources such as coral reef biology, anchialine pools and more posted on DLNR's website.
Padilla Designs, a local Maui company that specializes in artistic/architectural metal works, built the sail-shaped shades, and a generous donation from an anonymous donor helped complete funding for the project.  Many paddlers again. 
"When someone tells me they've been coming here for years, then admits they learned something new, there's hope we can protect this place," reflects Bagshaw.  "Recently, a visitor told me she felt like she was entering a sacred place, and I said that to many of us, you are." 
# # #
Media Contact:
Dan Dennison
Senior Communications Manager
(808) 587-0396