DEPARTMENT OF LAND AND NATURAL RESOURCES
News Release
DAVID Y. IGE
GOVERNOR

SUZANNE D. CASE 
CHAIRPERSON
For Immediate News Release: October 30, 2018 
STATEWIDE TREE CELEBRATIONS TAKE PLACE FIRST WEEKEND IN NOVEMBER
Arbor Day Tree Event Now In Its 50th Year On Kaua'i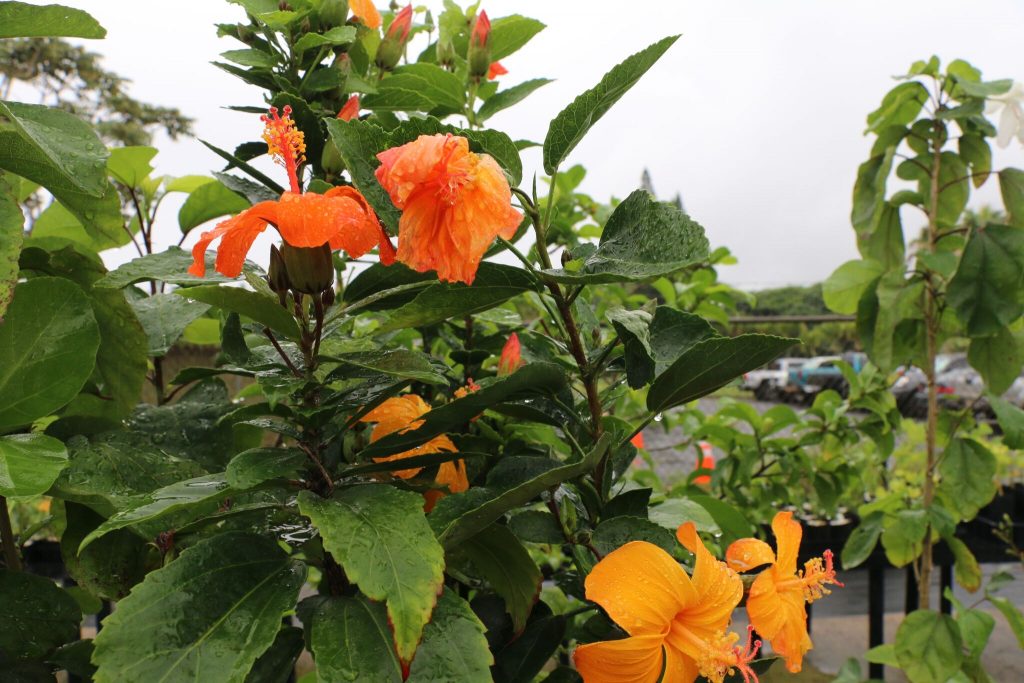 (Click on image to watch video)
(Lihue) – In 1968, Hawai'i had its first official Arbor Day plant and tree sale or giveaway, building on more than a century of recognizing this internationally designated holiday. It was on Kaua'i and for the past 50 years the annual celebration of trees and plants has continued, expanding across the state with a multitude of tree and plant giveaways and sales. This week thousands of plants are being readied for sale with lots of help from ample rain.
Kaua'i holds two events this weekend, beginning with the annual DLNR Division of Forestry and Wildlife (DOFAW) native plant sale on Friday at the DOFAW base yard in Lihue.  DOFAW Horticulturist Lynlie Waiamau has spearheaded this Arbor Day event for the past 11 years.  She said what makes it particularly unique, even a half-century later, is people can buy threatened and endangered (T&E) species to plant in their home gardens or yards. She ticks off the scientific or Hawaiian names for some of these T&E offerings, "Hibiscus clayi, hybiscus brakenridgei, and Koki'o ke'oke'o. Prices range between $3 and $40 and Waiamau says it would be challenging to find some of these rare plants for sale in a commercial nursery.
Arbor Day, a designated holiday around the world, is dedicated to honoring, planting and enjoying the benefits of trees.  They provide shade and beauty to your home or provide fruit for eating. In addition to the Kaua'i 50-year anniversary plant sale and two Arbor Day sales on Hawai'i island, this year, DOFAW's Kaulunani Urban and Community Forestry program is funding tree giveaways of plants and seeds at five events on Oʻahu, one on Maui and one on Kauaʻi. Master Gardeners, arborists, and local volunteers, will be at each giveaway to share information on the best growing environments and tree care for each species.    
In Honolulu, Mayor Kirk Caldwell will kick off the Arbor Day Festival on November 3rd at Foster Botanical Garden by sharing his commitments to Honolulu's urban forest and the goal of planting 100,000 trees.  People are welcome to pick-up a tree, enjoy music, food, forest yoga, forest bathing, lauhala weaving and fun and educational activities for adults and keiki.
Tips from the experts for successful planting and growing include: before you pick up your new seedling, take time to plan for its survivial. The key is to plant the right tree in the right place.  Make sure there is room for it to grow to full size without coming into conflict with wires, other trees, buildings, etc. Plan for watering and maintenance. 
The 2018 Arbor Day Oʻahu giveaways are presented in partnership by the DOFAW Kaulunani Urban and Community Forestry, the USDA Forest Service, City and County of Honolulu, Oʻahu Urban Garden Ohana and Smart Trees Pacific.  Hawaiian Electric Company provided a grant of $9100 to the O'ahu Urban Garden Ohana.
# # #
Oʻahu Tree Giveaways
Saturday, November 3, 2018, 9:00 a.m.
Honolulu – Foster Botanical Garden (180 N. Vineyard Blvd.)
Pearl City – Urban Garden Center (955 Kamehameha Hwy.)
Central Oʻahu – Wahiawa Botanical Garden (1396 California Ave.)
North Shore – Waimea Valley Botanical Garden (59-864 Kamehameha Hwy.)
Windward – Kailua United Methodist Church (1110 Kailua Road)
Kaua'i  Plant Sale
Friday, November 2, 2018, 8:00 a.m. – 2:00 p.m.
DOFAW Baseyard and Nursery, 4398-D Pua Loke St., Lihue
Kaua'i Tree Giveaway
Saturday, November 3, 2018, 9:00 a.m.
Kukui Grove Center, 3-2600 Kaumualii Highway #1400, Lihue (Parking lot behind Walmart) 
Maui Tree Giveaway
Saturday, November 3, 2018, 9:00 a.m.
Maui Nui Botanical Gardens, 150 Kanaloa Ave., Kahului
Hawai'i Plant and Tree Sales
Friday, November 2, 2018, 8:00 a.m. – 1:00 p.m.
DOFAW Baseyard, 19 E. Kawili Street, Hilo
Friday, November 2, 2018, 8:00 a.m. – 1:00 p.m.
DOFAW Tree Nursery, 66-1220 Lalamilo Farm Road #A, Kamuela
Media Contact:
Dan Dennison
Senior Communications Manager
Phone: 587-0407