DEPARTMENT OF LAND AND NATURAL RESOURCES
News Release
DAVID Y. IGE
GOVERNOR

SUZANNE D. CASE
CHAIRPERSON
FOR IMMEDIATE RELEASE
Feb. 26, 2019
INTRODUCED INVASIVE MULLET MAY OUTPACE NATIVE 'AMA 'AMA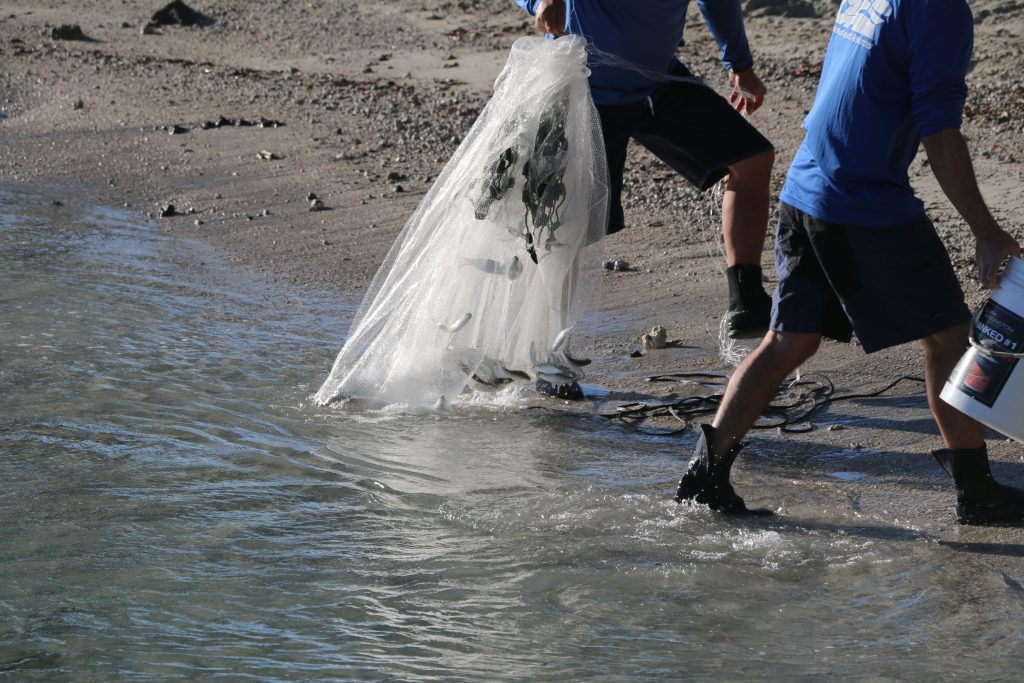 To view video please click on photo or view at this link: https://vimeo.com/320032986
(Hilo) – After seeing schools of pua ʻamaʻama (juvenile mullet) swim by in a muliwai (estuary) or a fishpond you may think that all is well. Unfortunately, you are likely looking at an invasive mullet, especially if it's less than eight inches long.
Researchers at DLNR's Division of Aquatic Resources (DAR) and Conservation International have moved one step closer to understanding how this introduced mullet, locally known as Kanda mullet (Osteomugil engeli), took over muliwai and fishponds by studying this species' life history.
Researchers found that Hawaiʻi populations of Kanda mullet spawn year-round and start to reproduce at a young age, just over 200 days, when they are about 5.5 inches long. The species does not appear to live long because few of individuals sampled for the study were more than one-year old. These results were consistent for populations sampled in both Maunalua Bay on O'ahu and Hilo Bay on Hawai'i island.
Dr. Eva Schemmel of Conservation International and author of the study said, "These aspects of this species' life history likely contribute to its successful invasion of Hawaiian estuaries after an accidental introduction."
As DLNR DAR estuary team focuses on muliwai across the State the extent and impacts of the Kanda mullet invasion in Hawaii are coming into focus. Justin Goggins, DAR Invasive Species Biologist, stated that, "Understanding an invasive species life history helps resource managers assess negative impacts of this species in muliwai and develop an invasive species management strategy for Kanda mullet."
How does the Kanda mullet life history compare to the other two native mullet species? The popular sportfish ʻamaʻama (Mugil cephalus) begins to spawn at about 14 inches long, when it is three to four years old. In Hawaiʻi ʻamaʻama spawn only in the winter months. "Clearly, ʻamaʻama has disadvantages in terms of its life history traits compared to the weed-like traits of Kanda mullet. This predicament is further magnified when you consider that Kanda mullet are rarely targeted as a fishery while ʻamaʻama is a prized catch, "said Dr. Kim Peyton of DAR and another author of the study.
If you are wondering how the other native mullet Uouoa (Neomyxus leuciscus) compares to Kanda mullet, you're not alone. Turns out, just like the Kanda mullet previously, nothing is known about the life history of Uouoa anywhere in its range. Research by the DAR estuary team is underway to fill in missing data for Uouoa.
# # #
Media Contact:
Dan Dennison
Senior Communications Manager
(808) 587-0396
[email protected]