DEPARTMENT OF LAND AND NATURAL RESOURCES
News Release
DAVID Y. IGE
GOVERNOR

SUZANNE D. CASE 
CHAIRPERSON
FOR IMMEDIATE RELEASE
March 9, 2019
750 TREES PLANTED TODAY BY VOLUNTEERS AT THE WAI'ANAE KAI STATE FOREST RESERVE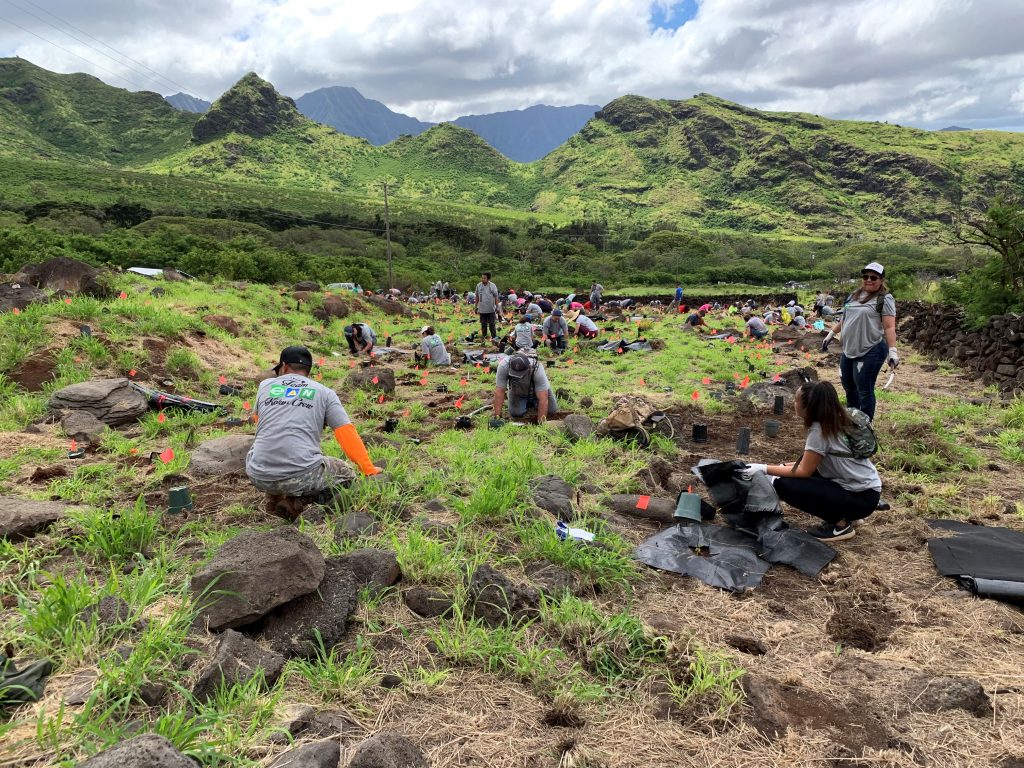 (Waiʻanae) – More than 75 Enterprise employees today joined the Arbor Day Foundation, the Department of Land and Natural Resources Kaululani Urban and Community Forestry Program, and the Waiʻanae Mountains Watershed Partnership (WMWP) to plant 750 trees at the Waiʻanae Kai State Forest Reserve in Waiʻanae. The event is part of a program – called the Enterprise Urban Tree Initiative – which invests in cities, through tree distribution and neighborhood planting events, which have been devastated by natural disasters.
The Enterprise Rent-A-Car Foundation – the philanthropic arm of Enterprise Rent-A-Car – is pledging $2 million over the next two years to fund 40 community tree-planting events happening around the country. This donation is in addition to Enterprise's ongoing partnership with the Arbor Day Foundation, known as the 50 Million Tree Pledge. Established in honor of the company's 50th anniversary, the 50 Million Tree Pledge funds the planting of 50 million trees throughout the U.S., Canada, France, Germany, Spain and the U.K.
"The Enterprise Urban Tree Initiative brings our employees together to volunteer in communities like Waiʻanae that have been devastated by natural disasters, such as wildfires," said Chris Sbarbaro, Enterprise Hawaii Vice President of External Affairs. "We support the Arbor Day Foundation and its partners in their efforts to build strong communities from the ground up and create a sustainable and inclusive future for all."
The Enterprise Urban Tree Initiative builds on Enterprise's commitment to supporting communities affected by hurricanes, tornadoes, wildfires, floods, hailstorms and other natural disasters. Each project is individually selected to prioritize immediate reforestation needs and to help restore ecosystems after natural disasters strike.
"Unfortunately, wildfires have become more frequent in Wai'anae. The cycle of infrequent, heavy rain followed by dry, hot and windy weather creates the perfect conditions for fast-moving, intense fire. A recent fire in August 2018 burned more than 1,500 acres of the forest reserve, threatening native forests important for water recharge," said Yumi Miyata, WMWP Coordinator and Chair of Hawaii Association of Watershed Partnerships. 
"Not only is this a devastating loss to our forests, but the ripple effect is expected to cause bare-ground exposure, plant invasions, debris and erosion, while also decreasing water quality and negatively affecting nearby coral and marine life. The communities in this area are largely comprised of Native Hawaiians with a strong sense of kuleana to mālama their natural, historical and cultural resources," added Miyata. "Enterprise's support will go a long way in our efforts to preserve areas like these for future generations." 
For more information on volunteer opportunities with WMWP, please contact Yumi Miyata, WMWP Coordinator at (808) 227-9545, [email protected].
Media contact:
AJ McWhorter
Communications Specialist
Hawaii Department of Land and Natural Resources
[email protected]
808-587-0396 (Communications Office)
www.dlnr.hawaii.gov