DEPARTMENT OF LAND AND NATURAL RESOURCES
News Release
DAVID Y. IGE
GOVERNOR

SUZANNE D. CASE
CHAIRPERSON
For Immediate News Release: May 23, 2019
BOATING DIVISION TO AUCTION OFF FIVE IMPOUNDED BOATS
Navatek II included in June 28th Auction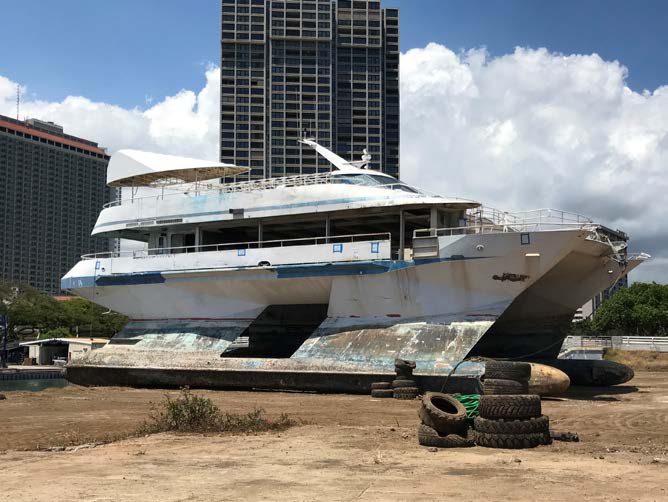 (Honolulu) – On Sunday, the Honolulu Star-Advertiser will publish a legal notice from the DLNR Division of Boating and Ocean Recreation (DOBOR) announced a public auction of five (5) impounded vessels from the Ala Wai and Keehi Small Boat Harbors on O'ahu. Bidders must appear in person at the June 28th auction to be held at the DOBOR District Office at 4 Sand Island Access Road beginning at 9 a.m.
The vessels to be auctioned are as follows:
1994, 85-foot-long Catamaran (SKYE aka Navatek II), minimum bid upset price – $20,000
Unknown year, 22-foot-long Panga (Japanese tsunami marine debris), minimum bid upset price – $500.00
1994, 60-foot-long Trimaran (L'HYDROPTERE), minimum bid upset price – $8,000
1982, 44-foot-long Trawler (MALAMA KAI), minimum bid upset price – $5000
1977, 37-foot-long sailing vessel/sloop (KI'IHELE), minimum bid upset price- $5000
All of the boats will be sold in "as is and where is" condition with no warranties or guarantees.  With the exception of the Navatek II, all of the vessels must be removed from State property within three days of sale. 
The winning bidder for the Navatek II has 30 days in which to remove the large vessel from land at the Ala Wai Small Boat Harbor and DOBOR is willing to work with the successful bidder in accomplishing the removal. Failure to remove vessels within the specified time periods will result in enforcement action, which can include issuance of a citation, fines, or re-impoundment of the vessel. The boats cannot be relocated to any State Harbor facility without a permit.
Proceeds from the auction will be placed into the State Boating Special Fund, which is the sole source of funding for small boat harbor operations, maintenance, and repair.
# # #

Vessel auction packet:
Media Contact:
Dan Dennison
Senior Communications Manager
Hawaii Dept. of Land & Natural Resources
Communications Office
[email protected]
(808) 587-0396