06/24/19-NEW FEES AT KOKE'E & WAIMEA CANYON STATE PARKS
Posted on Jun 24, 2019 in BLNR, slider, State Parks
DEPARTMENT OF LAND AND NATURAL RESOURCES
News Release
DAVID Y. IGE
GOVERNOR

SUZANNE D. CASE
CHAIRPERSON
For Immediate News Release: June 24, 2019
NEW FEES AT KOKE'E & WAIMEA CANYON STATE PARKS
Only For Commercial Tours & Out-Of-State Visitors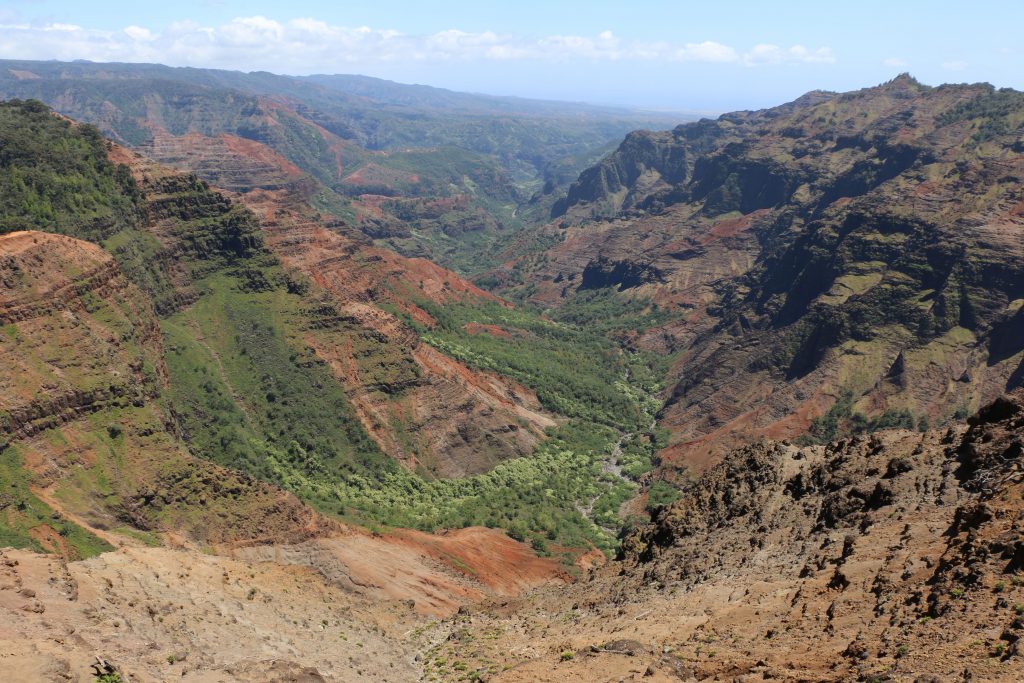 To view video please click on photo or view at this link: https://vimeo.com/113343609
(Honolulu) –  Out-of-state visitors and commercial tour buses will begin paying parking fees at Koke'e and Waimea Canyon State Parks on Kaua'i beginning Friday, June 28, 2019.
These fees were approved by Governor Ige in December of 2015 and had previously been approved by the Board of Land and Natural Resources (BLNR) in 2010. A DLNR Division of State Parks analysis of parking and entry fees for large state parks frequented by visitors and commercial tours companies were identified as a source for critically needed operating funds.
In April the BLNR approved the issuance of Revocable Permits to Republic Parking for the management of parking and entry to Hāʻena State Park and to Waimea Canyon and Koke'e State Parks. Parking and entrance fees at Ha'ena were instituted in conjunction with the park's reopening on June 17.
Due to the devastating Kauai floods in April of 2018, Hāʻena State Park, Nāpali Coast State Wilderness Park and the popular Kalalau trail and campground were closed and State Parks issued thousands of dollars in camping refunds. This also means no camping fees were collected during the 14-month-long closure.
Additionally, the closure of the Nu'uanu Pali Lookout on O'ahu due to rockslides also contributed to an additional loss of fee based parking and entry revenue. State Parks estimates this will be a $100,000 shortfall by August. These events collectively resulted in a significant loss in State Park revenue to supplement park unit operating funds.  
Division of State Parks Assistant Administrator Alan Carpenter commented, "With Hāʻena reopening, there is an increase in operating and maintenance costs. As we now establish visitor limits, the parking and entrance fees generated at Hāʻena will be modest and this revenue is extra important."
DLNR Chair Suzanne Case said, "With Hawai'i seeing record numbers of tourists (over 10 million projected for this year) we are simply at the point where we need visitors to share in the increased costs to maintain our parks."
Division of State Parks Administrator Curt Cottrell concluded, "While fees are an essential fiscal tool for enhancing park operating funds, they can be severely jeopardized by devastating natural events that force the revenue generating park to be closed. As such, increases in both general funds and allocations of the transient accommodation tax are also needed for a stable, balanced and resilient State Park operating fund portfolio."
Waimea Canyon and Kokee' State Park fees: 
Resident:                                             no charge
Visitor:                                                 $5.00 per vehicle
Pedestrian, moped, motorcycle         $1.00 dollar per person 
Commercial PUC vehicle:
1-7 passenger vehicles:                     $10.00
8-25 passenger vehicles:                   $20.00
26 + passenger vehicles:                    $40.00 (Waimea Canyon SP only)    
# # #
Media Contact:
Dan Dennison
Senior Communications Manager
(808) 587-0396
[email protected]