06/25/19-KAULUNANI URBAN AND COMMUNITY FORESTRY PROGRAM CALL FOR 2019 GRANT PROPOSALS
Posted on Jun 25, 2019 in Forestry & Wildlife, slider
DEPARTMENT OF LAND AND NATURAL RESOURCES
News Release
DAVID Y. IGE
GOVERNOR

SUZANNE D. CASE
CHAIRPERSON
For Immediate News Release: June 25, 2019
KAULUNANI URBAN AND COMMUNITY FORESTRY PROGRAM CALL FOR 2019 GRANT PROPOSALS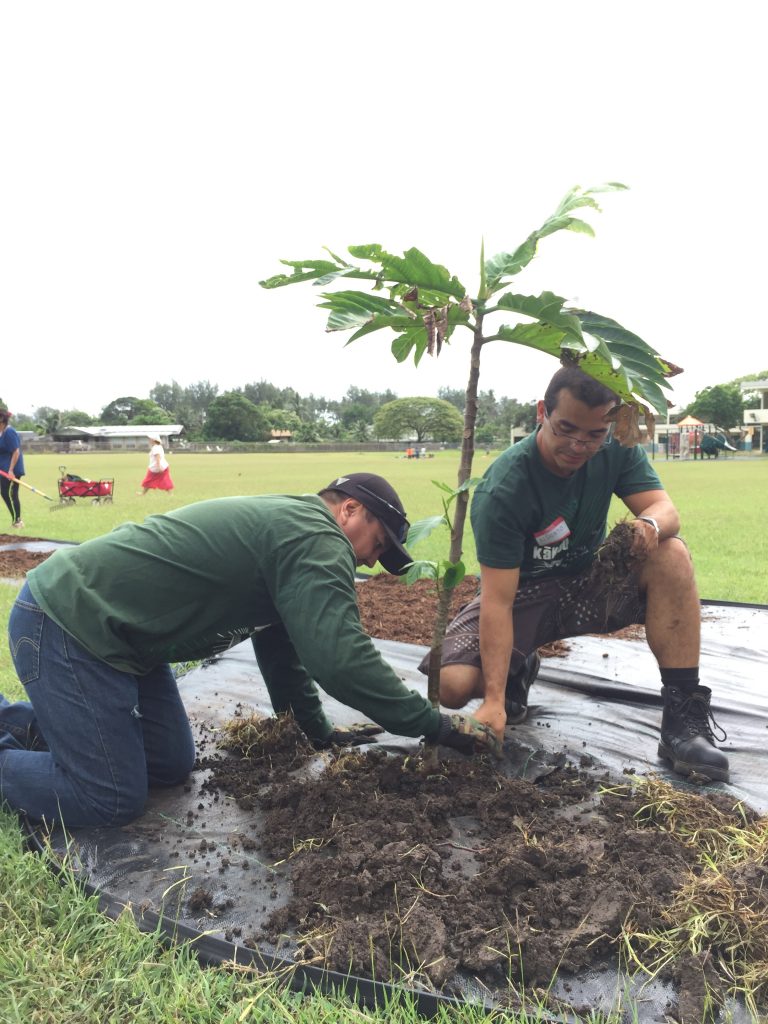 (Honolulu) — Do you know a school, community group, non-profit organization, or business that cares about greening our environment? Funding is available to help get your project off the ground.  The DLNR's Kaulunani Urban and Community Forestry Program announces a call for statewide grant applications that support urban and community forestry.
Grants are awarded to projects that respond to a need identified in DLNR's Forest Action Plan, Urban Forestry Chapter, which can be found on Kaulunani's website. With urban tree canopy in decline in urban areas and benefits that trees provide for communities ever more valuable, now is an excellent time to start a project. The Kaulunani Grant Program has awarded hundreds of grants to nonprofit organizations, schools, community groups, parks, museums and arboretums across the State of Hawai'i for a diverse range of urban and community forestry projects.
Several different levels of grants are available:
"Cool Your School" Grants: School grant requests between $500 and $3,000.
'ILIMA Grants: Requests under $2,500.
MĀMAKI Grants: Requests between $2,500 and $14,999.
'ULU Grants: Grant Requests OVER $15,000, targeting specific special funding opportunities. 'Ulu grants consider requests up to $300,000. The complete list of grant opportunities is available on the Kaulunani website.
Kaulunani grant recipients have made our communities greener, healthier, and more beautiful. This state and federally funded grant program has enabled the planting of countless trees, raised awareness of the importance of trees and our environment in dozens of communities and has involved hundreds of Hawai'i residents in caring for the 'āina.
Applications are accepted on a quarterly basis with the following deadlines for 2019: February 1, May 1, August 1, and November 1.  Applications received by August 1st will receive priority consideration for current year funds. The Kaulunani Advisory Council reviews proposals at the subsequent quarterly meeting following each deadline. Grants are made to projects that match or exceed the federal grant funds in cash and in-kind contributions. One grant request per applicant will be considered.
Upcoming informational workshops in June: We will teach you how to write an application that meets the grant requirements. This informational session is a great opportunity to ask questions and get feedback for your ideas. Our staff are available to actively work with you through the application process.
Grant Information In-person Workshop:
Date: Wednesday, June 26th, noon to 1:30 p.m.
Place: DLNR Board Room, 1151 Punchbowl St., Honolulu, HI  96813
RSVP by June 25th to Jolie Dollar at [email protected]
Grant Information Webinar:
Date: Friday, June 28th, noon to 1pm
Who: Perfect for neighbor island participants to take advantage of the workshop and ask questions.
Place: At your own computer. Instructions about how to join will be given when you RSVP.
RSVP by June 27th to Jolie Dollar at [email protected]
For more information about the Kaulunani Urban and Community Forestry Program and cost-share grants please contact Heather McMillen, DOFAW Urban & Community Forester, at 808-587-0054; [email protected].
Kaulunani is a USDA Forest Service federally funded urban forestry program of the Department of Land and Natural Resources (DLNR) Division of Forestry and Wildlife, and is managed by the non-profit organization Smart Trees Pacific. This work is being funded entirely or in part by the Kaulunani Urban and Community Forestry Program of the DLNR Division of Forestry and Wildlife and State and Private Forestry branch of the U.S. Forest Service, Department of Agriculture, Region 5. This institution is an equal opportunity provider.
# # #
Media contact:
AJ McWhorter
Communications Specialist
Hawaii Department of Land and Natural Resources
[email protected]
808-587-0396 (Communications Office)