DEPARTMENT OF LAND AND NATURAL RESOURCES
News Release
DAVID Y. IGE
GOVERNOR

SUZANNE D. CASE 
CHAIRPERSON
For Immediate News Release: August 28, 2019
NEW DIRECTORY CONNECTS HAWAIʻI'S THRIVING WOOD INDUSTRY AND CONSUMERS
Hawaiʻi Wood Utilization Team launches Wood Products Directory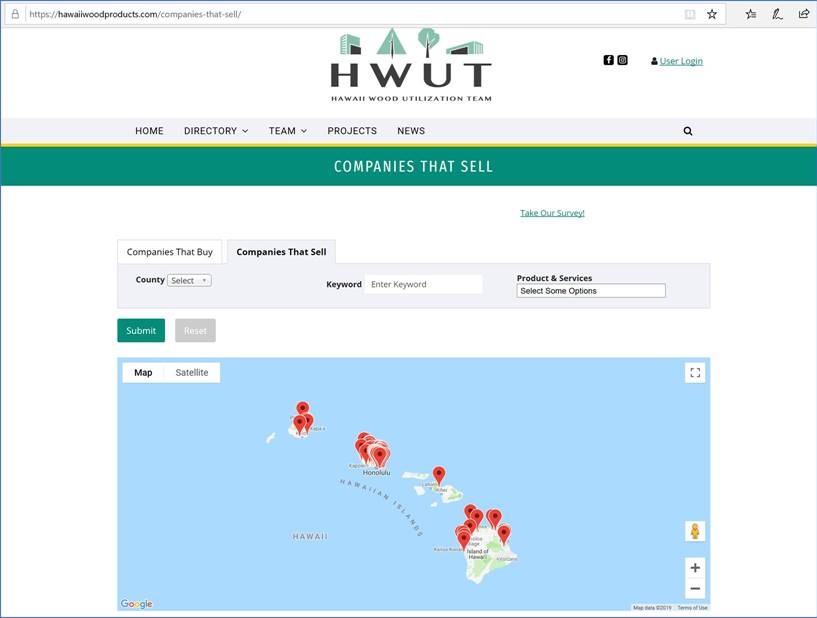 To view video please click on photo or view at this link: https://vimeo.com/309677133
(HONOLULU) – Exploring Hawai'i's diverse forest industry and connecting to any of the hundreds of businesses passionately involved with wood is now just a click away.  The Hawai'i Wood Utilization Team (HWUT) is launching the Hawai'i Wood Products Directory. It's an online search engine designed to highlight and connect the state's wood industry while making it accessible and transparent to interested consumers.
HWUT is a group of experts initiating innovative, cross-sector ideas and projects to expand wood product markets in Hawai'i. It includes members from forestry, architecture, design, engineering, wood products, construction, finance, marketing, research and Hawaiian cultural practices.
The Hawai'i Forest Industry Association (HFIA), a team member, spearheaded the development of the directory and the website. Michael Tam, CEO of Martin & MacArthur and HFIA Board Member, represents HFIA on the team. He stressed, "This directory is a valuable resource for Hawai'i's governments, businesses and people in the forest products industry. It connects buyers and sellers of a variety of wood products and services."
Directory goals include:
Highlight & increase awareness of wood-related products and services in Hawai'i
Strengthen and expand the state's wood products industry by facilitating and promoting the use of wood (focusing on but not limited to Hawai'i-grown wood) in new and existing markets
Connect market players such as woodland owners, log buyers, non-timber forest product buyers, forestry consultants and contractors, manufacturing and value-added industry
Encourage the development and support of existing businesses dedicated to the use of wood
Enable entrepreneurs and architects to find the suppliers and partners they need to commercialize a product or project
Provide information about the industry including economic, environmental, and social benefits of using wood
Inform consumers about the benefits of buying wood products from Hawai'i growers, manufacturers, and retailers
The directory already contains hundreds of company profiles doing wood-related business. These include woodworkers, furniture and cabinet makers, forest owners, millwork manufacturers, architects, retail stores, consultants and contractors.
Companies that are not listed are encouraged to sign up. Creating a profile is free and takes only a few minutes. John Heideman, President of the Hawai'i Lumber Products Association (HLPA), another member of the team, points out, "Through HWUT's multiple-association membership directory, both consumers and cross-genre members will have tremendous access to the broader scope of resources within and surrounding our industry. HLPA has been dedicated to the promotion and education of wood and lumber use since 2004 and we look forward to a long-term relationship with HWUT and their members providing us all the ability to reach across different genres of our industry to better serve our community."
Businesses listed in the directory have the additional advantage of being notified when wood-related opportunities statewide become available such as timber sales and requests for proposals by the state, HFIA and others.
Other HWUT projects currently include a partnership with the Albizia Project to design and build an Accessory Dwelling Unit (ADU) prototype and design an education center on Kaua'i that will utilize locally-grown wood resources. Joseph Valenti, HWUT Director commented, "We want to inspire and educate the design and construction industry with innovative and traditional applications for building with wood. These demonstrations aim to inform the community of the opportunities and advantages of utilizing our forest resources."
The directory and the other HWUT projects were made possible by funding from the USDA Forest Service Wood Innovations grant. The program aims to expand wood products and biomass markets. A collaboration with DLNR, HFIA, the Albizia Project, and HLPA led to a proposal that was awarded the state's first grant from the highly competitive national program. Out of 119 proposals, Hawai'i's was one of 34 projects selected. The goals of the effort are to facilitate and coordinate new and innovative approaches for the use of locally‐grown wood; reduce the risks of wildfires; analyze resource and market conditions for local woods; and increase the visibility and demand for Hawai'i‐grown wood products.
David Smith, Administrator of the DLNR Division of Forestry and Wildlife (DOFAW) and an avid wood enthusiast, stated, "We're excited to see Hawai'i's diverse wood industry come together and collaborate on innovative projects that highlight the industry's significance and promote the sustainable use of our local resources. DOFAW is proud to provide leadership and support for this effort."
# # #
HWUT social media:
@hawaiiwoodinnovations
Media Contact:
Dan Dennison
Senior Communications Manager
(808) 587-0396