11/5/19 -THE CORAL PLEDGE AND SAVING CORAL TV SPECIAL PUT FOCUS ON HAWAI'I'S REEFS Visitor Industry Interests Encouraged to Take the Pledge
Posted on Nov 5, 2019 in Aquatic Resources, News Releases, slider
DEPARTMENT OF LAND AND NATURAL RESOURCES
News Release
DAVID Y. IGE
GOVERNOR

SUZANNE D. CASE 
CHAIRPERSON
For Immediate News Release: November 5, 2019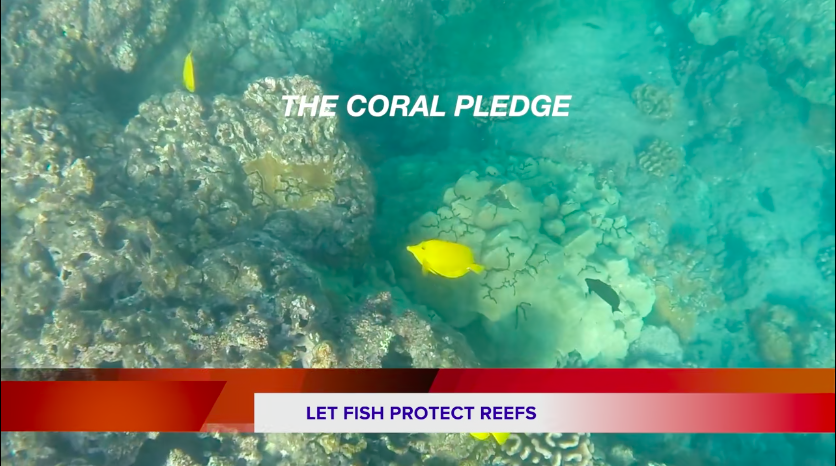 (Click on image to watch video)
THE CORAL PLEDGE AND SAVING CORAL TV SPECIAL PUT FOCUS ON HAWAI'I'S REEFS
Visitor Industry Interests Encouraged to Take the Pledge
(Honolulu) – Prompted by this year's coral bleaching event, staff with the DLNR Division of Aquatic Resources (DAR), are introducing The Coral Pledge. It is a common sense, six-step reminder, of how everyone can help, by not adding stress to coral reefs during this time of bleaching.  While everyone is encouraged to take the pledge, it is targeted to the visitor and tourism industry.
"These companies host millions of visitors each year. Many of them spend a lot of time in the ocean and many are not aware of the simple things they can do to avoid injuring or killing fragile corals," explained DAR Administrator Brian Neilson. The Coral Pledge highlights these six actions:
Let Fish Protect Reefs
Corals Like Their Space
Stand on the Sand
Use Reef-Safe Sunscreen
Contain Any Chemicals
Anchor Away from Reefs
Each bullet includes a short explanation and Neilson says the vision is for pledge signees to share this information with their guests before they head into the water to swim, snorkel, surf, kayak, etc. Twelve prominent tour and hospitality companies and other organizations are founding signatories of the pledge.  Neilson said, "It's really easy to sign up and once we get your information, we'll provide 3X5 pledge cards that operators can read to customers."
At a news conference today to announce The Coral Pledge, DLNR Chair Suzanne Case commented, "Corals are an essential part of life in Hawai'i. They support an abundance of life on our reefs, protect homes and businesses from storms and provide amazing beauty for people to enjoy."  
While the pledge is visitor-centric, it's hoped that local residents will also become familiar with its mantra and use pono practices whenever they're in the water. The pledge and television special include a Hawaiian sub-title: E ho'omau I ke ko'a, which means to malama or preserve coral.
In addition to coral bleaching, which has impacted vast areas of reef this fall (see associated release), corals face major threats due to rising ocean temperatures, sea level rise, pollution, and unsustainable fishing.  The main Hawaiian Islands have 410,000 of living reef with more than 7,000 coral species, with a quarter of those only found in Hawai'i.
Case also spoke about Saving Coral, a DLNR & YOU, half-hour television special, airing on KFVE (K5) on Nov. 8th and Nov. 14th.  "This documentary highlights the beauty of reefs and demonstrates both their ecological and economic values. The Coral Pledge incorporates easy to understand and apply tips about all of us doing everything possible to save our reefs. They are the very foundation of life in the ocean and by extension, our island way-of-life," she added.
Saving Coral focuses greatly on our keiki and how the positive steps we take now will ensure coral ecosystems continue in perpetuity.  Neilson said, "Not only is this about saving coral for future generations, it's recognition that our keiki will ultimately take leadership positions in the effort."
Media Contact:
Dan Dennison
Senior Communications Manager
(808) 587-0396
[email protected]