JOSH GREEN, M.D.
GOVERNOR

DAWN CHANG
CHAIRPERSON
For Immediate Release:  January 13, 2023
GRANT PROJECTS TO BRING MORE TREES, CREATE HEALTHIER LEARNING ENVIRONMENTS AT HAWAI'I PUBLIC SCHOOLS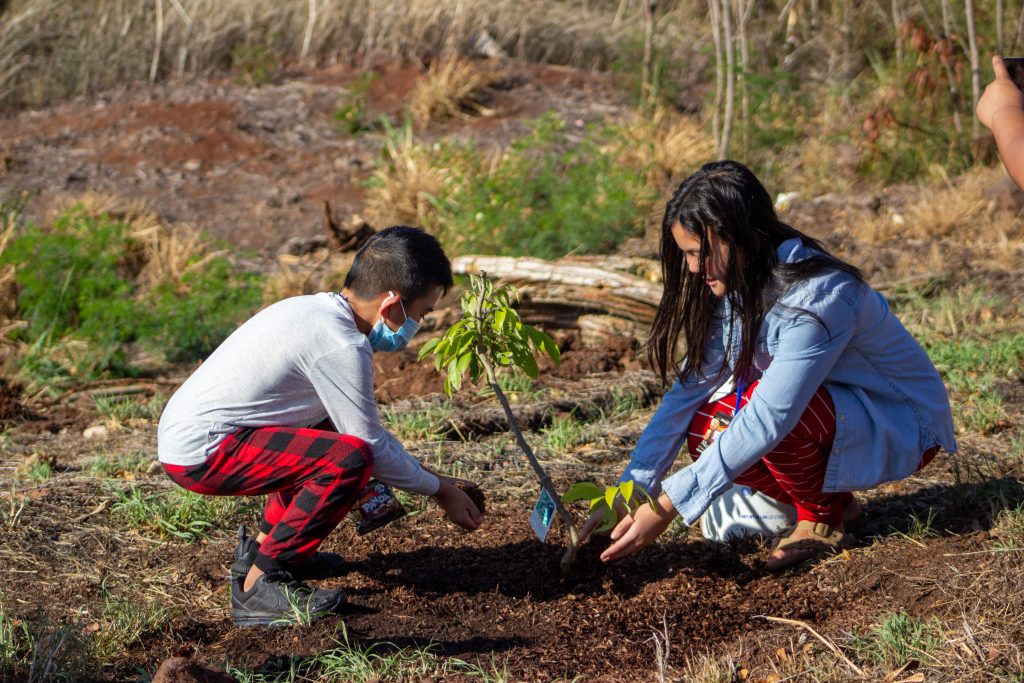 (HONOLULU) – Three nonprofit organizations have been selected to receive funding for tree planting projects at Hawai'i public school campuses through the U.S. Forest Service's 2022 Bipartisan Infrastructure Law Grant. Each project will advance the Hawaiʻi Forest Action Plan priorities in Urban and Community Forestry while the trees planted will contribute toward the State's pledge to conserve, restore, or grow 100 million trees by 2030.
"Each awarded project grows partnerships with our public schools to promote shadier, more tree-filled campuses and healthier learning environments for our next generation of leaders," shared Dr. Heather McMillen, DLNR's Division of Forestry and Wildlife (DOFAW) Kaulunani Urban and Community Forestry Program Coordinator.
The projects are:
Mālama Learning Center's "Promoting Tree Planting & Care Through Education to Build Resilient Communities in Leeward Oʻahu," which will equip local high school students and their families with the tools to mitigate the impacts of climate change in Leeward Oʻahu through education and career-building skills;
University of Hawaiʻi at Mānoa's Trees in School's "Students Propagating ʻUlu Trees for Schools on Oʻahu (SPROUTS-Oʻahu)," which will support students from Kaimukī Middle School in propagating ʻulu trees to distribute to Title 1 schools across Oʻahu. Teachers will take a 12-week course equipping them with the skills and tools needed for tree planting, care, and curricular integration; and
Hawaiʻi Public Health Institute's "Food Trees for Schools Initiative," which will expand the project's capacity to plant and maintain food trees at publicschools, potentially impacting nearly 15,000 students. As part of the project, citrus, mango, lychee, and avocado trees were recently planted during a ceremony on December 15 at Makakilo Elementary School. The effort was lead by Preschool Special Education Inclusion Teacher Sheri Funasaki, Principal Rae Fabrao, Acting Vice Principal/Counselor Sheri Yoshida, and Head Custodian Brandon Quiocho.
"Studies have shown an association between tree canopy and cooler temperatures as well as improved mental and physical health for students," McMillen added. "Leading urban forestry researchers recommend a minimum of 30% tree canopy cover to realize those benefits. However, the vast majority of our schools and surrounding neighborhoods are well below that minimum. These three projects will demonstrate diverse ways to address a critical need."
# # #
RESOURCES
(All images/video courtesy: DLNR)
State of Hawaiʻi 100M Tree Pledge: https://us.1t.org/pledge/state-of-hawaii/
Hawaiʻi Forest Action Plan, Urban & Community Forestry section: https://dlnr.hawaii.gov/forestry/files/2019/03/Hawaii-Forest-Action-Plan-2016-Issue-4-UCF.pdf
Media Contact:
Ryan Aguilar
Communications Specialist
Hawai'i Dept. of Land and Natural Resources