03/03/23 – SALVAGE OF GROUNDED LUXURY YACHT SET TO RESUME THIS WEEKEND
Posted on Mar 3, 2023 in News Releases, slider
JOSH GREEN, M.D.
GOVERNOR

DAWN CHANG
CHAIRPERSON
For Immediate Release:  March 3, 2023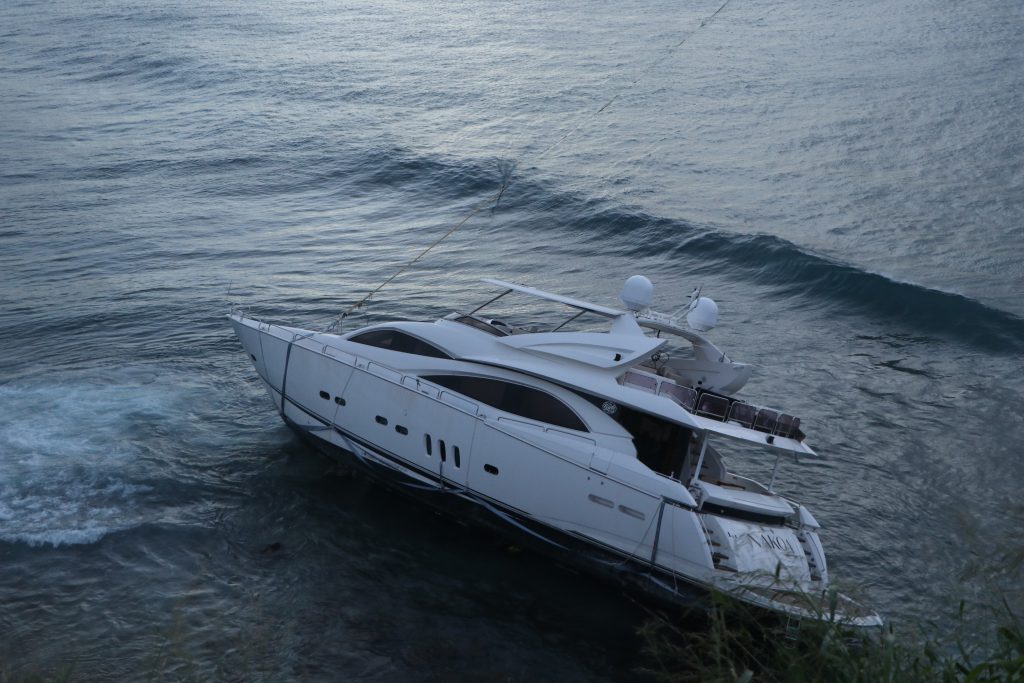 To view video please click on photo or view at this link: https://vimeo.com/802956139
(HONOLULU) – Weather and ocean conditions allowing, salvage efforts to free the grounded yacht Nakoa from the near-shore reef on the edge of Honalua Bay will resume sometime this weekend.
DLNR Chair Dawn Chang said, "We continue to face a challenging set of circumstances with this salvage operation, and we have found it difficult to find qualified industry partners willing to do this work. We truly appreciate the efforts of Visionary Marine LLC and Sause Brothers Inc., both out of Honolulu, for their willingness to help us with this very complicated job."
The vessel has been hard-aground in very shallow water just outside the Honolua- Mokulē'ia Marine Life Conservation District (MLCD) in west Maui, since Monday, Feb. 20. The 94-foot, 120-ton yacht grounded after apparently slipping loose from a mooring in the bay.
Two earlier salvage attempts were not successful, when rigging attached to the Nakoa did not prove strong enough and failed.
The salvage ship Kahi and the tractor tug Mary Catherine plan to return to Maui sometime this weekend with stronger rigging, in the hope that the yacht can finally be freed. The vessels have not been able to make a third attempt due to strong winds this week. The salvage team needs sea and weather conditions to improve significantly before they can safely attempt another one.
Chang added, "We appreciate the patience and understanding of all the people who cherish the waters and environment of Honolua and Mokulē'ia Bays. We want everyone to know that we and our partners are working as efficiently, as quickly, and most importantly as safely as possible to resolve this situation with the least amount of additional damage to the marine environment.  We hope to have good news to report later in the weekend."
# # #
RESOURCES 
(All images/video courtesy: DLNR)
HD video – Nakoa salvage attempt (Feb. 27, 2023): https://vimeo.com/802956139
Photographs – Nakoa salvage attempt (Feb. 27, 2023): https://www.dropbox.com/sh/za8yatdyg5pqjd5/AABPQy9efsgnXeeyWYizCjM9a?dl=0
Media Contact: 
Dan Dennison
Senior Communications Manager