03/05/23 – STAGE SET TO FREE GROUNDED SUPER YACHT
Posted on Mar 6, 2023 in News Releases, slider
JOSH GREEN, M.D.
GOVERNOR

DAWN CHANG
CHAIRPERSON
For Immediate Release:  March 5, 2023
STAGE SET TO FREE GROUNDED SUPER YACHT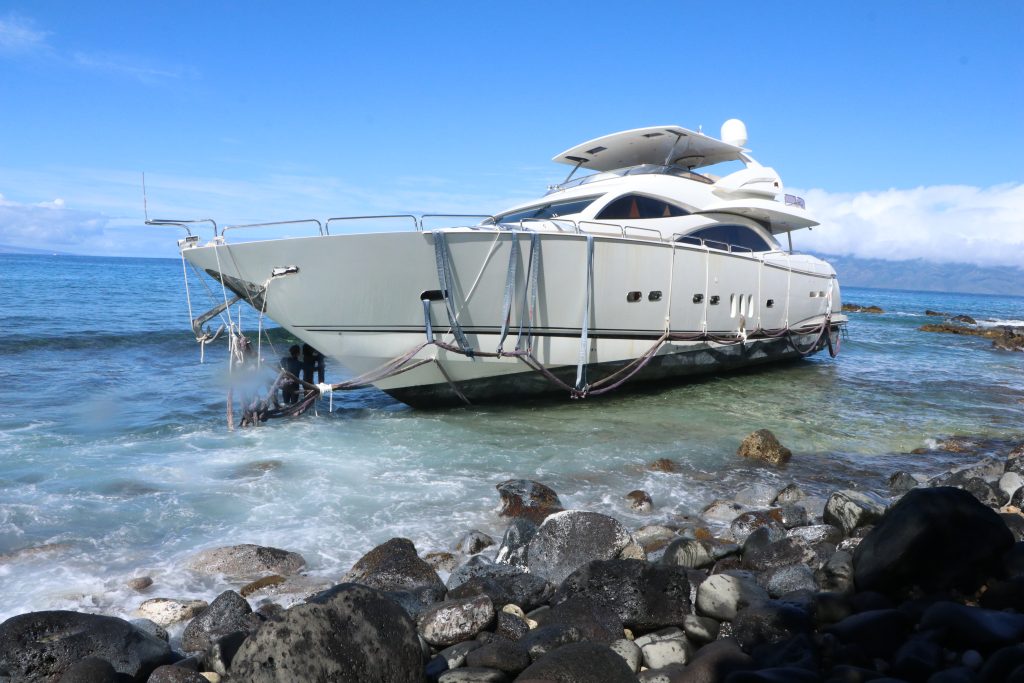 (HONOLUA BAY, MAUI) – The salvage ship, Kahi, operated by Visionary Marine LLC and a tractor tug, the Mary Catherine operated by Sause Brothers Inc., both of Honolulu are stationed just outside the Honolua-Mokulē'ia Marine Life Conservation District, today preparing to try and pull the luxury yacht Nakoa off nearshore rocks.
A rigging crew from the Kahi worked all day Saturday and again this morning securing rigging to the yacht, which will be attached to the tug sometime during high tide, in hopes of freeing the vessel which has been hard aground for nearly two weeks.
Today is providing the best weather and ocean conditions, for the complex operation to try and free the Nakoa. 
DLNR Chair Dawn Chang, "We continue to appreciate the patience and understanding of everyone who loves Honolua as well as the hard work being conducted by the salvage crews.
# # #
RESOURCES
(All images/video courtesy: DLNR)
Photographs – Nakoa salvage operation – Honolua Bay (March 5, 2023): https://www.dropbox.com/sh/e5824fxh38xbbgf/AAA-bXVNO-8bstBdiyBKBv1Oa?dl=0
Media Contact:
Dan Dennison
Senior Communications Manager