JOSH GREEN, M.D.
GOVERNOR

DAWN CHANG
CHAIRPERSON
For Immediate Release:  March 10, 2023
NEW CORAL DISEASE IS KILLING CORALS QUICKLY IN FLORIDA AND THE CARIBBEAN
Hawai'i Planning Action to Prevent Spread to Pacific Corals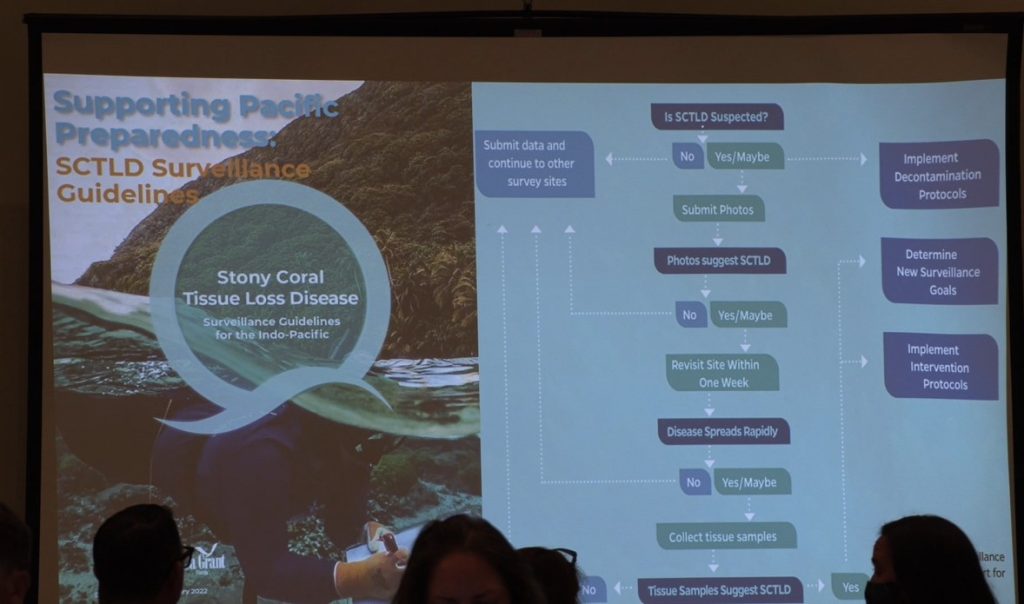 To view video please click on photo or view at this link: https://vimeo.com/766719685
(HONOLULU) – Insidious is the best way to describe Stony Coral Tissue Loss Disease (SCTLD). First discovered off the coast of Florida in 2014, it has now spread along the entire coast of the Sunshine State and has been detected in 23 countries and territories in the Greater Caribbean Basin. This disease kills coral tissue at a rate of 1 to 2 inches per day, which quickly kills the coral, and can affect more than 30 different species of coral.
Brian Neilson, Administrator of the DLNR Division of Aquatic Resources (DAR) said, "The coral loss that Florida and the Caribbean are experiencing is devastating.  We want to take every measure we can to prevent this coral disease from spreading to Hawaii's reefs."
Research has shown that disease-bearing microbes can be carried in vessel ballast water and that ballast water management systems that use ultraviolet light—the most commonly-used system to sterilize ballast water—are only 50% effective at killing the pathogen. The pathogen can also remain alive in sediments and may potentially be transported to Hawai'i if vessels don't fully remove sediments from anchors, as an example.
With this new information, it is prudent for the State to take action to mitigate the risk of SCTLD entering Hawai'i waters. DAR is proposing that vessels that have been to a SCTLD-affected area within the last five ports, to not discharge ballast water within State Waters, and to also send prior notification of arrival, with information about the vessel's biofouling prevention practices, so a risk assessment may be conducted.
Biofouling occurs when microbes, plants, and animals attach to the wet surfaces of a boat's hull and other areas. Organisms in these biofouling communities may be carriers of this disease, causing SCTLD to be transported with the vessel. Ballast water is the seawater taken up by a vessel to regulate weight and balance and can be discharged in new ports.  There is a small number of commercial vessels that arrive in Hawai'i that would be subject to any new requirements. The requirements would also apply to private, non-commercial vessels.
There are several standard State and Federal requirements that vessel operators must already follow, Neilson said. "These additional measures, narrowly focused to further mitigate risk, will help vessel operators help us protect Hawai'i. If a vessel is considered to be a potential spreader of SCTLD, based on risk assessments, it will be red-flagged for further monitoring and preventative actions".
At the 45th U.S. Coral Reef Task Force meeting in Kona in the fall of 2022, Dana Wusinich-Mendez of the NOAA Coral Reef Conservation Program presented an update on SCTLD, calling it likely the most lethal coral disease ever. Select clips from her presentation are included in the video noted below.
# # #
RESOURCES
(All images/video courtesy: DLNR)
HD video – Taking Action to Address SCTLD presentation (Sept. 1, 2022): https://vimeo.com/766719685
Media Contact:
Dan Dennison
Senior Communications Manager