JOSH GREEN, M.D.
GOVERNOR

DAWN CHANG
CHAIRPERSON
For Immediate Release:  April 12, 2023
CORAL DAMAGE AT HANAUMA BAY BEING REPAIRED BY NURSERY-GROWN COLONIES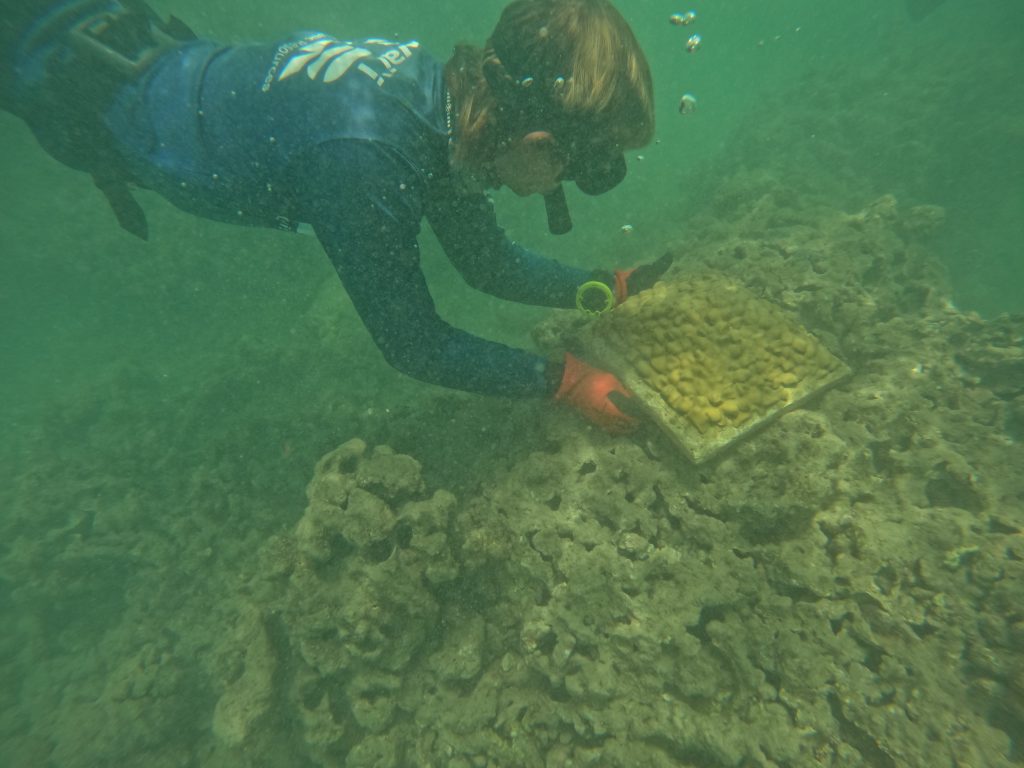 To view video please click on photo or view at this link: https://vimeo.com/816988093
(HONOLULU) – Six, pyramid-shaped coral colonies are now growing on the rock a few feet below the surface at Hanauma Bay. The corals were grown at the DLNR Division of Aquatic Resources' (DAR) Coral Restoration Nursery on Sand Island for the very purpose of restoring colonies damaged by natural or human caused events.
Last week, a DAR team of six, affixed the 17-inch coral structures into place on the southern side of the bay, where a large log damaged numerous coral in 2020.
"This is the first large-scale restoration project in the bay. We're planting an endemic coral, called brown lobe coral. These are corals that grow faster and larger than they would in the ocean, so this helps with damage recovery," said Christina Jayne, DAR's coral nursery curator.
The team conducted a pilot project during the pandemic to see how nursery-raised colonies will do in the bay. Jayne added, "We saw really good results with those corals. They're still out in the bay and doing well."
Once the corals arrived at Hanauma Bay, in a water tank in the back of a truck, their carefully taken to the shoreline and floated on trays out to their new homes. The DAR team identified suitable sites, sweeps them clean, and then uses a special adhesive to attach them to the rock substructure. They'll periodically monitor to see how they're doing.
"Friends of Hanauma Bay has been very fortunate and honored to have a role to play in this first coral restoration project at the bay," said Lisa Bishop, President of the Friends of Hanauma Bay.
In addition to the changes in open hours, visitor numbers, and encouragement to use only reef-safe sunscreens, Bishop says the condition of the bay is life-changing. "The COVID closure taught all of us that there are some adverse impacts of over-visitation in places like Hanauma Bay," she said.
Depending on how the recently planted coral colonies do, the friends' group is talking with DAR about additional projects. Bishop added, "We have to be very careful about what comes into a Marine Life Conservation District (MLCD) and depending on how these coral colonies do and if they thrive and reproduce well in the wild, I think we can open the door to other kinds of projects like this. Not just in Hanauma Bay, but all over the state."
# # #
RESOURCES 
(All images and video courtesy: DLNR)
HD video – Coral restoration at Hanauma Bay (April 4, 2023): https://vimeo.com/816988093
Photographs – Coral restoration at Hanauma Bay (April 4, 2023): https://www.dropbox.com/sh/jjkh9e5ok3ukerp/AAC6NncY5mD43kbm5w9i8aIsa?dl=0
Media Contact: 
Dan Dennison
Senior Communications Manager