Sport Fish Restoration Projects

Hawai'i's Division of Aquatic Resources (DAR) receives between 3.5 and 4 million dollars every year from the U.S. Fish and Wildlife Service's Sport Fish Restoration (SFR) Program.  85% of that money is used for projects that are designed to conserve and enhance fish populations and their habitats, and the sport fishing opportunities they provide.  The remaining 15% is spent on boating access projects.  It's a "user pays, user benefits" system of resource management, as depicted in this diagram.
These are some of the DAR projects funded by the SFR Program.
Fish Aggregating Devices (FADs)

Some species of pelagic fishes – like mahimahi, tuna, ono, and billfish – are attracted to floating objects for reasons that seem to vary by species.  Fisheries biologists take advantage of that behavior by placing FADs in waters surrounding the Main Hawaiian Islands.  FADs make it a lot easier for fishers to locate and catch these species.  Sites are selected in consultation with fishers, from two to 29 miles offshore in water depths ranging from 650 to nearly 10,000 feet.
Freshwater Fishing

In order to provide freshwater fishing opportunities for Hawai'i's residents and visitors, several species of sport fish have been intentionally introduced into a few reservoirs, which were then designated as Public Fishing Areas (PFAs).  DAR raises rainbow trout from eggs to fingerlings. The young trout are then shipped from O'ahu to the Koke'e PFA, Kaua'i, where they are stocked.  An annual open season is announced early each year.  DAR also provides support to the Wahiawā Middle School Hatchery on O'ahu, which raises largemouth bass and bluegill sunfish for stocking into the Wahiawā PFA, where the open season is year-round.
Artificial Reefs

Hawai'i's narrow band of natural coral reefs and lack of shallow underwater shelves are major factors confining recreational fishing opportunities in the nearshore areas.  Artificial reef modules placed in these areas provide necessary shelter for a variety of fish species, as well as new settlement areas for corals, coralline algae and invertebrates where it did not exist before.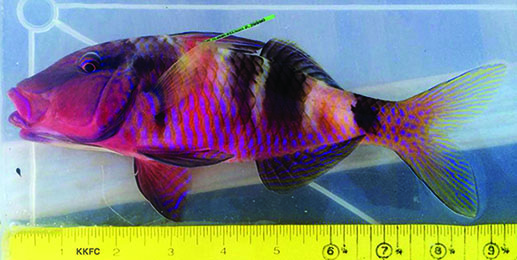 Fish Tagging and Tracking
A number of Hawai'i's reef fish species are highly prized for the quality of their taste and the thrill of the catch.  They include ulua and pāpio, moi, 'ō'io, and goatfish (weke and their relatives).  Because of their popularity and resulting fishing pressure, resource managers need a good understanding of their life histories and movement patterns. 
Mark and recapture studies, with the help of volunteer anglers, have provided DAR with important information about growth rates and movement patterns of ulua and pāpio.  DAR makes free tagging kits available to fishers, who measure, tag, and release the fish they catch, then submit the information to DAR.  Anglers who recapture tagged fish and report that data receive awards like t-shirts and posters.  The ulua and pāpio tagging program proved very popular, and although that particular program has ended, DAR is now working with anglers to tag moi, weke, and 'ō'io.
Tagging studies can provide some general information about movement patterns, but more specific information can be obtained by implanting fish with acoustic transmitters (which give off short bursts of coded sound signals) and tracking them with arrays of underwater receivers.  This technique has been used with ulua and mullet, and now with certain species of bottomfish.
Deep-water bottomfish, such as opakapaka, kalekale, and onaga, are among the most popular food fish in the state, and are highly sought after.  They taste delicious, and have high cultural value.  As is the case with popular reef fish, managers need to know about their preferred habitats and movement patterns in order to help sustain long-term fishing opportunities for them.  By deploying receiver networks in areas of interest, then tagging bottomfish with acoustic tags and monitoring their movements, biologists can obtain the type of information necessary to help manage them effectively.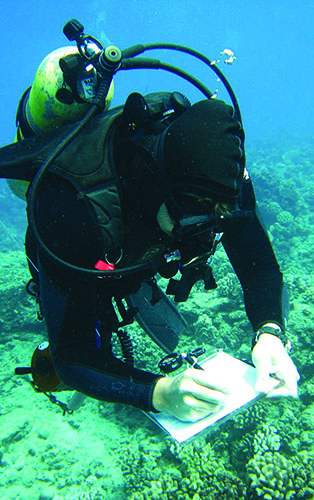 Fish and Habitat Surveys
Aquatic biologists conduct numerous fish and habitat surveys every year at marine managed areas and control sites statewide.  These surveys provide important data about the status and trends of Hawai'i's nearshore marine environment, and how best to manage resources for sustainable recreational fishing.
Estuary Investigations
Estuaries – coastal water bodies where streams and ocean tides merge – are important ecosystems which provide habitat for a number of juvenile fish species.  They're also a source of nutrients for nearshore reefs.  Biologists conduct surveys at a number of estuary sites statewide, monitoring water quality and using cast nets at fixed sampling stations.  Included in the information provided by sampling is relative numbers of native and introduced species.  DAR works with community groups and other organizations to restore estuary sites and enhance habitat for juvenile fishes, and monitor how fish respond to changes in their environment.
Technical Guidance
DAR provides technical guidance and assistance to private individuals, firms, and Federal, State, and County agencies, reviewing plans for various projects and activities with potential for detriment to aquatic resources.  DAR also investigates reports of fish kills, oil spills, and other pollution incidents, documenting and mitigating impacts to marine and estuarine resources.
Education

DAR's education section conducts activities to help teachers, students, community groups, and the general public better understand the nature of our aquatic resources and how to conserve them.  Its Fishing Education program is designed to enhance interest in and concern for aquatic environments by introducing adults and children to fishing, with an emphasis on conservation.  Education specialists assist with teacher workshops, and conduct classroom presentations and field experiences on topics related to fisheries management and conservation.  They also give talks to fishing clubs and other interested groups, and participate in numerous public events.  The section produces and disseminates educational materials in a variety of media, including print, web, and video.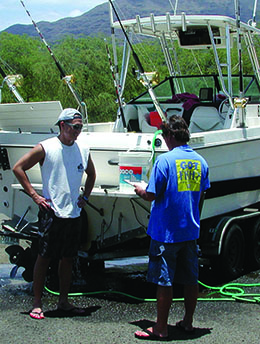 Hawai'i Marine Recreational Fishing Survey (HMRFS)
Fishing is not only a popular recreational activity practiced by many residents and tourists, but it also provides a significant subsistence food source for many local families. However, despite the cultural and economic importance that recreational fishing has in Hawai'i, only commercial fishers are required to report their catch information to DAR on a monthly basis. The collective impacts of recreational fishing activities are greater than the impacts of commercial fishing activities, so getting accurate and detailed information about local stocks of sport fish is imperative for management purposes. The HMRFS program uses field surveyors to collect catch and effort data from boat ramps and shoreline fishing sites throughout the state. Analysis of the data helps managers develop measures to maintain productive fisheries that benefit recreational fishers.