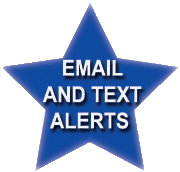 The DLNR Division of Boating and Ocean Recreation is inviting the public to sign up for email and text notices of division plans and actions that may impact the public.  Those who visit the signup page can enter their e-mail address and/or phone numbers (for phones capable of accepting text messages). Data charges will apply.  Those signing up can receive all messages to be sent by DOBOR or can select from numerous ocean user groups to receive messages that apply only to their select user group(s).  
All contact information is kept confidential and will not be shared with a third party outside of DLNR.  Those who sign up can cancel at any time. 
To sign up, please click on the email and text alert icon on this page.