Hawai`i Island – Honokohau
HONOKOHAU SMALL BOAT HARBOR
Tania Taitano, Harbor Agent II
Tracey Carvalho, Harbor Agent II
74-380 Kealakehe Parkway, Kailua-Kona, Hawai`i 96740-2704
Ph: (808) 327-3685  Fax: (808) 327-3675
Email:

[email protected]

 


[email protected]
*****************************************************
Due to staffing issues, the Division of Boating and Ocean Recreation Honokohau Small Boat Harbor office will temporarily shift the types of transactions being handled at the harbor office.
Effective October 18, 2021, the following procedures will be implemented:
Harbor-related transactions (mooring permits, commercial use permits, etc.) will only be provided on Mondays and Fridays (modified from Mondays, Wednesdays and Fridays as of 1/5/2022, see below).
Vessel Registration and Titling transactions will only be provided on Tuesdays and Thursdays.
Effective January 5, 2022, the Honokohau SBH office will be closed on Wednesdays.
*****************************************************
Customers can still mail in any payments, gross receipt forms and permit renewal documents to our harbor address or use the locked, drop-box near the harbor office's front doors.  All submissions will be processed daily.
Honokohau SBH is home to the DOBOR Hawai`i District Office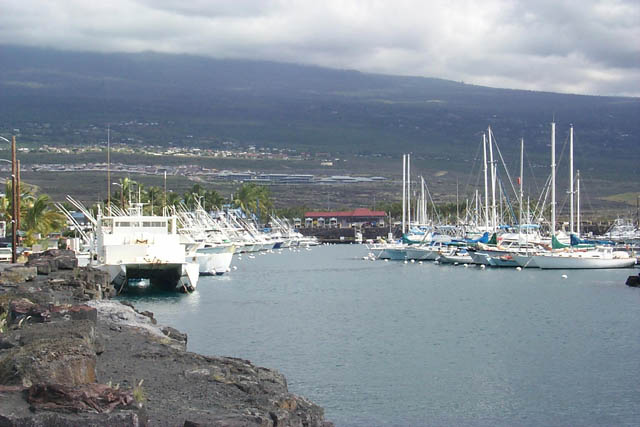 Click on map to enlarge.
262 moorings
3 ramps (2 30-foot-wide, 1 double-wide)
Piers A-H, 2 T-piers, outer basin
Vessel washdown
Fuel facility, harbor office
2 comfort stations