Featured Videos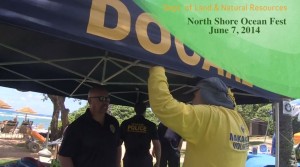 DLNR Divisions of Aquatic Resources (DAR) and Conservation and Resource Enforcement (DOCARE) participated in the 3rd annual North Shore Ocean Fest, held at Turtle Bay Resort, on Saturday, June 7, 2014. In this video DOCARE officers talk about the educational messages they convey during outreach events.
Videos
In 2012 a series of wildfires burned across state lands, including Forest Reserves and Natural Area Reserves on Kauai. These fires scorched more than 3000 acres of land and represent one of the most significant wildfire events on Kauai since the 1960s. Subsequently Governor Neil Abercrombie issued an emergency proclamation directing the Dept. of Land and Natural Resources, Division of Forestry and Wildlife (DLNR/DOFAW) to develop a forest restoration project to mitigate post-fire damage. Currently DOFAW is planning for log removal and replanting in the burn areas. This video helps describe the fires, the damage they caused, and what needs to happen to restore the land to a natural state.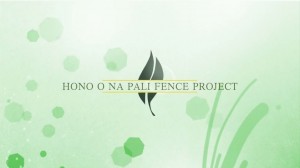 Hono O Na Pali Natural Area Reserve (NAR) on the island of Kauai is among the most unique and scenic in the entire system of Natural Area Reserves in Hawaii. It is home to hundreds of rare and/or endangered plant and bird species. A 3.3 mile long ungulate (pigs and goats) predator fence is being installed in the NAR to protect the area from invasive ungulates. Their removal will help prevent erosion and destruction of native plants and wildlife and also preserve this area as a vital watershed for Kauai.