About
photo: Bert Weeks III
Holomua Marine 30×30 is a statewide initiative to effectively manage our marine resources with at least 30% of each island's nearshore waters established as a network of marine management areas by 2030.
Our vision is for healthy marine ecosystems and abundant nearshore resources that allow the people of Hawai'i to enjoy coastal waters, support livelihoods, and feed our families.
photo: Bert Weeks III
How it Began
In 2016, following Governor David Ige's announcement at the International Union for Conservation of Nature (IUCN) World Conservation Congress held in Hawai'i, the state launched the Sustainable Hawai'i Initiative to increase the sustainability of our natural resources and Hawaiʻi's self-sufficiency. As part of the Sustainable Hawai'i Initiative, the Division of Aquatic Resources is leading the Holomua Marine 30×30 initiative to improve the health and abundance of our nearshore waters for the benefit of the people of Hawaiʻi. Visit the Governor's Sustainable Hawai'i Initiative web page to learn more.
The Road to 30×30
The Holomua Marine 30×30 Roadmap outlines how we will work in partnership with communities to achieve our shared nearshore management goals. Ultimate success relies on the involvement of individuals and communities across the state.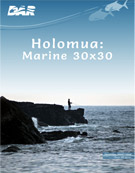 The 4 Pillars of Holomua
DAR has outlined a path to effective management built on four pillars. We will work in partnership with communities to operationalize these pillars to achieve our shared nearshore management goals.
Place-Based Planning: Build a cohesive, ecologically-connected network of areas for improved marine management in partnership with communities and stakeholders
Pono Practices: Encourage responsible behavior and practices guided by Hawaiian values and perspectives through education and outreach, rules, strengthened enforcement, and local partnerships
Monitoring: Measure and document current conditions, track progress following implementation and use data to identify areas where management actions need to be adapted
Protection and Restoration: Builds on existing strategies to prevent damage to fragile nearshore ecosystems from invasive species, disease, and environmental damage events and expands efforts to restore and enhance impacted areas
How is Holomua funded?
Holomua Marine 30×30 is supported by state, federal, and philanthropic funds. A summary of the funding sources can be found here. A Memorandum of Understanding was implemented to support Holomua Marine 30×30.
The Hawai'i Community Foundation manages the Marine 30×30 pooled fund of philanthropic donations that supports the Holomua Marine 30×30 Initiative and the communities engaged in nearshore marine management efforts. An Advisory Committee—made up of representatives in fields including marine science, conservation, community organizations, fishers, and cultural experts—are charged with identifying funding priorities that are best suited for philanthropic support to reach the goals of the Marine 30×30 Initiative.
The request for proposals for grant and contracts, announcements of grant recipients, funding amounts, and the funders of the Marine 30×30 Pooled Fund to date continue to be updated on the HCF website. Please visit this link for more information https://www.hawaiicommunityfoundation.org/strengthening/marine-30×30/
Got a question for us? See our FAQ section or contact us directly.
email: [email protected]
phone: 808-587-0100
mailing address: 1151 Punchbowl Street, Room 330 Honolulu, Hawai'i 96813
ʻAʻohe hana nui ke ula ʻia.
No task is too big when done together by all.
– Mary Kawena Pukui, ʻŌlelo Noʻeau #142