The Science Behind Holomua
Photo: Bert Weeks
The Holomua Marine Initiative was launched in 2016 to address the critical condition of our nearshore coastal ecosystems by effectively managing our marine resources. Decades of scientific research and recorded observations have documented the drastic decline of our reefs and fisheries, and hundreds of studies have examined the best solutions to manage, protect, and conserve our resources. Here we share a few studies that describe the current status of our reefs and fisheries, the benefits of marine management areas, the need for a holistic and collaborative approach to tackle land-based issues, and how combining traditional ecological knowledge with contemporary research can be beneficial and successful. These selected literature are just a few highlights of existing research available, but is in no means an exhaustive list. The Holomua team will continue to add to this list in the future.
Status of Hawai'i's coral reefs and coral reef fisheries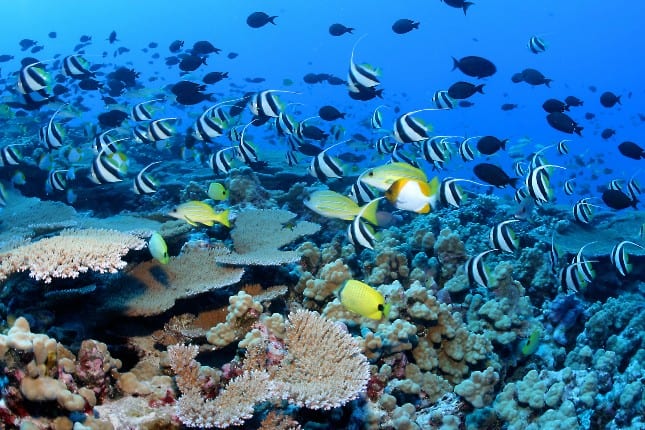 Coral reefs in Hawai'i and its associated fisheries have been in decline for the past decades, largely threatened by climate change and anthropogenic or human impacts such as urbanization, land-based pollutants, sedimentation, fishing pressure, and more.
---
The benefits of marine management areas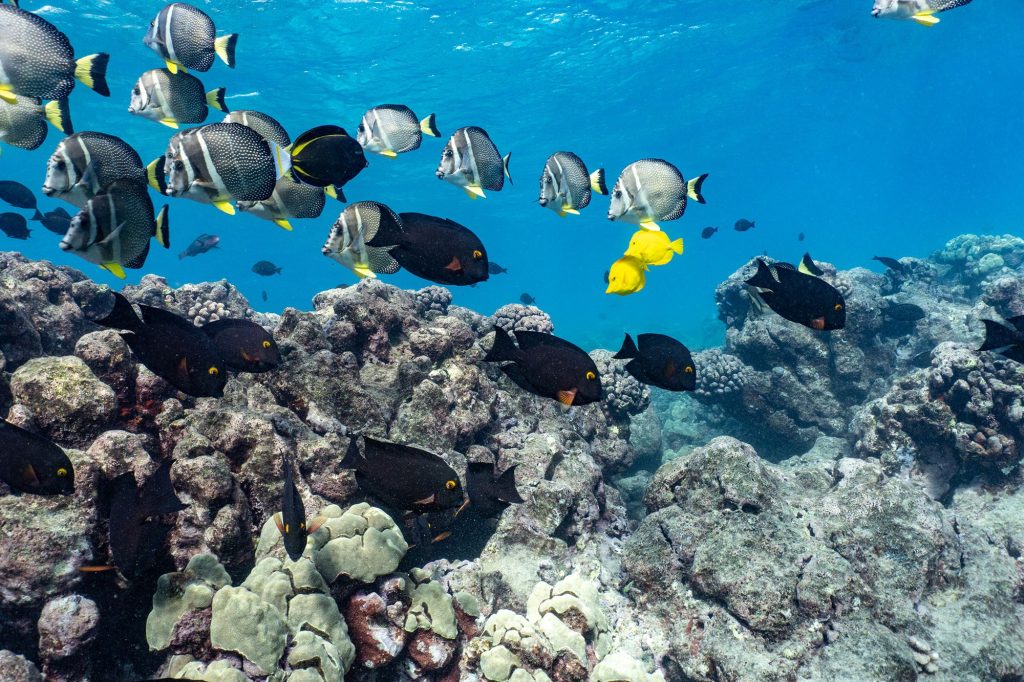 The creation of marine management areas is an effective tool that is commonly used to manage and conserve resources. In addition to resulting in increases of fish and coral, marine management areas can also improve human wellbeing and the economy.
---
Land-based impacts and the need for a holistic and collaborative management approach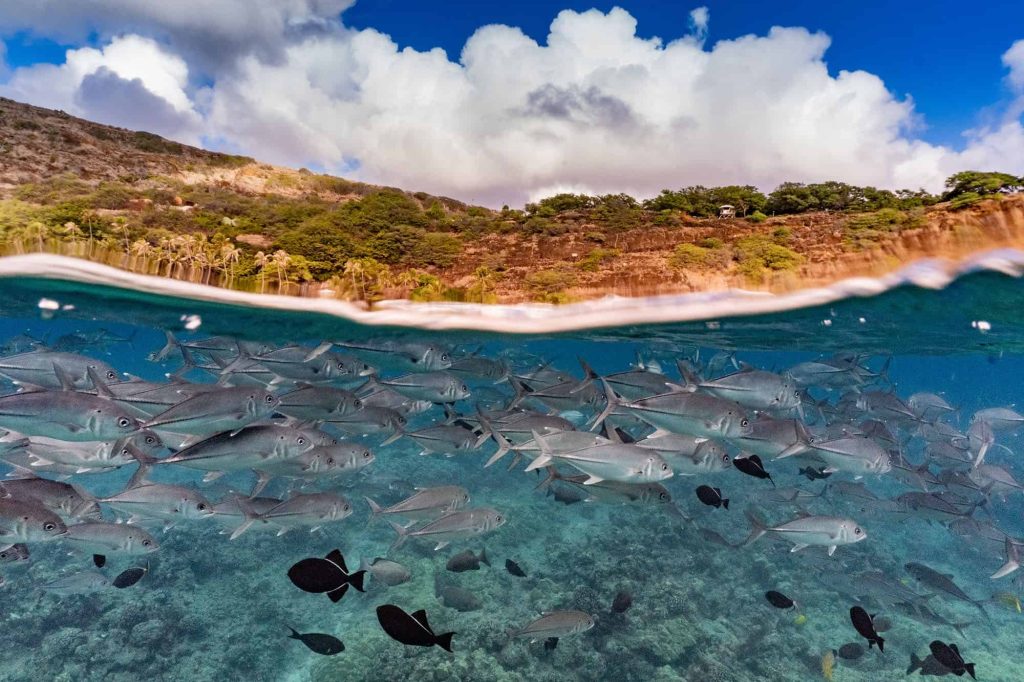 While land-based sources of pollution and other impacts such as sedimentation from urbanization contribute greatly to the degradation of our reefs, a holistic approach is needed to combat these threats mauka to makai.
Smith et al. 2010 The effects of top-down versus bottom-up control on benthic coral reef community structure

Herbivorous fish play a huge role in supporting coral recruitment and preventing algal overgrowth, and can be used in degraded reefs affected by nutrients to restore coral reef ecosystems.

Climate change is the main global threat to coral reefs, but the two main local threats to reefs are fishing pressure and nutrient pollution
Study was conducted at Puakō Reef on Hawai'i Island, a fisheries management area that has relatively healthy and high coral cover, abundant herbivore communities, and relatively low levels of nutrients at the time
PVC tiles were attached to the reef to measure community structure and biomass estimates (from organisms that recruited on the tiles), and were exposed to one of four treatments: 1) control, 2) nutrient enrichment, 3) herbivore exclusion (using exclusion cages), or 4) both nutrient enrichment and herbivore exclusion
In the treatments where herbivores were removed, fleshy algae was dominant while in the treatment where herbivores were present, crustose coralline algae and corals were dominant
Reef building corals only settled/colonized on tiles that were in the treatment that allowed herbivore grazing (even with nutrient enrichment), highlighting the importance of herbivores for coral recruitment
When herbivores were allowed to graze again in exclusion treatments, rapid changes in benthic communities away from algal dominance were witnessed even when nutrients were still being added
Results show that increasing herbivore fish on reefs that are impacted by nutrients is an effective strategy for restoring coral reef ecosystems and reversing coral-algal phase shifts

Click HERE to download paper
Stender et al. 2014 Thirty years of coral reef change in relation to coastal construction and increased sedimentation at Pelekane Bay, Hawai'i

Pelekane Bay shows strong signs of recovery after suffering from severe land-based activities because of collaborative management strategies that involved both watershed restoration and the reduction of fishing pressure.

Historical baseline data from 1976 and 1996 were compared with re-surveys conducted in 2012 to assess changes to the coral reef community at Pelekane Bay located on the south Kohala coast on Hawai'i Island
Pelekane Bay has historically been subjected to extensive large-scale modifications that include dredging, construction of breakwaters, and explosive blasting by the U.S. Army to create a small boat harbor which resulted in extreme sedimentation and coral mortality
Fish abundance and diversity have improved greatly since the declines observed between 1976 and 1996 surveys, most likely due to increased fishing restrictions in combination with watershed restoration efforts
Coral cover increased in 2012, which was attributed to the increase in fish, especially herbivores
Factors that may have contributed to reduced fishing pressure and/or increased fish abundance include the re-location of a road to restore shoreline conditions, new rules that prohibited camping at the south end of the bay, increased enforcement from park rangers, increased restriction through some access points, and spillover effects from the establishment of the West Hawai'i Fisheries Management Area and Fisheries Replenishment Areas
It is concluded that when applied simultaneously, watershed restoration projects, reduced fishing pressure, and establishment of marine management areas allow for recovery of coral reef communities

Click HERE to download paper
Wolanski et al. 2009 Quantifying the impact of watershed urbanization on a coral reef: Maunalua Bay, Hawai'i

Maunalua Bay is severely degraded due to extreme development and nutrient pollution, and the best solution to restore the ecosystem will require multiple land-based efforts and replenishing their low herbivorous fish populations.

Human activities that include increased population, urbanization, stream channelization, construction of seawalls, breaching of a peninsula, and dredging have resulted in the collapse of Maunalua Bay's nearshore ecosystems on O'ahu
In 2008, all coral patches over the reef flat were dead and virtually non-existent over the reef crest, with coral cover generally less than 5% over the reef slope
While there are no historical data on herbivore populations in the Bay, herbivore fish density in 2008 was only 5-10% of nearshore reefs elsewhere, which was suggested that it may be due to fishing pressure
Application of a coral reef ecosystem model suggests that coral larval supply cannot be replenished because of the consistent high turbidity and lack of suitable substrate due to algal overgrowth from nutrient input
The ecosystem model also indicates that the small number of herbivores, which are too low to make an impact on grazing algae, is inhibiting the recovery of reef populations at Maunalua Bay
Overall the study claims that restoring Maunalua Bay will require an integrated ecosystem approach that involves proper land use management, recovering groundwater storage and restoring natural stream flow, physical efforts to remove sediment in the bay, restoring coastal wetlands, and replenishing herbivorous fish populations

Click HERE to download paper
---
Utilizing indigenous/traditional ecological knowledge and practices with contemporary research to guide marine management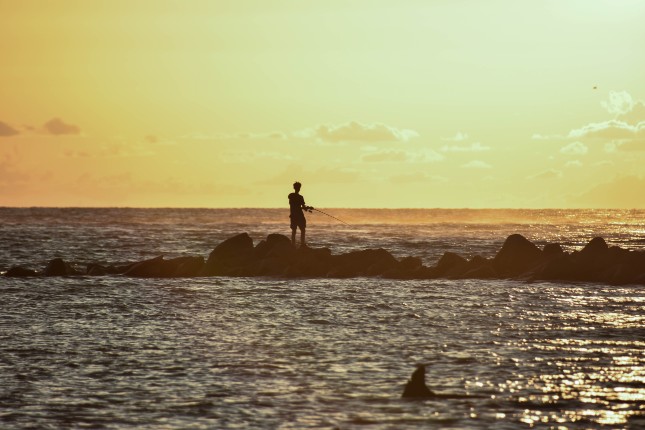 The degradation of our coastal areas have also been linked to the loss of traditional conservation practices, which is why the Holomua Marine Initiative recognizes how important traditional ecological knowledge is and aims to weave together indigenous knowledge and practices with contemporary research to guide marine management strategies.
Friedlander et al. 2013 Customary marine resource knowledge and use in contemporary Hawai'i

Research shows that areas co-managed with communities that incorporate traditional and customary practices can be successful, resulting in increases of fish while also improving compliance.

Marked declines of marine resources have been linked to fishing pressure, land-based pollution, the destruction of habitats, climate change, the loss of traditional conservation practices, and impacts from increasing human population that include technological innovations and new fishing methods/gear
New approaches to marine management in the Hawaiian Islands and other Pacific islands, such as incorporating traditional ecological knowledge and customary practices into contemporary strategies, are gaining interest because of the many current failures in conventional marine management
In Hawai'i, natural resources were traditionally managed at local (ahupua'a) and district (moku) levels, and harvesting rules were based mainly on specific times and places that allowed fishing as opposed to regulating the amount of fish you are allowed to catch
Native Hawaiians were able to keep a healthy fisheries status for hundreds of years before Western contact by allowing fish populations to replenish and understanding the spawning cycles- they knew how much to take without greatly reducing the supply
Some examples of marine management from other Pacific islands that are recognizing customary practices include Fiji, who have a network of over 200 locally managed areas that include traditional resource practices, and Palau, who is looking back and modeling off their traditional Bul system in which the Council of Chiefs designate areas of the reef as off-limits during spawning and feeding periods or if a species is in immediate threat
Some areas in Hawai'i that are already being managed informally by communities have shown that it can maintain the same or even greater fish biomass levels than in no-take marine protected areas
Many studies have shown that co-management is extremely successful at accomplishing both social and ecological goals, and can also help increase compliance

Click HERE to download paper
Rodgers et al. 2021 2016-2020 Five-year efficacy study of the management regulations within the Community Based Subsistence Fishing Area of Hā'ena, Kaua'i

The  Hā'ena Community-Based Subsistence Fishing Area on Kaua'i shows strong supporting evidence that collaboratively managed areas that include customary practices can be successful, as increased fish populations were detected inside the reserve boundaries but not outside.

The main purpose of Community-Based Subsistence Fishing Areas (CBSFA), a type of marine management area, is to recognize and protect customary and traditional Native Hawaiian fishing practices of the area that are used for subsistence, cultural, and religious purposes to conserve marine resources
Over 600 surveys of fish and benthic habitat assessments were conducted at the Hā'ena CBSFA, a collaboratively managed area by the Hā'ena community and the State Division of Aquatic Resources, to evaluate the effectiveness of the CBSFA since its establishment in 2015
Total fish abundance or density was higher inside the CBSFA as compared to outside the CBSFA boundaries across almost all years of the study period
Fish biomass was higher inside the CBSFA as compared to outside the boundaries across almost all years of the study duration
Food or resource fish biomass was higher inside the CBSFA boundaries as compared to outside the CBSFA across almost all years of the study period
Biomass and density of native fishes (indigenous and endemic species) inside the CBSFA showed a significant increase since the establishment prior to the storm event in 2018
Significant increases in the number of fish since the establishment of the CBSFA was detected, while no differences were found outside the CBSFA boundaries

Click HERE to download paper
ʻAʻohe hana nui ke alu ʻia.
No task is too big when done together by all.
– Mary Kawena Pukui, ʻŌlelo Noʻeau #142