DEPARTMENT OF LAND AND NATURAL RESOURCES
News Release
NEIL ABERCROMBIE
GOVERNOR

WILLIAM J. AILA JR,
CHAIRPERSON
For Immediate News Release December 20, 2013
2014 HISTORIC SITES CALENDAR FEATURES
'WORKING HANDS OF THE MAKAAINANA'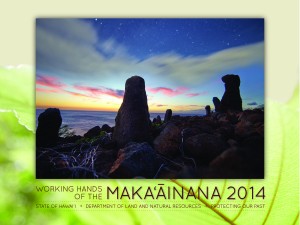 HONOLULU — The Hawaii Heritage Center, in cooperation with the State Historic Preservation Division within the Department of Land and Natural Resources, has been producing an historic sites calendar since 1984. Their 2014 calendar, titled the "Working Hands of the Makaainana," addresses the theme of Hawaiian technology and innovation. The beautiful calendar was designed by Viki Nasu Design Group, with Ric Noyle providing magnificent photographs of island scenes rarely viewed by much of the public.
Also serving as a tide calendar, each month's page spread presents a historic site from a variety of locations throughout the island chain, including Molokai and Lanai. These sites are associated with such topics as navigation, fishing, farming, and salt gathering, as well as the production of adzes, abraders, cordage, and hooks.
The first settlers to land on the shores of Hawaii brought with them certain tools and implements, as well as a number of plants which they deemed important to sustain them in a new world. More importantly, they brought with them the knowledge and traditions of their ancestors which guided them in the ways to survive on a remote, tropic island, independent of the rest of the world.
Met with the challenges of adapting to a new land with different climates, terrain and natural resources including flora and fauna and water sources, the Hawaiians not only adapted their traditions to suit their new environment, but also innovatively developed new ways to enhance their quality of life to forge a distinctly Hawaiian culture, unique to them and the islands on which they lived. The calendar reminds the present of these achievements from the past and their on-going presence in today's world.
The project is a private-public partnership, coordinated by Hawaii Heritage Center, a 501(c)(3) organization, and made possible thanks to the efforts and funding from such private sponsors as Alexander & Baldwin Foundation, Hawaiian Electric Company, Cultural Surveys Hawaii, Kuiwalu, WCIT Architects, McDonald's of Hawaii, Taubman Center, Aukahi, the Larry and Beatrice Ching Foundation, and Fung Associates.
The calendars are available for purchase from Hawaii Heritage Center (1040 Smith St., Honolulu, or by mail at: P.O. Box 37520, Honolulu, HI 96837), as well as at Book Ends in Kailua and Na Mea Hawaii/Native Books at Ward Warehouse in Honolulu.
# # #
Cover photo copyright Friends of Hokule'a and Hawaiiloa. Used by permission.
Holo Moana heiau, Mahukona, Kohala, Hawaii Island.
This structure was traditionally and is still today dedicated to perpetuating traditional Polynesian navigation and was likely used to view and study celestial patterns for wayfinding. The many strategically placed upright stones can make this sacred place unique among heiau in Hawaii. Haleakala can be seen in the background.
Media Contact:
Deborah Ward
Public Information Specialist
(808) 587-0320