DEPARTMENT OF LAND AND NATURAL RESOURCES
News Release
NEIL ABERCROMBIE
GOVERNOR

WILLIAM J. AILA JR,
CHAIRPERSON
For Immediate News Release May 16, 2014 
DLNR LEADS MANAGEMENT TEAM
TO INVESTIGATE SEA URCHIN DISEASE
Public's help needed to look for and report sick urchins
to Eyes of the Reef Network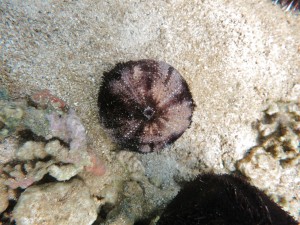 HONOLULU – The Department of Land and Natural Resources (DLNR) Division of Aquatic Resources (DAR) and the U.S. Geological Survey National Wildlife Health Center Honolulu Field Station (USGS) are jointly responding to and investigating a recently reported disease affecting collector urchins (hawae or Tripneustes gratilla) in Maunalua and Kaneohe Bays.
Reports were initially made in late February by biologists from The Nature Conservancy (TNC) when they observed sick urchins on the mud scow barge, an artificial reef in Maunalua Bay. The USGS conducted the initial assessment and lab tests of the urchins. The preliminary diagnosis of the sea urchins is it is a disease that causes progressive loss of spines. Laboratory tests to identify the cause of this disease are ongoing, and some causes (e.g. parasites) have been ruled out.
On May 6, 2014, USGS and Division of Aquatic Resources staff responded to reports of urchins with similar lesions in Kaneohe Bay. Approximately 10 percent of urchins on one patch reef showed signs of the disease at that time.
In partnership with TNC, USGS and the University of Hawaii, DAR is coordinating a management team to address the issue and monitor the affected areas on a weekly basis. Lab results and monitoring plans will be continuously updated on the team's Reef Response website: https://dlnr.hawaii.gov/reefresponse/
The Public's Help Is Needed!
The Eyes of the Reef (EOR) Network serves as extra eyes in local coastal areas. The public's help is needed to determine how widespread the sea urchin disease is. Here's what the public can do:
1. Look for sickly collector sea urchins.
2. Make a report using the EOR Network "Fish Disease and Miscellaneous" online report form (www.eorhawaii.org/make-a-report).
3. Send photos of the sick urchins to: [email protected]
3. Please do NOT collect samples or specimens at this time.
# # #
Media Contact:
Deborah Ward
Public Information Specialist
(808) 587-0320
Additional still photographs of healthy and diseased urchins available at: (Courtesy DLNR/DAR)
https://dlnr.hawaii.gov/reefresponse/
Dan W. Dennison
Education and Outreach Coordinator
Office of the Chair
Department of Land & Natural Resources
1151 Punchbowl Street, Room 130
Honolulu, Hawaii 96813