DEPARTMENT OF LAND AND NATURAL RESOURCES
News Release
NEIL ABERCROMBIE
GOVERNOR

WILLIAM J. AILA JR,
CHAIRPERSON
For Immediate News Release August 29, 2014
MAKIKI VALLEY TRAIL CLOSED WEEKDAYS
FOR HAZARD ROCK MITIGATION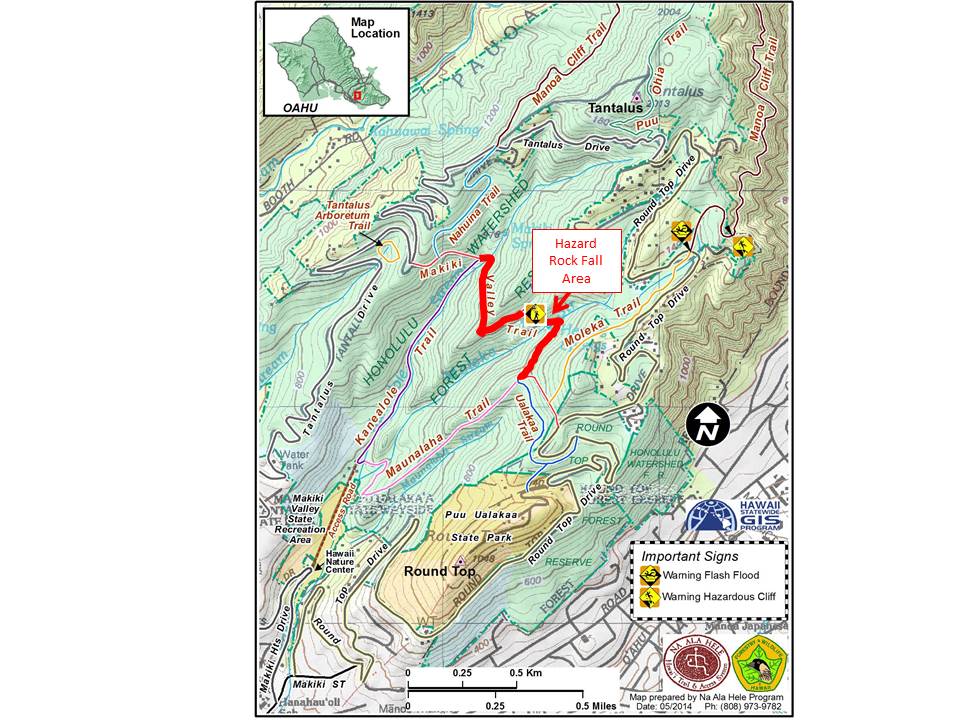 HONOLULU —   The Department of Land and Natural Resources has closed a portion of the Makiki Valley hiking trail during weekday hours for approximately three weeks to carry out work to mitigate rock hazards exposed by a landslide in early July.
At that time DLNR's Engineering division conducted a risk assessment and determined that mitigation was necessary to keep the trail safe for hikers. It was further determined that during this work the trail would need to be closed, to prevent any material falling on the trail at a risk to hikers.
The Makiki Valley trail is one of three trails (Maunalaha, Ualakaa and Kanealole) that make up a loop to and from the Makiki Forest Recreation Area. 
The closed portion of the Makiki Valley trail is in between the junction with Ualakaa and Maunalaha trails, more commonly known as the  "the four way junction"  and the junction with Kanealole trail. 
Due to the closure of this portion the trail, the popular "loop"hike is no longer an option for hikers during the week. 
This small portion of trail will be closed during weekdays only, but will remain open on weekends.  Hikers using the trail on weekends are asked to use caution and not to stop when crossing the work site area.  Hazard signs are posted on either side of the work site. 
It recommended that hikers try to find alternative trails to hike further up within the Honolulu Mauka trail system until the work is completed and the trail is reopened. The anticipated work and closure is three weeks.     
For more information contact the Division of Forestry and Wildlife Oahu branch office at 973-9778.
Media Contact:
Deborah Ward
Public Information Specialist
(808) 587-0320