05/22/15 – No-Alcohol Ban In Effect This Memorial Day Holiday; Weekend At Ahu O Laka Sandbar, Kaneohe Bay
Posted on May 22, 2015 in DOCARE, News Releases, slider
DEPARTMENT OF LAND AND NATURAL RESOURCES
News Release
DAVID Y. IGE
GOVERNOR

SUZANNE D. CASE
CHAIRPERSON
For Immediate News Release May 22, 2015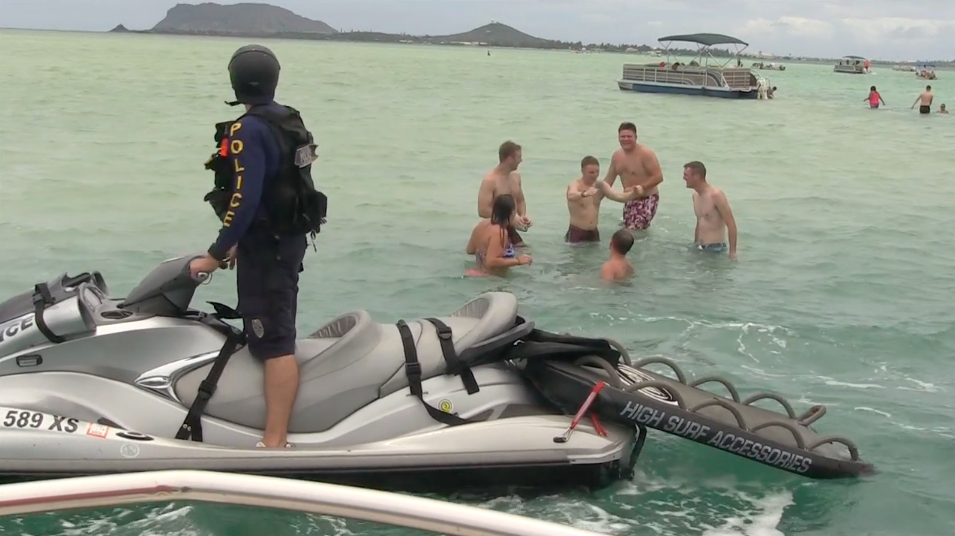 (Click on video of the 2014 Memorial Day patrol at Ahu O Laka)
NO-ALCOHOL BAN IN EFFECT THIS MEMORIAL DAY HOLIDAY
WEEKEND AT AHU O LAKA SANDBAR, KANEOHE BAY
HONOLULU — The Board of Land and Natural Resources has approved a boating administrative rule amendment that makes permanent bans on alcohol and drug use, and disorderly behavior, at the Kaneohe Sandbar, also known as Ahu O Laka.
It applies only to three-day holiday weekends that include Memorial Day, Independence Day and Labor Day* each year. The rule amendment must next go to the office of Governor David Ige for signature into law and will take effect 10 days after that date.
In the meantime, the original three-year rule establishing a safety zone at the sandbar remains in effect until the Labor Day weekend this year. That rule first took effect Labor Day weekend in 2012.
The proposed amendment to Hawaii Administrative Rule 13-256-73.13 repeals the September sunset date and makes permanent, a rule that prohibits possession, use or consumption of alcohol within the Ahu O Laka (Kaneohe Sandbar) safety zone. The rule also prohibits a person under the influence of alcohol, narcotics or drugs from remaining in, or entering the safety zone, and prohibits disorderly behavior while in the safety zone.
Since implementation of the Ahu O Laka safety zone rule, accompanied by onscene enforcement presence, holiday weekend conditions have been more peaceful and calm and families have said they felt safer to bring their children.
A public hearing on the proposed rule amendment was held on April 7, at the Heeia Elementary School Cafeteria, 46-202 Haiku Road, in Kaneohe. The Board approved the amendment at its meeting on May 8, 2015,
For more information, map and text of the rule change please visit:
https://dlnr.hawaii.gov/dobor/draft-rules/
(*in 2015, the safety rule will apply on the weekends of Memorial Day – May 23, 24 and 25; Independence Day – July 3, 4, and 5; and Labor Day – September 5, 6 and 7)
# # #
Media Contact:
Deborah Ward
DLNR Communications Specialist
Phone: (808) 587-0320