DEPARTMENT OF LAND AND NATURAL RESOURCES
News Release
DAVID Y. IGE
GOVERNOR

SUZANNE D. CASE
CHAIRPERSON
For Immediate News Release September 16, 2015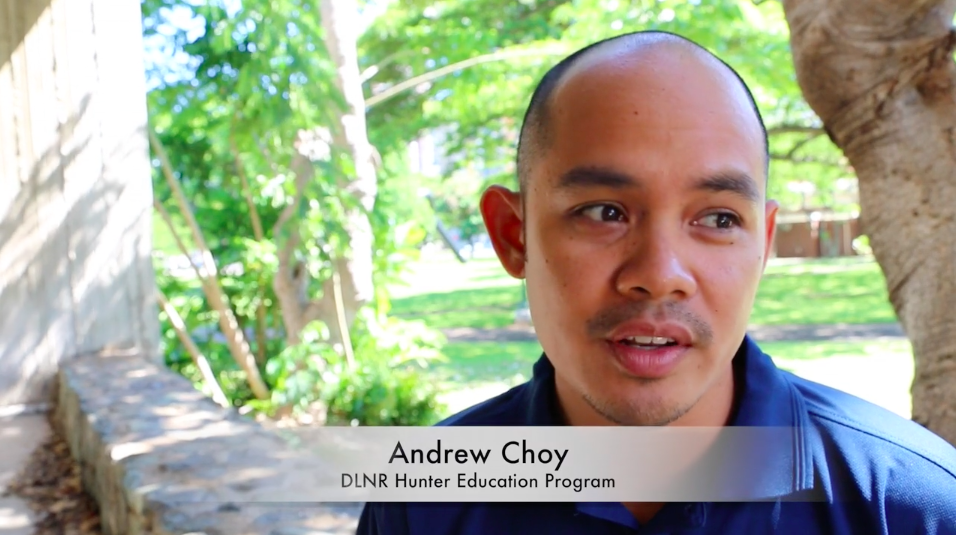 (click on image to watch video)
Hawaii's National Hunting and Fishing Day
Recognizes Contributions of Sportsmen and Women
25th Year in Hawaii, 45th Year Nationally
(HONOLULU) – One billion dollars – that's how much hunters and anglers contribute each year in the U.S. toward fish and wildlife conservation programs through taxes on their sport-related purchases. National Hunting and Fishing Day began in 1972 as a way for states to recognize the contributions of sportsmen and women in wildlife conservation and restoration, hunter education and to the shooting sports.  For 78 years the Pittman-Robertson Act (American System of Conservation Funding) has imposed a 10.5%-11% federal excise tax on the sale of firearms, handguns, ammunition, archery equipment and accessories. That's resulted in contributions of $9.24 billion toward wildlife restoration projects, including an allocation to the states of $808 million in 2015.
"In Hawaii, our version of National Hunting and Fishing Day is unique, in that it demonstrates that hunters and fishers also care about people," said DLNR Chair Suzanne Case.  "Our hunter education program, sister agencies within DLNR, more than a dozen shooting and fishing clubs
and the Watson T. Yoshimoto Charitable Trust, partner with the Hawaii Food Bank on National Hunting and Fishing Day, to help combat hunger in the islands," Case added.
For every can of food or dollar that participants donate to the food bank, they will receive one activity coupon to participate in a fun and educational activity during hunting and fishing day.  These include: trap shooting, .22 rifle and handgun, high power rifles, cowboy and single action shooting, muzzleloading, archery and fish casting contests.  There will be additional free displays and demonstrations at this year's event, Sept. 19 & 20 from 10:00 a.m. to 4:00 p.m., at the Koko Head Shooting Complex, 8102 Kalanianaole Highway.
Andrew Choy, the coordinator for the Hawaii Hunter Education Program in the DLNR Division of Conservation and Resources Enforcement said, "This is a great day and a wonderful way to recognize the many contributions of hunters and anglers to protecting wildlife and aquatic resources across our island chain.  This is a family oriented event and all you have to bring is canned food or a couple of bucks (not deer) to contribute to the Hawaii Food Bank and the fun begins."
Firearms are supplied by participating shooting clubs.  No personal firearms are allowed at the shooting complex on National Hunting and Fishing Day.
# # #
RESOURCES:
Talk Story with a Hawaii Hunter:
https://vimeo.com/138567661
Talk Story with a Hawaii Fisherman:
https://vimeo.com/139404373
All video and photos: Courtesy Hawaii DLNR
Media Contact:
Dan Dennison
Senior Communications Manager
(808) 587-0407