DEPARTMENT OF LAND AND NATURAL RESOURCES
News Release
DAVID Y. IGE
GOVERNOR

SUZANNE D. CASE
CHAIRPERSON
For Immediate News Release September 21, 2015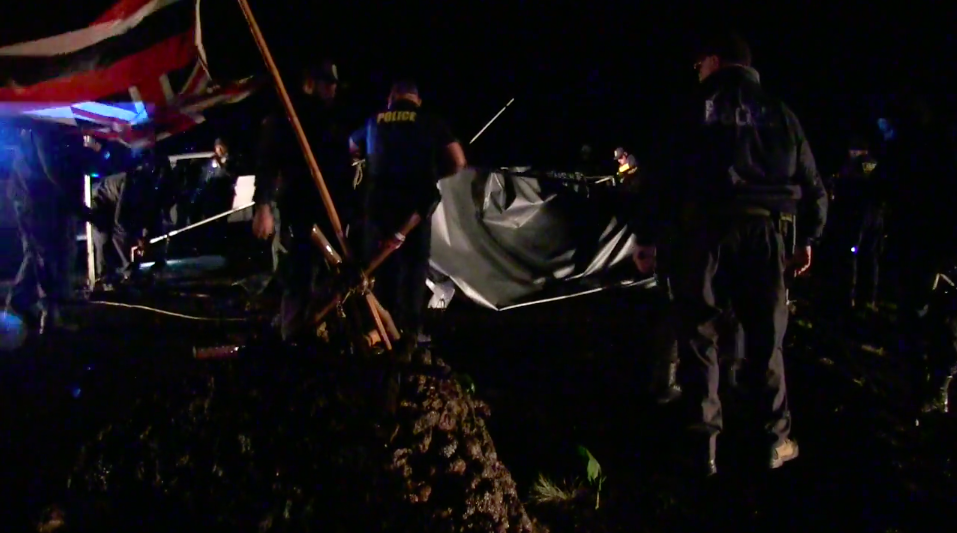 (Click on image to watch video)
DLNR/DOCARE OFFICERS CONFISCATE PROTEST TENT
Third Law Enforcement Operation Under 120-day Emergency Rule
(HILO) – 19 officers from the DLNR Division of Conservation and Resources Enforcement (DOCARE), with support from four Hawaii Police Department officers and a ranger with the Office of Mauna Kea Management, conducted a third law enforcement operation in the restricted area covered by the 120 day emergency rule, passed in June by the state Board of Land and Natural Resources.
DOCARE officers disassembed, loaded and took as evidence, a large tent that protesters had erected at the 9000 foot elevation level, across the road from the Mauna Kea Visitors Center. In an understanding reached last week, protesters had agreed to vacate the tent.  A written warning notice was posted to it last Wednesday. Officers confiscated it after its rightful owner failed to claim it and take it down.  A hale adjacent to the tent was not removed.
Unlike two previous law enforcement operations, no one was arrested during this third sweep.  Officers did not spot anyone camping in the restricted area.
Law enforcement operations on Mauna Kea can happen at any time.  The emergency rule prohibits camping in the restricted area between the hours of 10:00 p.m. and 4:00 a.m. 
# # #
Media Contact:
Dan Dennison
Senior Communications Manager
(808) 587-0407