DEPARTMENT OF LAND AND NATURAL RESOURCES
News Release
DAVID Y. IGE
GOVERNOR

SUZANNE D. CASE
CHAIRPERSON
For Immediate News Release December 4, 2015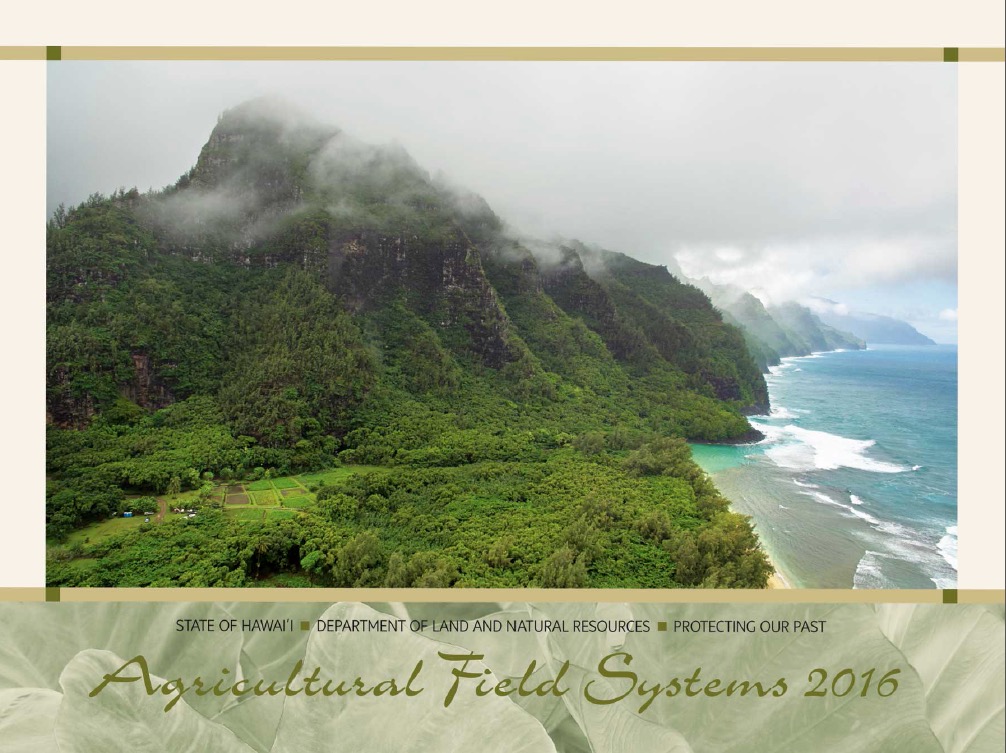 TRADITIONAL AGRICULTURAL FIELD SYSTEMS OF HAWAI'I ARE FOCUS
OF 2016 STATE HISTORIC PRESERVATION CALENDAR
HONOLULU — Fans of Department of Land and Natural Resources' annual State Historic Preservation Division (SHPD) photographic calendar will find a unique historic journey in the 2016 edition, which highlights the evolution of Hawaii's agricultural field systems, from the first Polynesian voyagers, up to the modern revitalization of some systems by nonprofit groups. Proponents of this style of 'malama 'aina' are now enriching lives through sustenance agriculture as well as education and cultural practices.
The beautiful wall calendar was designed by Viki Nasu Design Group, with Ric Noyle providing magnificent photographs of remnants of the vast and complex field systems in the islands. It is produced jointly by the DLNR and the Hawaii Heritage Center.
"We are proud to honor these ancient Hawaiian field systems, some of which have been, and are being, restored to active agricultural use in modern times," said Suzanne Case, DLNR chairperson. "For more than 30 years the State Historic Preservation calendar has showcased the rich cultural and architectural history of Hawaii. DLNR and the Hawaii Heritage Center are deeply grateful to the continued support of the following corporate sponsors to share our outstanding treasures with the community," she said.
Alexander & Baldwin Foundation
Aukahi
Cultural Surveys Hawai'i, Inc.
Division of Boating & Ocean Recreation
Fung Associates, Inc.
Hawaiian Electric Company, Inc.
INPAC Realty Inc.
Larry and Beatrice Ching Foundation
Office of Hawaiian Affairs
WCIT Architecture
Copies of the "Traditional Agricultural Field Systems of Hawai'i," 2016 calendar, which also serves as a tide calendar, will be available for purchase by December 10 from Hawai'i Heritage Center (1040 Smith St., Honolulu, or by mail at: P.O. Box 37520, Honolulu, HI 96837), as well as at Book Ends in Kailua and Na Mea Hawai'i/Native Books at Ward Warehouse in Honolulu.
The first Polynesian voyagers to Hawai'i around a thousand years ago brought with them carefully nurtured plants which would eventually propagate and form the sustenance for an ever-expanding population and evolving society. Slowly the island settlements modified old practices and adopted new ones to develop vast and complex fields systems throughout the archipelago which included the development of powerful regional chiefdoms. At its full development all usable land in these islands formed a vast cultural landscape. Even marginal lands, defined as younger lava flows or areas of low rainfall were subject to ingenious techniques to enrich the soil and conserve water.
Early European voyagers of the late 18th century remarked on the complexity and sophistication of the systems and the ingenuity implicit in their design and maintenance. These include Captain James Cook and Lieutenant King in Waimea, Kaua'i and Archibald Menzies at Kealakekua, Hawai'i Island.
These systems were designed with a long-term vision of soil and water conservation with planting cycles guided by intimate understanding of local temperature and rainfall patterns and soil characteristics. Planting schedules where guided by attention to seasons and moon phases and specific plants were placed in microenvironments within these complexes most suitable for their growth.
The most important food plant was of course taro (kalo), which can be grown in ponded fields (lo'i) as well as in dry land areas where rainfall was plentiful. Other crops included sweet potatoes ('uala), which could be grown intensively in drier areas along with yams (uhi). Bananas (mai'a), bread fruit (ulu), gourd (ipu), sugarcane (kō), ti (kī), and other useful plants were grown on banks and along terrace walls and field boundaries.
These field systems can be divided into two basic types – 1) wetland – containing lo'i  – fields irrigated with water flowing through a succession of fields or channels ('auwai), 2) dry land or kula, meaning supported by rainfall. In reality the traditional systems are often a combination of both types with the dry land crops along higher banks and borders of irrigated patches. Likewise, some irrigated patches are found in isolated portions of kula lands where surface water was available. A classic example of this interaction in land-use can be seen in the Kōloa system which covered nearly a thousand acres of the makai portion of the 'ahupua'a of Kōloa on the south coast of Kaua'i.
The geographic extent of these field systems were widespread and reached their zenith in the few hundred years before European contact in the late 18th century.  Extensive terrace complexes existed on every island in virtually every valley and coastal plain with a flowing stream. Many of these terraces remain today and are of imposing height, six feet or more, depending on the degree of slope in the valley.
The predominant dry land field systems or rainfall fed systems occurred on the leeward slopes in areas with rainfall exceeding 15 to 20 inches and on more mature volcanic soils. The most prominent and best documented of these, the Kona field system, is found on the leeward slopes of Hualālai in Kona on Hawai'i Island and stretches northwards from Kealakekua to Kailua town.  The other extensive system covers the leeward slopes of the district of Kohala. Other well-known field systems occur in Kula, Maui, Ka'ū, Hawai'i Island and Kalaupapa, Moloka'i.
Remnants of these fields and boundaries can be seen most effectively from the air even in areas that have been chained, dragged, or modified for pasture over many years. Many of the traditional irrigated systems were later converted to rice cultivation and successively back to taro. In more recent times some of these systems have been restored to productive use by community groups that are teaching respect for Hawaiian cultural values through active land management.
# # #
Media Contact:
Deborah Ward
DLNR Communications specialist
Phone: (808) 587-0320