02/17/16 – Backpackers Stranded By Flooded Hanakapiai Stream Back To Safety, Kalalau Trail on Kauai Now Open Again
Posted on Feb 17, 2016 in DOCARE, News Releases, slider, State Parks
DEPARTMENT OF LAND AND NATURAL RESOURCES
News Release
DAVID Y. IGE
GOVERNOR

SUZANNE D. CASE
CHAIRPERSON
For Immediate News Release February 17, 2016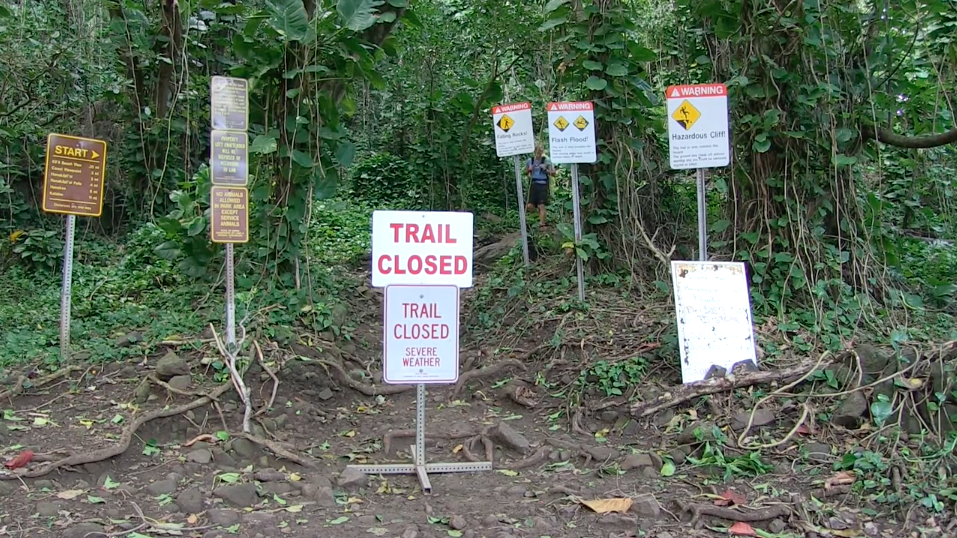 (Click on image to watch video)
BACKPACKERS STRANDED BY FLOODED HANAKAPIAI STREAM BACK TO SAFETY
Kalalau Trail on Kauai Now Open Again
(Lihue) – At least a dozen Kalalau Trail backpackers were forced to spend an extra night camping in the Napali Coast State Wilderness Park, after Hanakapiai Stream flooded yesterday afternoon.
The Kauai County Fire Dept. was alerted about the stranded hikers but due to strong winds and continued rain, the department was unable to fly its rescue helicopter, Air One, to the scene.  Instead county lifeguards from the Kee Beach tower hiked the two miles to the stream to communicate with the stranded people.  Prior to the lifeguards reaching the stream crossing, backpackers describe others who panicked and fashioned a thin line to cross the fast moving water.
Valeria Gracheva and Martin Guski of Germany hiked out to the trailhead this morning.  They say it was no big deal for them to stay an extra night in the park.  Their decision was reinforced as they watched in horror, as a man and woman clung to the makeshift line in rushing, chest-deep water.  At one point Gracheva says the woman lost her grip, went into the stream, and then at the last second, as her companion grabbed for her, she was able to climb onto his back.  Gracheva said, "So we thought it was over for her."
Hanakapiai Stream, at flood stage has claimed numerous lives over the years, when people attempting to cross it are swept out to sea.  The DLNR Division of State Parks closes the Kalalau Trail in advance of flood warnings and immediately after and during flash flooding.  A state parks ranger hiked to the stream crossing this morning before giving the all-clear to reopen Napali Coast State Wilderness Park to hikers and backpackers. Officers from the DLNR Division of Conservation and Resources Enforcement (DOCARE) were stationed at the trailhead to warn users of the closure.
This latest stream flooding and the incident the backpackers described is why fire and parks officials continually warn hikers not to cross Hanakapiai or any other stream along the Napali Coast until waters have receded. Backpacker Alexander Lau of Oahu also witnessed the couple crossing the stream at high water.  He said, "After the last couple came very close to death and at that point everyone said you guys shouldn't cross and I was of the same decision because the risk seemed too high."
No one was hurt in the flooding and all of the stranded backpackers made it back to their cars this morning. The Kalalau trail re-opened by noon.
Media Contact:
Dan Dennison
Hawaii Dept. of Land and Natural Resources
Senior Communications Manager
Office of the Chairperson-Communications Office
1151 Punchbowl Street, Room 131
Honolulu, HI 96813
(808) 587-0407