07/04/16 – Officers Deal With Underaged Drinking And Boating Violations During Waikiki Flotilla
Posted on Jul 4, 2016 in DOCARE, News Releases, slider
DEPARTMENT OF LAND AND NATURAL RESOURCES
News Release
DAVID Y. IGE
GOVERNOR

SUZANNE D. CASE
CHAIRPERSON
For Immediate News Release July 4, 2016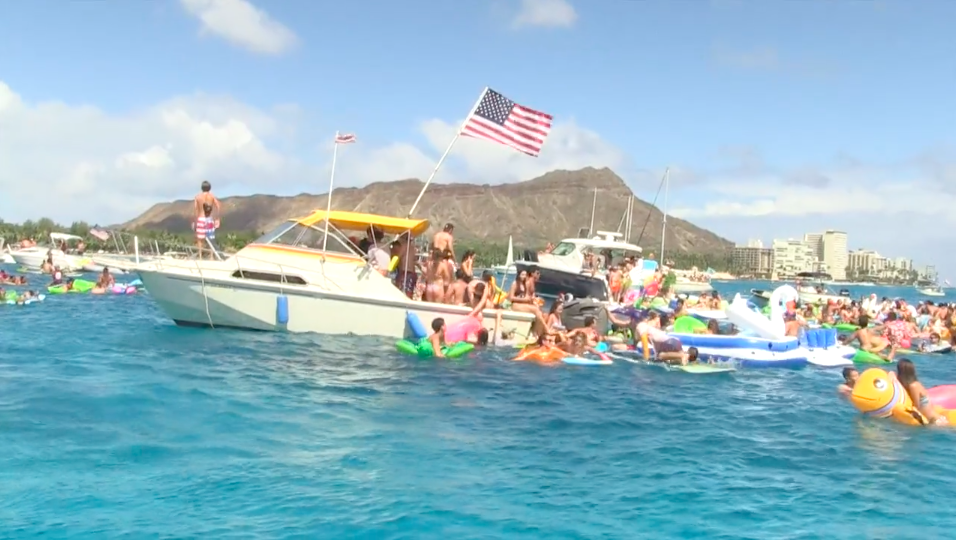 OFFICERS DEAL WITH UNDERAGED DRINKING
AND BOATING VIOLATIONS DURING WAIKIKI FLOTILLA
(HONOLULU) – Officers from the DLNR Division of Conservation and Resources Enforcement (DOCARE) patrolled on land and in the ocean on this Independence Day holiday to keep ocean users safe during what's become known as the Waikiki flotilla or Floatopia.  As of late afternoon only one person had been cited and no one had been arrested or injured as DOCARE officers focused on safety for the estimated 1000 people on boats, stand-up paddle boards, inflatable rafts, mattresses, and an infinite variety of floating toys.
DOCARE officers escorted a boat full of young people back to the Ala Wai Small Boat Harbor, after they were spotted drinking on a boat without a current registration and required safety gear like personal flotation devices (PFDs).  The operator of the boat was cited for three different violations and the boat was impounded. Her passengers were issued warnings and if they were underage their parents or legal guardians were called to pick them up. Officers from the Honolulu Police Department provided assistance. Guy Chang, the DOCARE Oahu Branch Chief observed, "This boat was an accident waiting to happen. You mix alcohol, with boating, sun exposure and the lack of safe operations and equipment and it's probably only a matter of time before someone would have gotten hurt."  With hundreds of boats and thousands of people in the water off Waikiki, Chang and his officers emphasized safety with everyone they encountered today.
In conjunction with the U.S. Coast Guard, DOCARE officers ordered an overloaded catamaran, operating in the flotilla, to return to its slip at Kewalo Basin. Officers say the vessel was riding low in the water and they estimated at least 50 people were on its deck at one time.  Additionally the boat didn't have PFDs for every individual on board.  It's believed the boat is a commercial vessel and its captain has a commercial license, so DOCARE officers plan to follow-up and possibly issue citations related to the overcrowding and lack of PFDs.
At least two young people on floating rings that deflated had to be taken back to Waikiki Beach. They told officers they were unable to swim the 500-1000 yards back to the beach, so a DOCARE jet ski hauled them back to safety.  It remains to be seen what kind of mess participants in the flotilla might leave behind.  Volunteers from the non-profit, Sustainable Coastlines, operating off a boat on the edge of the flotilla were picking up rubbish from the ocean and encouraging participants to clean up after themselves. 
# # #
Media Contact:
Dan Dennison
Senior Communications Manager
(808) 587-0407