DEPARTMENT OF LAND AND NATURAL RESOURCES
News Release
DAVID Y. IGE
GOVERNOR

SUZANNE D. CASE
CHAIRPERSON
For Immediate News Release August 3, 2016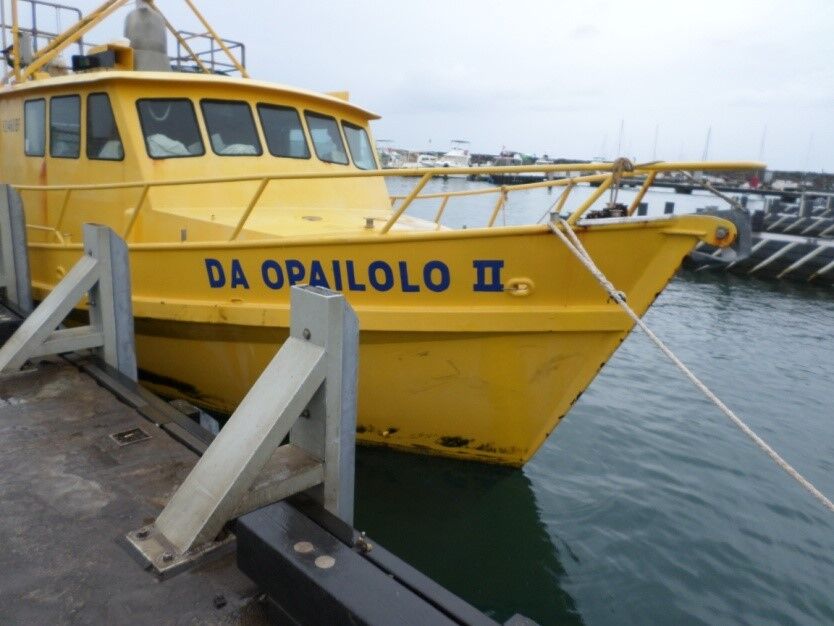 SCOFFLAW SHRIMP BOAT CAPTAIN FINED $600  
FOR BLACK CORAL, BOATING VIOLATIONS
HONOLULU —   Hawai'i Environmental Court Judge Randal Shintani has imposed a fine of $600 upon Ming Ren Yan, captain and owner of the shrimp fishing vessel Da Opailolo II.  The case stems from fall 2015, when Da Opailolo II was illegally mooring in Wai'anae Small Boat Harbor. 
Harbor tenants contacted the Division of Boating and Ocean Recreation (DOBOR), who reported the violations to Division of Conservation and Resource Enforcement (DOCARE), which enforces DLNR laws.  DOCARE dispatched on-duty officers who patrol the coastline and conservation lands in the Wai'anae area to Wai'anae Small Boat Harbor. 
In August 2015, DOCARE issued citations to Yan for mooring without a harbor permit, failure to possess a boat operator's license, and failure to carry a certificate of number aboard his vessel.  At the time, the 47' shrimp fishing vessel had been illegally moored for seven days in Wai'anae harbor slip A-01.
In November 2015, DOCARE was again called to Wai'anae Small Boat Harbor to investigate illegal mooring activity by Da Opailolo II.  Responding DOCARE officers conducted a safety inspection boarding, during which time it was discovered that Yan continued to operate without a boat operator's license or certificate of number as required by Hawaii law. 
During the safety inspection, DOCARE officers discovered a branch of what appeared to be black coral mounted near the helm of Da Opailolo II. 
Under Hawai'i law, it is illegal to take or possess any black coral with a base diameter of less than ¾ inches.  The specimen found aboard the Yan's vessel had a diameter of less than ¼ inch.  Aquatic biologists with the DLNR's Division of Aquatic Resources were able to positively identify the coral's class, subclass, and order – critical in presentation of the coral as evidence in the case's prosecution.   
"This incident demonstrates the benefits of agency cooperation" said Jason Redulla, DOCARE's Deputy Enforcement Chief.  "Without DOBOR's vigilance, DAR's biological expertise and the persistence of the Prosecutor's office, this case could not have been successfully adjudicated.  We'd like to remind the public that black corals are a precious resource and are highly regulated because they take so long to grow," Redulla added.    
DLNR regulates vessels, harbors, and aquatic resources through administrative rules adopted by the Department. Under Hawai'i Administrative Rules section 13-244-15.5, any person operating a power driven vessel in state waters (out to three nautical miles) must possess a certificate demonstrating completion of an approved Hawaii boating safety and operation course. 
Additionally, vessel operators are required under Hawai'i Administrative Rules section 13-241-8 to carry a certificate of number for their vessel at all times.  The certificate contains vital information about vessel construction, use and duties of operators that are aimed at improving safety and preventing fraud in sale or transfer of vessels. 
Under Hawai'i Administrative Rules section 13-231-17, vessels are prohibited from mooring in state harbors except at assigned locations or contrary to directions of harbor authorities.  Black corals are regulated by Hawai'i Administrative Rules section 13-91-2.  Violations of these rules are petty misdemeanors punishable through the imposition of fines or imprisonment. 
To report natural resources violations call the Division of Conservation and Resources Enforcement at 643-DLNR.  Callers may remain anonymous. 
# # #
Media Contact:
Deborah Ward
DLNR Communications Specialist
Phone: (808) 587-0320