08/27/16 – DLNR & YOU – MALAMA THE NAPALI COAST STATE WILDERNESS PARK 2016; Efforts Beginning to Show Improvements at Iconic Kauai Park
Posted on Aug 27, 2016 in DOCARE, News Releases, slider, State Parks
DEPARTMENT OF LAND AND NATURAL RESOURCES
News Release
DAVID Y. IGE
GOVERNOR

SUZANNE D. CASE
CHAIRPERSON
For Immediate News Release August 27, 2016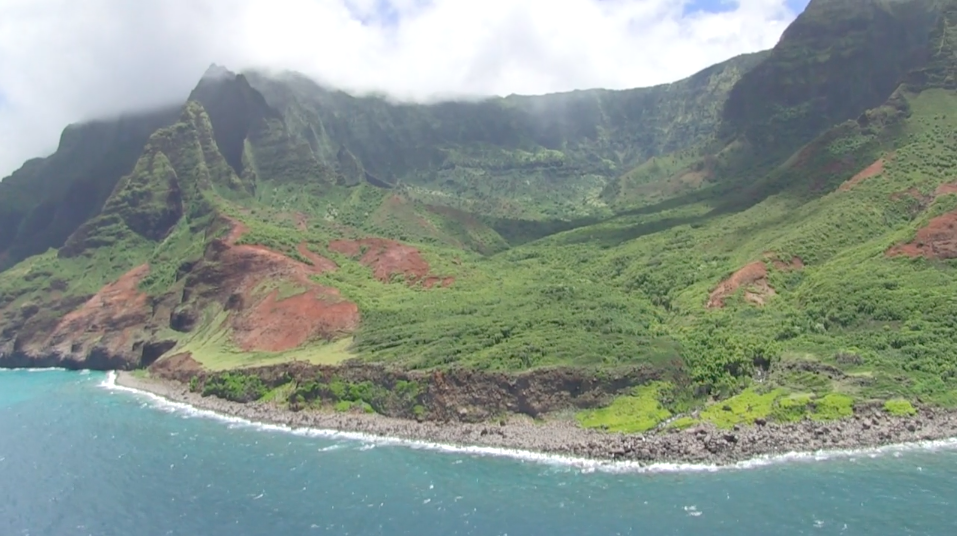 (click on image to watch video)
DLNR & YOU – MALAMA THE NAPALI COAST STATE WILDERNESS PARK
2016 Efforts Beginning to Show Improvements at Iconic Kauai Park 
(Honolulu) – Maintaining and caring for (to malama) a remote wilderness park is a daunting, expensive, and labor-intensive task. When the leadership of the Hawai'i Department of Land and Natural Resources (DLNR) elected this year to put renewed emphasis on the spectacular Napali Coast State Wilderness Park on Kaua'i, they knew that many years of unpermitted activity, an often-times unforgiving environment and unprepared or unwary visitors would continue to create a special set of challenges and opportunities.
DLNR Chair Suzanne Case explained, "The combined efforts of the DLNR Divisions of State Parks and Conservation and Resources Enforcement (DOCARE) are beginning to show some major results. There are fewer people illegally entering the area in the park where a state permit is required; there's less rubbish being generated; and there are fewer and less elaborate, long-term illegal camps being erected by renegade transportation operators and their customers.  We're pleased with the last 10 months of effort and know that we still have much to do to restore the Napali Coast to its rightful place as symbolic of what wild Hawai'i should look like and how it should be cared for."
DOCARE began stepping up enforcement visits to the Kalalau Section of the park in late 2015.  When five Kauai-based conservation officers flew there in mid-August they cited 13 people for being in an unpermitted area (any travel or presence beyond the 2-mile mark at Hanakapiai Stream requires a state permit).  So far in 2016 more than 100 people have been cited. They too saw less evidence of camping supplies and food stuffs being brought in by illegal jet ski operators who are known to charge backpackers and hikers $125-$150 per trip to get to Kalalau beach. DOCARE officers witnessed Francis Alekai Kinimaka land a jet ski on Kalalau Beach last February. He pleaded no contest to three charges and was sentenced by a Kauai environmental court judge to 150 hours of community service. Kinimaka, officers believe, is one of several people who've run illegal transport to Kalalau for decades. These operations generate the bulk of trash and human waste that State Park's workers have to airlift out on a regular basis, at great taxpayer expense.
Back in February, DOCARE Officer Robert Rushforth continued to express dismay that these people feigned some sort of good Samaritan purposes for their illegal commercial operations, when in fact Rushforth said, "There's no way large coolers, patio furniture, cases of beer, and mattresses are carried in over 11 miles of challenging trail, on someone's back. For them to claim they are caring for the place just doesn't ring true."  Rushforth was part of the team that issued citations in August.  He too believes conditions at Kalalau are improving for people who do the right thing and get a permit, but adds, "We need the support of lawmakers, the state land board, and the environmental courts to increase penalties and give DOCARE officers increased arrest powers to make it tougher on people who don't show up for court dates because they claim not to have identification or give wrong names and other identifying information."
Division of State Parks Administrator Curt Cottrell echoes the sentiment, "A sustainable long term solution is creating new staff assigned to Napali with satellite phones to communicate with DOCARE officers about unpermitted campers, while also adding quality maintenance to the Kalalau campground, the trail, and composting toilets. We need rubbish consolidation for helicopter operations, and the ability to communicate seasonal weather issues which affect stream flows. Hundreds of thousands of people from around the global visit the Napali Coast State Wilderness Park each year and we want to ensure they have a safe and memorable experience."   Regular clean-up operations over the past few months reinforce the notion that things are improving.  Early in the year crews were airlifting upwards of 20 large helicopter sling loads of trash and rubbish from Kalalau.  The last few months the airlifts have been down to two or three loads.
The plight of the Napali Coast State Wilderness Park was documented in a television special, "Renegades, Risks, and Rewards of the Napali Coast."  It aired four times on Honolulu station, KFVE-TV and was the first in a series of broadcasts and initiatives being supported by the Hawai'i Tourism Authority. The news media can learn more about the DLNR & YOU initiative, which encourages everyone to malama the aina (land) and ocean, during the "Protectors and Promoters Partner" news conference during the IUCN World Conservation Congress.  DLNR Chair Suzanne Case and HTA President George Szigeti are scheduled to speak at this first of 9 news conferences on Friday, Sept. 2, 2016 at 1:45 p.m. in Room  320 (small auditorium) of the Hawai'i Convention Center.
# # #
Media Contact: 
Dan Dennison
Senior Communications Manager
(808) 587-0407
[email protected]