11/03/16 – State Conservation Officers Deploy Two New Vessels For Patrols
Posted on Nov 3, 2016 in DOCARE, News Releases, slider
DEPARTMENT OF LAND AND NATURAL RESOURCES
News Release
DAVID Y. IGE
GOVERNOR

SUZANNE D. CASE
CHAIRPERSON
For Immediate News Release November 3, 2016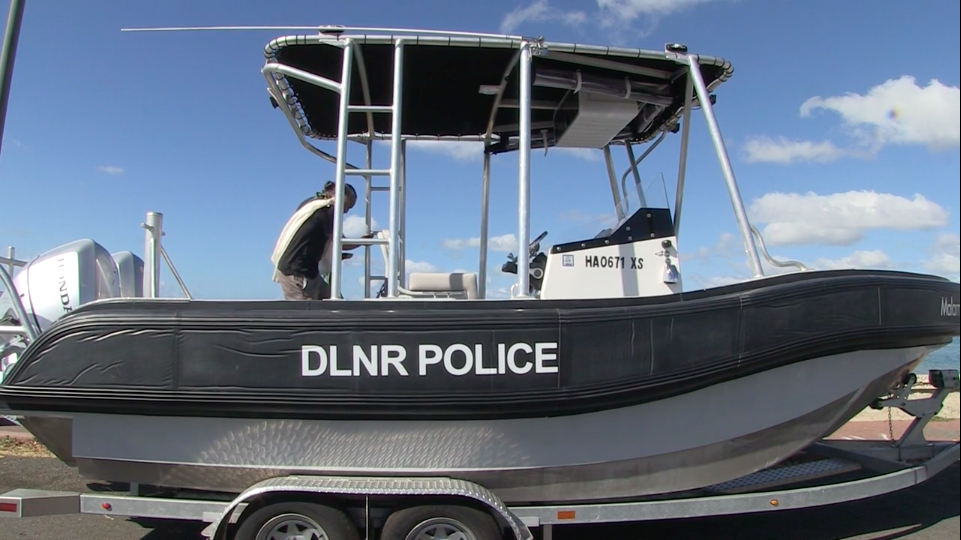 STATE CONSERVATION OFFICERS DEPLOY TWO NEW VESSELS FOR PATROLS
Boats will enhance marine enforcement for Oahu & Big Island DOCARE Officers
(HONOLULU) – They're fast and stable; and given Hawai'i's frequently rough waters, the two new Sea Blade 23 law enforcement vessels acquired the DLNR Division of Conservation and Resources Enforcement (DOCARE), fit the bill. Today one of the 23-foot long, aluminum, center-control console boats, the Malama Kai II, was blessed during a ceremony at the Keehi Small Boat Harbor.  It will be based on Oahu and used by DOCARE's Marine Enforcement Unit.  The other vessel has been in service at Kona on Hawai'i Island for several months and will be blessed at a later date.  Officers are using it there to enforce rules associated with swimming with dolphins and other marine animals, as well as for general law enforcement purposes.
Jason Redulla, DOCARE acting enforcement chief said, "The Sea Blade 23's performance attributes and design make it an ideal tool for our specific missions.  Navatek Boat Builders (NBB), based here in Hawai'i worked collaboratively with us to provide superior vessels that provide excellent performance in our challenging ocean conditions. Working with a local company gave us a personal connection and input on this project and eliminated the risks associated with buying boats overseas."
The Sea Blade 23 incorporates a large T-top for sun protection, a 100-gallon fuel capacity and twin 150 horsepower engines. NBB President Gary Johnson explained, "The Sea Blade 23 uses our patented hull design, which was specifically designed to operate safely and comfortably in Hawaii's rough and unforgiving sea conditions. We feel it's important for us to provide products built with local knowledge and appreciation of Hawaii's rough waters which helps eliminate the risk of getting an incompatible boat from venders unfamiliar with our local conditions."  NBB is now working on a 30-foot law enforcement version of the Sea Blade.
"These vessels will greatly enhance the capacity of the work performed by our DOCARE officers, that's necessary to protect and monitor Hawaii's natural resources," said DLNR Chair Suzanne Case.  She added, "We're pleased that Navatek has such great knowledge and appreciation for our unique ocean conditions and marine environment and can translate that into building vessels that will help serve the people of Hawai'i."
The Oahu-based vessel, Malama Kai II, was so named after the first ocean-going law enforcement vessel state fish and game wardens began using in 1960; Malama Kai. It was in recognition of the need for officers to be able to patrol ocean waters as well as the land.
Media Contact:
Dan Dennison
Senior Communications Manager
Hawaii Dept. of Land and Natural Resources
Office of the Chairperson
1151 Punchbowl Street, Room 131
Honolulu, HI 96813
(808) 587-0407