DEPARTMENT OF LAND AND NATURAL RESOURCES
News Release
DAVID Y. IGE
GOVERNOR

SUZANNE D. CASE
CHAIRPERSON
For Immediate News Release January 26, 2017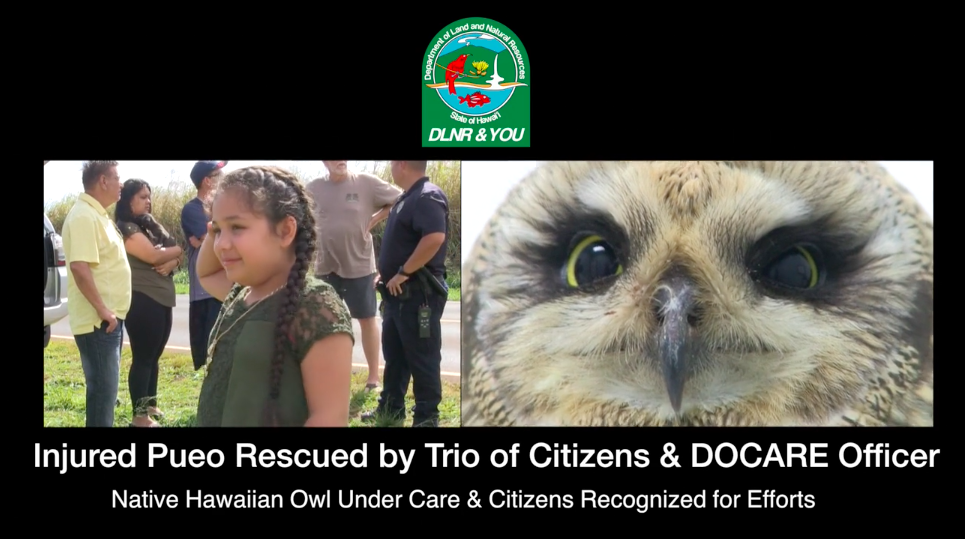 (click on image to watch video)
INJURED PUEO RESCUED BY TRIO OF CITIZENS AND DOCARE OFFICER
Native Hawaiian Owl Under Care & Citizens Recognized for Efforts
(HONOLULU) – When 7-year-old Malia Rillamas first spotted the bird, she pointed it out to her dad Jonathan.  The family, from Haleiwa, pulled off the country road on O'ahu's north shore on the afternoon of Jan. 15, 2017 to see if they could help.  A short time later Brian Smith of Wahiawa also pulled over.  Together the trio watched as the pueo (Hawaiian short-eared owl), hopped across the road and ultimately into a deep roadside ditch. They discussed what to do and who to call and eventually called 9-1-1 which put them in touch with the DLNR Division of Conservation and Resources Enforcement (DOCARE).
DOCARE Enforcement Chief Robert Farrell said, "When these folks contacted us we dispatched Officer Brent Murphy.  There was a lapse of several hours between the time Jonathan, Brian, and Malia first encountered the pueo and Officer Murphy's arrival.  Yet, rather than just driving away, they kept watch over this native rare bird (listed as endangered on O'ahu), and did their best to keep it calm and safe."  Ultimately they helped Officer Murphy extract the bird from the ditch and put it into a plastic crate.  Officer Murphy then drove it to Aloha Animal Hospital. It's one of just a few veterinary clinics on the island with a permit to care for endangered or threatened species. Chief Farrell continued, "We can't protect our natural and cultural resources without the engagement of all of Hawai'i's residents and visitors. Our officers can't be everywhere all the time and we deeply appreciate when folks get involved to the extent they did with this hurt pueo."
Dr. Douglas Chang is the veterinarian at Aloha Animal Hospital.  For several decades, he and his team have provided care for endemic, endangered and threatened species to Hawaii. As for the condition of the pueo currently under their care, Dr. Chang said, "Radiographs revealed fractured bones in the elbow. Our hope is this pueo will survive and regain full capability to survive back in the wild."  In the event that doesn't happen, staff from the DLNR Division of Forestry and Wildlife (DOFAW) have been in contact with several licensed facilities that are interested in accepting the bird.
Jonathan Rillimas explains that there was little question that he, his daughter, and Brian would wait with the bird until it could be rescued.  He said, "We believe, like many Hawaiians, it's Hawai'i culture; it's an 'aumakua (family deity). The more that we protect and preserve them and take care of them, they spiritually watch over us."
At a news conference today, DLNR Chair Suzanne Case presented the Rillimas', Smith, Dr. Chang & staff with the first DLNR & YOU Citizen Conservationist awards. Case said, "This is our way of recognizing people who go that extra step toward helping us effectively manage and protect Hawai'i's precious resources.  In the future we hope to single out many of our citizen partners for the roles they play in making Hawai'i the special place we all cherish; by helping watch over and care for all creatures great and small."
The recipients of the DLNR & YOU Citizen Conservationist awards receive a framed certificate. DLNR staff across all divisions are now being encouraged to nominate other people for their contributions to the preservation and protection of our resources.
# # #
Media Contact:
Dan Dennison
Senior Communications Manager
Hawaii Dept. of Land and Natural Resources
Office of the Chairperson
1151 Punchbowl Street, Room 131
Honolulu, HI 96813
(808) 587-0407