DEPARTMENT OF LAND AND NATURAL RESOURCES
News Release
DAVID Y. IGE
GOVERNOR

SUZANNE D. CASE
CHAIRPERSON
For Immediate News Release March 11, 2017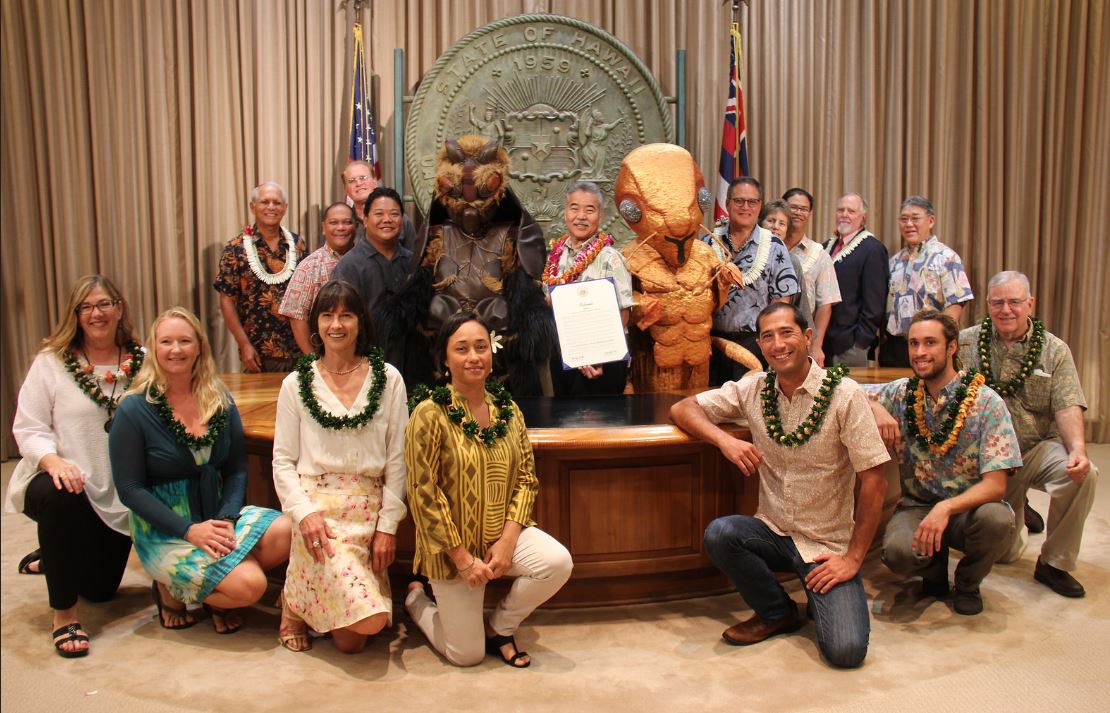 (click on image to visit new site) 
AWARDS HIGHLIGHT SUCCESSES IN THE FIGHT AGAINST INVASIVE SPECIES
Community members & businesses honored as part of Invasive Species Awareness Week
(HONOLULU) –  Governor David Ige proclaimed the 5th annual Hawaii Invasive Species Awareness Week (HISAW) at a ceremony Friday that included agency leaders, legislators, industry champions, and citizens who help project Hawaii from the impacts of invasive species. The Governor presented the proclamation to members of the Hawaii Invasive Species Council (HISC), the interagency board responsible for policy direction and cross-sector coordination on invasive species issues. Addressing invasive species is a critical component of this administration's vision for Hawaii's future, as described in the recent Hawaii Interagency Biosecurity Plan and the Sustainable Hawaii Initiative.
In partnership with the HISC, legislators presented a series of awards to community members and businesses who have made substantial contributions to invasive species prevention and control. Representatives Richard Creagan, Nicole Lowen, James Tokioka, Dee Morikawa, and Nadine Nakamura joined Senators Mike Gabbard and J. Kalani English in highlighting the importance of this issue for Hawaii. The Governor, legislators, and HISC members were joined by two giant invasive species: costumed versions of a Little Fire Ant and Coconut Rhinoceros Beetle, provided by the Oahu Invasive Species Committee.
The awardees for Greatest Hit of 2017, Community Hero, and Business Leader were selected from community nominations, and County MVP awards were selected by the University of Hawaii's Invasive Species Committees. An award for the Hottest Pest Hotline Report was nominated by the Hawaii Department of Agriculture.
"While there is much work to do, this event is an opportunity for us to celebrate successes," said DLNR chair Suzanne Case. "The awardees today exemplify how much Hawaii's communities care about protecting Hawaii's natural resources, agriculture, and way of life from invasive species."
HISAW is organized in coordination with the U.S. National Invasive Species Awareness Week (NISAW) and regional Pacific Invasive Species Awareness efforts. The event promotes information sharing and public engagement in what the Hawaii State Legislature has declared "the single greatest threat to Hawaii's economy and natural environment and to the health and lifestyle of Hawaii's people." In addition to the proclamation from Governor Ige and awards ceremony, HISAW 2017 included a student video contest, community presentations, and numerous volunteer opportunities throughout the state. Full information is available at https://dlnr.hawaii.gov/hisc/hisaw/.
2017 HISAW Awards
COMMUNITY HERO
The Hawaii Invasive Species Council recognizes The Pacific American Foundation for their efforts to reduce invasive species impacts to the Waikalua Loko I'a. During 2016, the Pacific American Foundation (PAF) diligently worked to reduce the negative impacts of invasive species to the Waikalua fishpond. By positively engaging with the local community, the PAF has shown an outstanding commitment to the continued to protection and preservation this historic community resource.
BUSINESS LEADER
The Hawaii Invasive Species Council recognizes Serina Marchi, of Seascapes Nursery for her efforts to minimize the introduction and spread of invasive species. Serina is the Owner of Kauai Seascapes Nursery on the North Shore of Kauai. Seascapes Nursery is a family owned business operating on Kauai for over 30 years and is one of the largest nurseries on the island. Serina has shown a very strong interest in helping to minimize the spread and introduction of invasive species by supporting Kauai Invasive Species Committee's (KISC) Pono Endorsement Program. In April 2016, Seascapes Nursery became one of the first nurseries to become endorsed. When choosing the best management practices for her business to follow, Serina has gone above and beyond the minimum requirements to become Pono Endorsed. She not only chose to immediately discontinue the sale of the Pono Endorsement Program "Black List" plants, but also the "Phase Out" list plants". Her actions during 2016, and continued dedication to reducing the introduction and spread of invasive species will help to minimize future impacts of invasive species on Kauai.
GREATEST HIT
The Hawaii Invasive Species Council recognizes Solomon Champion for his efforts in stopping the spread of Miconia calvescens on Oahu. During a routine aerial survey, Solomon spotted an immature Miconia tree beneath the canopy on the leeward side of the Ko'olau Range within the Waiawa watershed. This particular individual has been identified as the farthest documented tree within an intact native forest, as well as an extension into a new watershed. By spotting this individual tree, Solomon has helped to protect the Waiawa watershed and prevent the spread of a highly invasive species.
HOTTEST PEST REPORT
The Hawaii Invasive Species Council recognizes Shawn Baliaris for his efforts relating to reporting and stopping the spread of Mongoose on Kauai. As a proactive community member, Shawn promptly reported sighting a Mongoose on Kauai to the Hawaii Department of Agriculture (HDOA). His diligent action allowed for rapid response from the appropriate agencies, and clearly highlights the usefulness of the 643PEST reporting system, and how the community can personally take actions to protect Hawaii from invasive species.
HAWAII COUNTY MVP
The Hawai'i Invasive Species Council recognizes Carolyn Dillon for her outstanding community efforts and her work controlling Little Fire Ants on Hawaii Island. Throughout 2016 Carolyn has diligently worked to organize her community in a coordinated effort to combat Little Fire Ants (LFA) in her community in Holualoa, West Hawaii Island. Beginning in Late 2015, she became aware of the size of the infestation in her neighborhood and took it upon her to engage community members to treat this pest.  More recently, Carolyn has formed a LFA coalition on the Big Island consisting of members of the County Council and State Legislature, Big Island Invasive Species Committee, Hawaii Department of Agriculture, Hawaii Department of Health, the Governor's Liaison, and the Kohala Center, with the express purpose of furthering LFA education and training, as well as mapping the West Hawaii Infestations. The coalition intends to train business owners on LFA best management practices in order to provide treatment services to homeowners. As a community organizer, Carolyn moved extremely swiftly to increase awareness and has brought many organizations to the table to work together. Her actions and continued dedication showcases the need for community involvement in the fight against invasive species.
MAUI COUNTY MVP
The Hawaii Invasive Species Council recognizes the Community of Haiku Hill for their efforts to control Coqui frogs on the Island of Maui. Haiku Hill is a small a suburb of 39 properties along the border of Maliko Gulch, the site of a major infestation of coqui frogs on Maui. Over the last decade, the Haiku Hill community has transformed from a group of concerned homeowners reporting frogs to partners in coqui control. In 2016 the community truly took matters into their own hands, building tanks, purchasing sprayers, cutting back vegetation, and advocating to funders to address coqui on Maui. Residents sprayed over 1600 gallons of citric acid on their own properties, facilitated a neighborhood citric and sprayer distribution center, and spent countless hours keeping the coqui from spreading from their neighborhood. Their effort not only reduce the frog density in their community, but also helps to stop the spread of coqui to new areas.
OAHU MVP
The Hawaii Invasive Species Council recognizes Sandy Webb for her efforts to incorporate invasive species investigations into the Youth Envisioning Sustainable Futures Program. Sandy has encouraged her students to delve deeper into citizen science by incorporating invasive species investigations into the Youth Envisioning Sustainable Futures program (YES! Futures). https://www.yes-futures.org/about/. This interdisciplinary program she helped found with other Mililani teachers allows students to utilize the skills they develop in many of their classes to address problems in their community and build relevance into their educational experience.  For the past two years, Sandy has lead the Little Fire Ant (LFA) Hoike Activity independently in her classes; resulting in the submittal of 269 samples from the Mililani area in the past two years, with 134 samples submitted in 2016 alone. By incorporating invasive species into her teaching, Sandy has encouraged her students to students learn about relevant issues relating to invasive species impacts, and become part of the solution.
KAUAI COUNTY MVP
The Hawaii Invasive Species Council recognizes Kawika Winter for his efforts to protect priority watershed areas and control the spread of invasive species on the island of Kauai. As part of his role as the Director of Limahuli Botanical Garden and Preserve, Kawika has played a crucial role in the protection and preservation over 1000 acres of priority watershed area on the north shore of Kauai.  In addition, Kawika aims to create a model of a functioning, 21st-century ahupua`a. This model focuses on a mountain-to-sea resource management strategy and includes both modern and traditional techniques. By incorporating landscape scale invasive species control efforts, native plant restoration, sustainable fisheries practices, and community engagement into his management practices, Kawika has demonstrated a lasting dedication to protecting and restoring key resources on the Island of Kauai.
# # #
Media contact:
Dan Dennison
Senior Communications Manager
Dept. of Land and Natural Resources
Phone: (808) 587-0407