DEPARTMENT OF LAND AND NATURAL RESOURCES
News Release
DAVID Y. IGE
GOVERNOR

SUZANNE D. CASE
CHAIRPERSON
For Immediate News Release March 22, 2017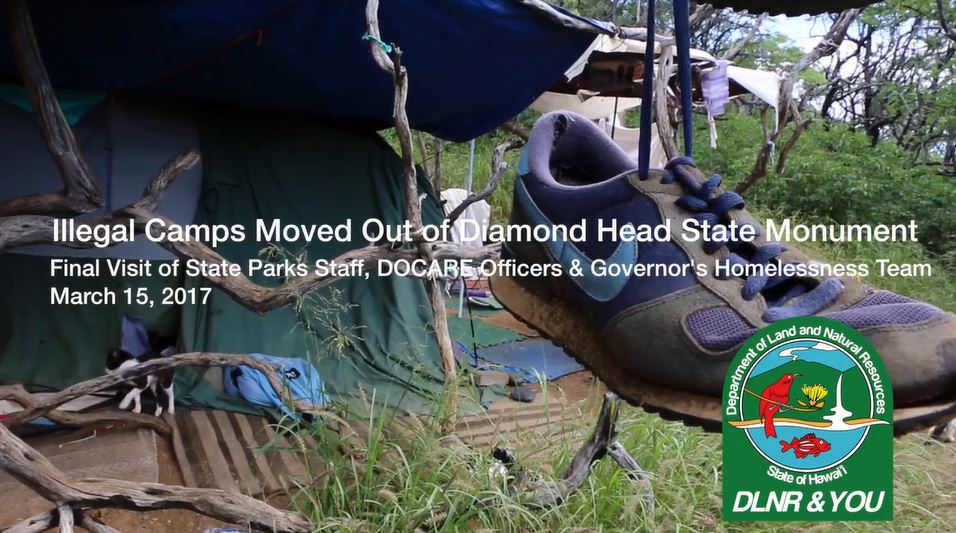 (click on image to visit new site) 
ILLEGAL CAMPS MOVED OUT OF DIAMOND HEAD STATE MONUMENT
Seven People Cited So Far During Cleanup & Enforcement Operation
(HONOLULU) – Following six months of outreach to homeless individuals living on the slopes of Hawai'i's iconic Diamond Head, crews from the DLNR Divisions of State Parks and Conservation and Resources Enforcement (DOCARE), along with a private rubbish contractor removed tons of debris from illegal camps within Diamond Head State Monument. They were joined by state outreach representatives.
"We empathize with anyone in Hawaii who does not have a home, and thank Governor Ige's homelessness team for the work they are doing to find shelter for people who do not have it. State lands, though, are owned by all of Hawai'i's residents and cannot be used as a place for long-term camps," said State Parks Administrator Curt Cottrell. Spread across the southeast flanks of Diamond Head, parks and outreach workers have found abandoned clothing, food containers, camping equipment, cans and bottles. Last week, during the sixth outreach activity, social workers and DLNR staff again hiked to each camp. During previous outreach trips since last October, workers have informed people at camps, in person or in writing that they would need to vacate their camps sometime in mid-March. Cottrell continued, "We are encouraged that several of the 36 camps we originally posted are no longer occupied, and we have been told that some people have been placed into transitional housing."
As with all the previous visits to Diamond Head, a team of DOCARE officers participated today. As of 9 a.m. they'd issued six (6) citations for the violation of being in a closed area. DOCARE Enforcement Chief Robert Farrell commented, "Citing these people is the last step in this concerted effort to enforce park rules." This is the third clean-up of illegal camps at Diamond Head State Monument.
Scott Morishige, the Governor's Coordinator on Homelessness said, "This operation is not only about maintaining DLNR lands; it's about connecting people to housing. We've been conducting ongoing outreach and notification to the estimated 30-35 people living in the area since October. These efforts have resulted in housing two veterans who had been homeless for a decade.  We will continue to work closely with the state service providers: Kalihi-Palama Health Center, Institute for Human Services, and the CHOW Project, to build relationships with people experiencing homelessness and connect them to housing."
DLNR Chair Suzanne Case said, "Diamond Head is Hawai'i's best known natural landmark. Our State Parks are for the enjoyment of all kama'aina and visitors. Other than the established, paved walking path in Diamond Head crater, the area is off-limits because it's not managed for public access and therefore not safe."
The State has identified at least 40 camps or rubbish locations on Diamond Head. So far today workers have filled two large roll-off bins with materials that had previously been tagged as trash or identified by campers as such.
# # #
Media Contacts:
Dan Dennison
Senior Communications Manager
Hawaii Dept. of Land & Natural Resources
(808) 587-0407