DEPARTMENT OF LAND AND NATURAL RESOURCES
News Release
DAVID Y. IGE
GOVERNOR

SUZANNE D. CASE
CHAIRPERSON
For Immediate News Release May 26, 2017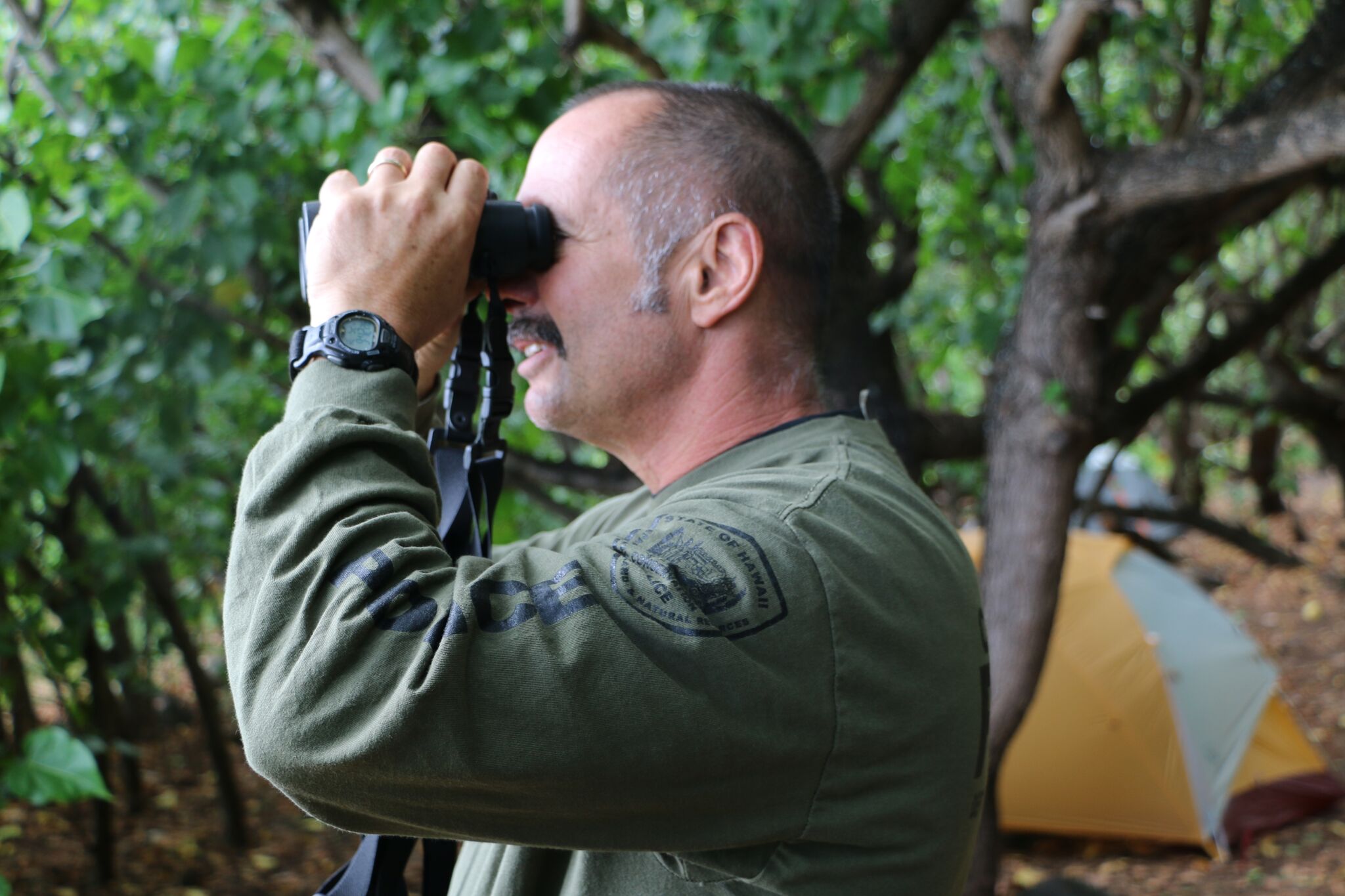 (click on image to watch video)
ELEVEN ARRESTS, MARIJUANA PLANTS, AND ILLEGAL CROSSBOW MARK LATEST NAPALI ENFORCEMENT EFFORT
Combined DOCARE & State Sheriff Operation
(Honolulu) – Work to restore the Nāpali Coast State Wilderness Park to its true wilderness character continued during a three-day law enforcement operation this week. A dozen officers from the DLNR Division of Conservation and Resources Enforcement (DOCARE) and the Dept. of Public Safety's Sheriff Division arrested eleven people for being in a closed area without a permit in the Kalalau area of the park.  A twenty-year-old man, who could not produce an identification, was handcuffed and flown out of the park and booked on charges at the Kaua'i Police Department.  So far in May, a total of 28 people have been arrested for failing to have the permit required for traveling past the two-mile marker on the famed Kalalau Trail.  During law enforcement efforts over the past two years more than 200 people have been arrested.
"We still have work to do," commented DOCARE Enforcement Chief Robert Farrell. On this, his first trip to the Nāpali Coast since becoming state conservation enforcement chief, he joined his officers as they hiked up the rugged Kalalau Valley in search of illegal squatter camps.  On Wednesday they located numerous camps.  At two, they pulled up small marijuana plants.  At one they confiscated an illegal crossbow. Both camps are well established and elaborate.  One, where squatters had recently posted a web video depicting a brazen party and all the comforts of home, had a pizza oven, an enclosure with a queen-sized bed, what appeared to be an alcohol still, and an extensive system of solar and battery powered lights for its marijuana growing operation.
Farrell added, "The Nāpali coast is very, very remote. It's logistically challenging to get officers to the area and it's difficult to have them stay for long-periods of time for sustained enforcement. Beyond satellite phones, there's no communications. There are a lot of places for people to run and hide, and though clearly some of the camps had significant populations, once they know we're coming in, they hide.  DOCARE plans to increase its frequency of patrols, which unfortunately means shorting attention in other areas.  The division fully supports the Division of State Parks' continuing efforts to secure funding for dedicated, full-time staff in Hawai'i's largest and most remote park to provide education, outreach, emergency response assistance, and law enforcement notification."
The chief, who has previously worked as a game warden in California as well as in the field on Hawaiʻi Island, said, "What's happening in Kalalau is reminiscent of illegal pot growing operations on state and federal lands in California.  Like the California marijuana growers, the Kalalau squatters have no regard for the law or for protection of natural and cultural resources.
He added, "People with permits should be able to enjoy one of the most unique and beautiful landscapes on the planet without the fear of being harassed or having their experience diminished or threatened by those who simply do what they want, where they want, and how they want.  We are continuing to have zero tolerance for these kinds of behaviors and when we catch you, you will be arrested."
The Nāpali coast enforcement operations are fully supported by DLNR leadership. Chair Suzanne Case said, "Law abiding local residents and visitors from all over the world get permits to make the challenging and rewarding 11-mile, one-way hike to the State designated camping area at Kalalau Beach.  We're charged with determining the carrying capacity of both the natural resource and manmade features there, and want to ensure that visitors to this incredible place take away positive memories.  Many have planned for a life-time to do the Kalalau backpack, and we intend to honor their dreams and accomplishments by ensuring Nāpali is a true wilderness."
# # #
Media Contact:

Dan Dennison
Senior Communications Manager
Communications Office
Dept. of Land and Natural Resources
Phone: (808) 587-0407