DEPARTMENT OF LAND AND NATURAL RESOURCES
News Release
DAVID Y. IGE
GOVERNOR

SUZANNE D. CASE
CHAIRPERSON
For Immediate News Release June 17, 2017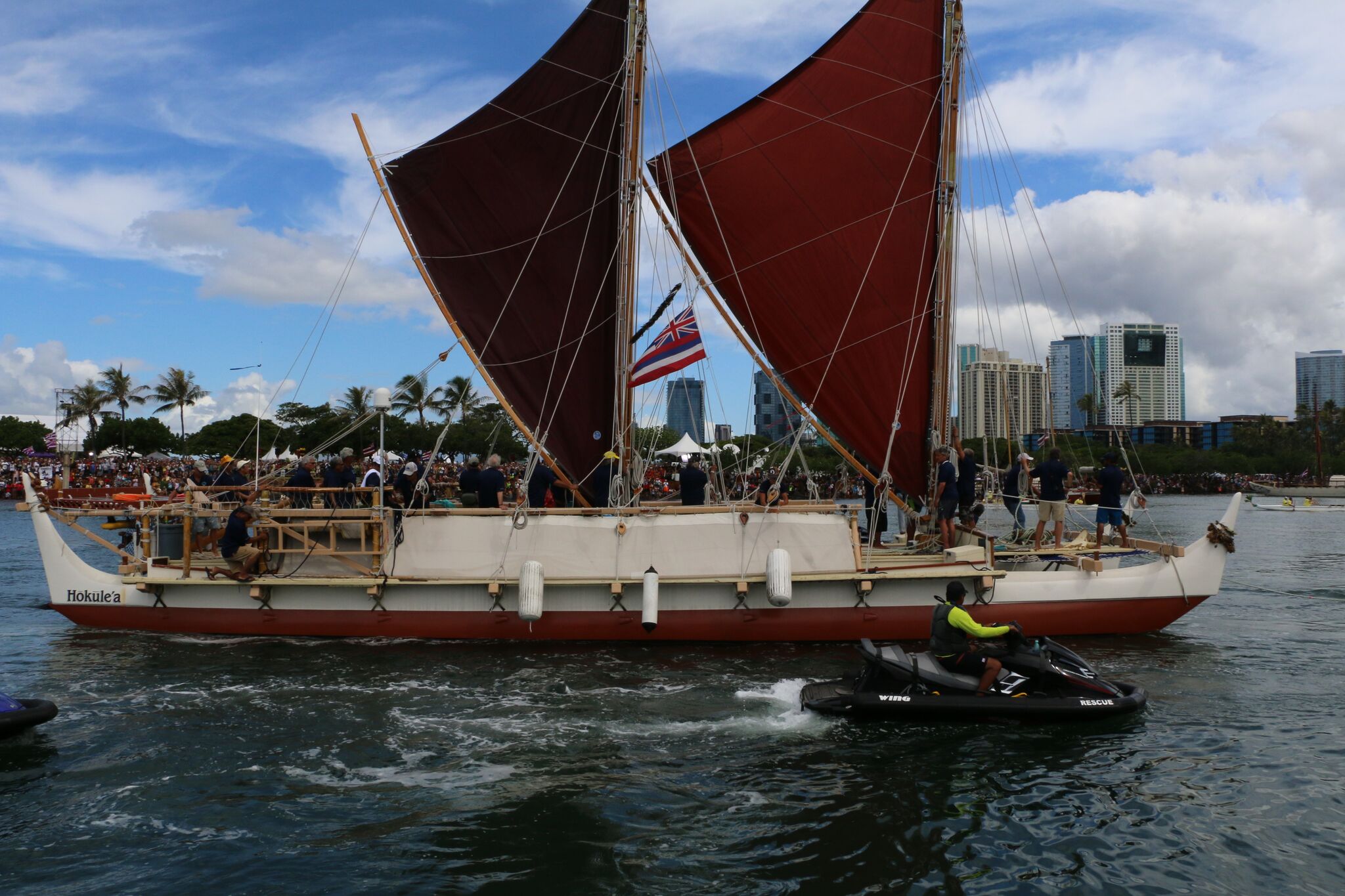 (click on image for video)
MASSIVE EFFORT RESULTS IN SAFE AND FUN HŌKŪLEʻA HOMECOMING
Mālama Honua Worldwide Voyage Ends With No Problems in the Water
(HONOLULU) – With tens of thousands of people lining the banks of Magic Island and more on shorelines, sidewalks, piers and docks there were no reported incident in the water during the four-hour-long parade of wa'a leading to the Hōkūleʻa's temporary overnight mooring off Magic Island.  Hundreds of others in canoes then greeted the vessel as it was being tied up.  A months-long, highly coordinated effort between federal, state, and city and county law enforcement and water safety agencies ensured the trouble and injury-free homecoming.
Today commanders and officers coordinated the safe passage of eight Polynesian voyaging canoes from their command post at the old Ala Wai fuel dock. Participating law enforcement and water safety agencies were the DLNR Division of Conservation and Resources Enforcement (DOCARE), the Honolulu Police and Fire Departments, the U.S. Coast Guard, the City and County of Honolulu's Ocean Safety and Lifeguard Services Division, and the DLNR Division of Boating and Ocean Recreation (DOBOR).
The agencies deployed a large fleet of boats and jet skis to maintain a safety perimeter around the large sailing canoes as they were under tow from the open ocean into the Ala Wai Small Boat Harbor and to Magic Island. On a few occasions officers and ocean safety personnel had to warn other watercraft to respect the safety zone and asked people who'd jumped into the water to get back up on the bank. Dozens of people were involved in the success of today's homecoming.  They are still on the scene at this hour, as they'll escort seven of the wa'a back out of the harbor early this evening. 
# # #
Media Contact:

Dan Dennison
Senior Communications Manager
Communications Office
Dept. of Land and Natural Resources
Phone: (808) 587-0407