DEPARTMENT OF LAND AND NATURAL RESOURCES
News Release
DAVID Y. IGE
GOVERNOR

SUZANNE D. CASE
CHAIRPERSON
For Immediate News Release August 2, 2017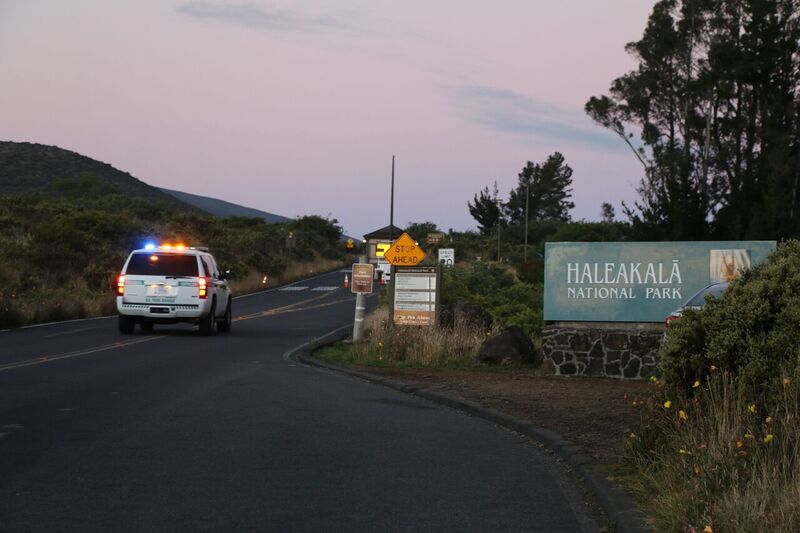 (click on photo to view video)
COMBINED LAW ENFORCEMENT EFFORT RESULTS IN SAFE TRANSIT OF EQUIPMENT UP HALEAKALA
(Kahului, Maui)- Two women and four men were arrested early this morning by Maui Police as they attempted to block the passage of a large vehicle convoy hauling equipment up Haleakala for a new solar telescope. The protesters were among more than 100 who gathered at the intersection of Kula Highway and Old Haleakala Highway beginning at 6 p.m. on Tuesday. By midnight an estimated 60 people were still involved in a peaceful protest. The convoy led by a half dozen police vehicles included four semi-trucks pulling wide-load trailers. It reached the entrance to Haleakala National Park at 6 a.m. and Science City near the summit between 7:30 and 7:45 a.m.
More than 60 law enforcement personnel from the Maui Police Dept., Haleakala National Park, and the DLNR Division of Conservation and Resources Enforcement (DOCARE) participated in the operation.
Prior to the arrival of the convoy at Kula and Old Haleakala Highways, a dozen protesters connected themselves with PVC piping to form a human chain across the road. Police officers gently lifted the prone protestors to the highway's shoulder to give the big rigs enough turning radius. One man who was arrested was taken to the emergency room before being booked.
The other five people arrested, were transported to either the Wailuku or Kihei police stations. All were released on their own personal recognizance and will have court appearances. Charges they face include disorderly conduct, obstructing a highway, failing to obey a police officer and/or resisting arrest.
# # #
Media Contacts:

Dan Dennison
Senior Communications Manager
Communications Office
Dept. of Land and Natural Resources
Phone: (808) 587-0407