03/21/18 – Joint Law Enforcement Operation Removes Illegal Squatters From State Lands On Kaua'i
Posted on Mar 21, 2018 in DOCARE, News Releases, slider
DEPARTMENT OF LAND AND NATURAL RESOURCES
News Release
DAVID Y. IGE
GOVERNOR

SUZANNE D. CASE
CHAIRPERSON
For Immediate News Release March 21, 2018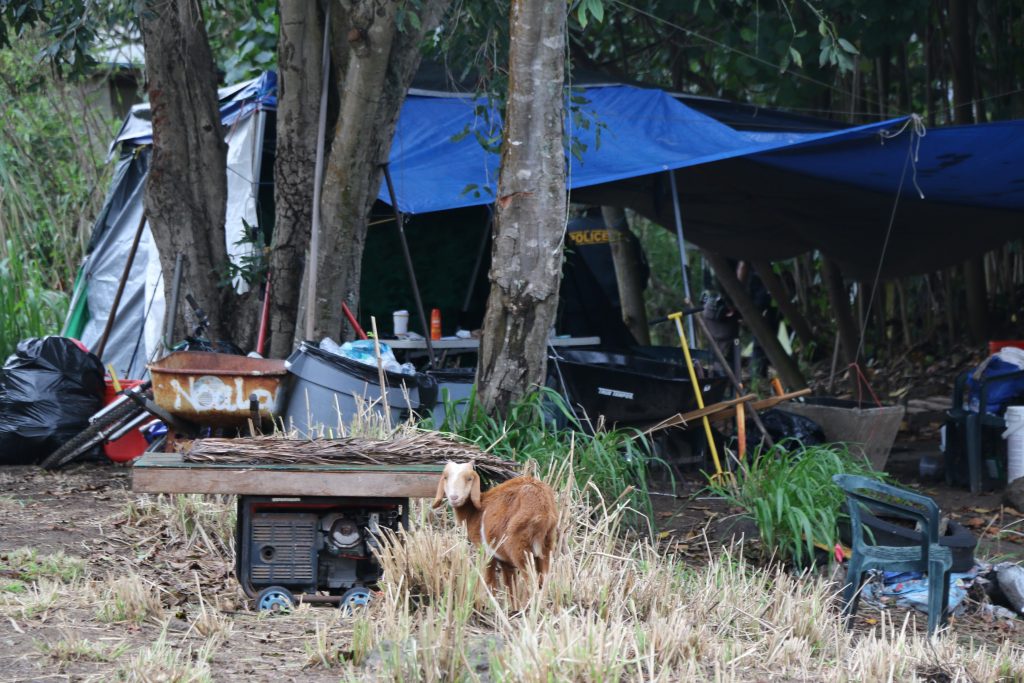 JOINT LAW ENFORCEMENT OPERATION REMOVES ILLEGAL SQUATTERS
FROM STATE LANDS ON Kaua'i
(Lihue) – Two dozen officers from the DLNR Division of Conservation and Resources Enforcement (DOCARE), the Kaua'i Police Dept., and State Sheriffs removed a total of five people from two parcels of DLNR land this morning. . In the week's leading up to today's operation the squatters were offered services to help them find permanent housing, but they declined.
On unencumbered land adjacent to and behind the former Coco Palms Resort, four people, living in two separate camps left peacefully after being informed by officers that they were trespassing on closed State property. The squatters were allowed to pack up personal possessions and valuables. What remained, including tents and other camping gear, was collected and loaded into trucks. That property will be stored for 30 days to allow its owners to reclaim it. No one was cited or arrested. The Kaua'i Humane Society took custody of five goats that had been tied up along the road leading into the property. Three dogs left with their owners.
At Wailua River State Park, a woman who'd been squatting on state property near one of the Wailua River overlooks had previously been notified she needed to vacate. Officers also allowed her to remove whatever personal possessions she wanted. A man identified as her boyfriend was briefly detained when he tried to block entrance to the camp. He was later cited for obstruction of a government operation and will have to make a court appearance.
DLNR Chair Suzanne Case reminded people that State lands are managed for public trust purposes. "When people trespass, and set up illegal long-term camps, they potentially prevent others from beneficial use of the land. Often and sometimes unwittingly they damage or destroy fragile natural or cultural resources."
# # #
Media Contact:
Dan Dennison
Senior Communications Manager
Hawaii Dept. of Land and Natural Resources
1151 Punchbowl Street, Room 131
Honolulu, HI  96813
[email protected]
[email protected]