DEPARTMENT OF LAND AND NATURAL RESOURCES
News Release
DAVID Y. IGE
GOVERNOR

SUZANNE D. CASE
CHAIRPERSON
For Immediate News Release April 26, 2018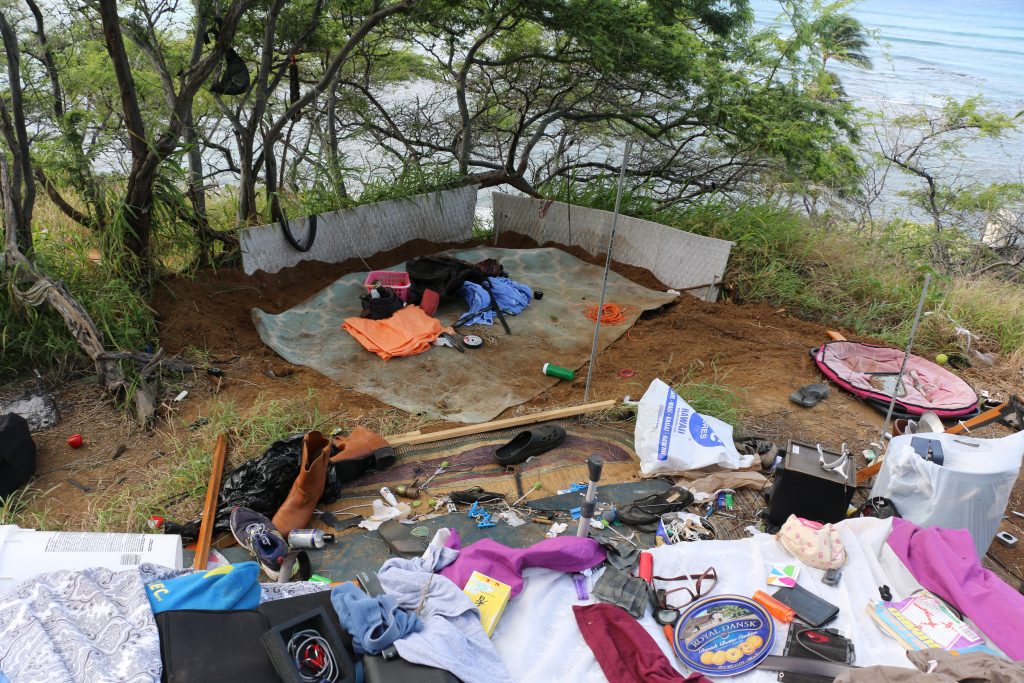 ILLEGAL CAMPS REMOVED FROM STATE  –  CITY & COUNTY LAND AT DIAMOND HEAD
Approximately Thirty Camps Removed by Government Workers/Contractors 
(HONOLULU) – A simultaneous removal of illegal camps on DLNR Division of State Parks land and enforcement of the Stored Property Ordinance by the City and County of Honolulu Dept. of Facility Maintenance on land under the control of the Department of Parks and Recreation started at 8 a.m. today.  26 camps were removed at the Diamond Head State Monument on the mauka-side of Diamond Head Road. The city focused on the removal of­­­ camps on the makai-side of the road, but does not yet have an estimate on the amount of material removed.
The issue of long-term homeless camps on both State and City & County lands is a long-standing one, with some residents saying they've lived on the slopes of Diamond Head Crater off and on for more than a decade.  The State hired a private contractor to clean the camps and bring thousands of pounds of rubbish down the mountain, to the road, to be loaded into trucks and dumpsters for disposal.  Ten days ago, all the camps were posted to inform people in them that they would have to move this morning.  The state contractor made several trips into the camps before today to provide trash bags. People were given the opportunity to collect their personal belongings and anything they wanted to keep – everything else is considered rubbish.
Curt Cottrell, Administrator of the Division of State Parks said, "These hidden camps on the slopes of Diamond Head State Monument present both public and personal safety and health issues.  There are no comfort stations, which means that people living in these camps often defecate in the trees and shrubs.  Many of the camps are littered with hundreds of plastic bottles, a vast array of bicycle parts, inoperable mopeds, and just about anything you can imagine.  During heavy rains all of this trash, along with any human waste can wash directly into the ocean creating a real potential public health hazard."
People moved from camps on both sides of Diamond Head Road have been offered services to help them transition into temporary or permanent housing. Many chose to maintain their "camping" lifestyle.  A small group of men swept off City & County property sat on a wall adjacent to Diamond Head Road watching workers bring load after load of rubbish off the mountain.  It's believed many of the people who've lived on Diamond Head long-term will re-establish their camps in time.  One woman who has taken up residence in an old military bunker said that she tries to maintain a clean camp.  "But as other people move into the area," she said, "they just mess things up."  Additionally, she has two small dogs and says she's on a waiting list for shelter space at a place that accepts pets.
Officers from the DLNR Division of Conservation and Resources Enforcement (DOCARE) and the Honolulu Police Department assisted in getting people out of the camps for today's cleanup.  There were no arrests or citations given.
When asked about long-term solutions to the problem of illegal camps at Diamond Head State Park, Cottrell explained, "If we put a fence around the entire crater people would simply cut through it.  In order to keep people out of here we'd need to have nearly constant law enforcement and from a resource stand-point that's just not practical.  The best we can hope for is that many of these people will tire of picking up and moving so often and will avail themselves to the multitude of services being provided for folks who don't have or can't afford permanent housing."
Media Contact:
Dan Dennison
Senior Communications Manager
(808) 587-0407