DEPARTMENT OF LAND AND NATURAL RESOURCES
News Release
DAVID Y. IGE
GOVERNOR

SUZANNE D. CASE
CHAIRPERSON
For Immediate News Release May 5, 2018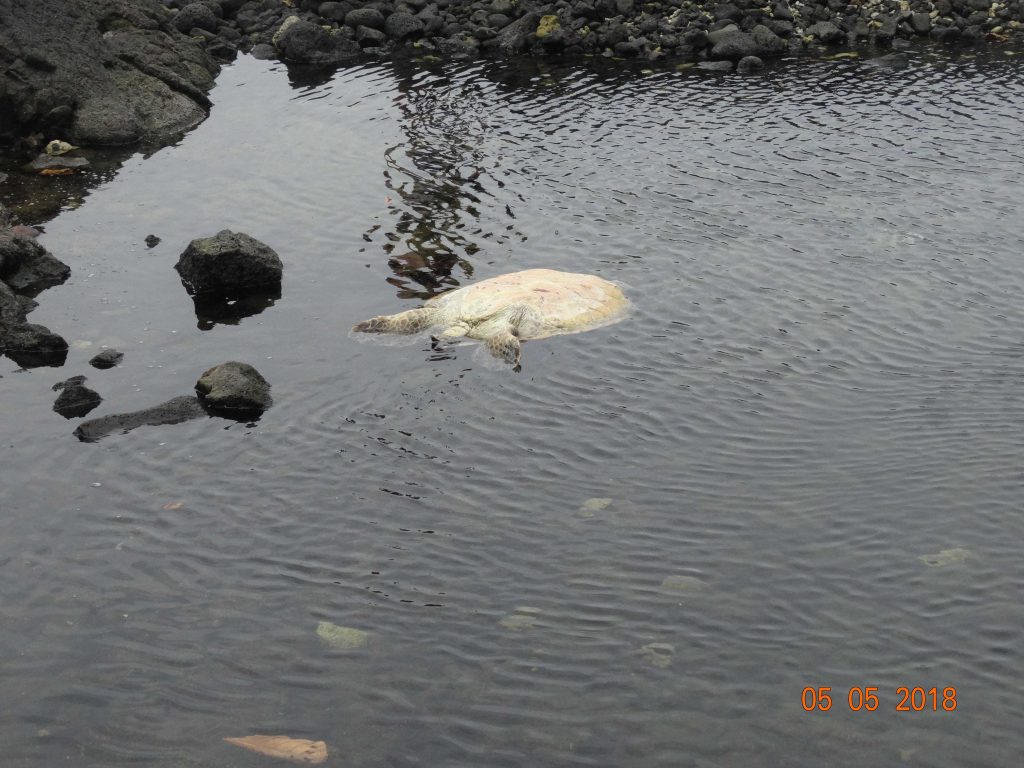 STATE CONSERVATION POLICE SEEKING INFORMATION ON TURTLE BUTCHER
Mature Female Green Sea Turtle Had Flippers Amputated
(HILO) – Officers from the DLNR Division of Conservation and Resources Enforcement (DOCARE) are seeking information about the person or persons who butchered a 250-pound green sea turtle at Onekahakaha County Beach Park in South Hilo. A DOCARE officer estimates the turtle's shell as at least 80 centimeters in size. Officers report that the turtle's front two flippers were amputated and it appeared the suspect(s) was interrupted and left the scene without the turtle.  
A couple came into the park at around 11 this morning and spotted the turtle floating belly-up in a cove behind some trees.  They called NOAA's turtle stranding team from UH-Hilo, which in turn notified DOCARE. The team has recovered the turtle and it will be flown to O'ahu for a post-mortem examination and to possibly provide additional evidence.  
Anyone with any information on this senseless killing is asked to call the DOCARE statewide hotline at 643-DLNR, report it via the free DLNRTip app on their smartphone, or call the DOCARE Hilo office at (808) 933-3460.  Stranded, entangled or injured marine mammals should be reported to the NOAA Fisheries Marine Mammal Hotline at 888-256-9840
Green sea turtles are listed as a threatened species and it is against both federal and state law to harass or harm them.
# # #
MEDIA CONTACT
Dan Dennison
Senior Communications Manager
(808) 587-0407
(808) 295-8749