07/04/18 – Waikiki Flotilla Revelers Stay Safe Thanks To Public Safety Emphasis; State & City-County Jet Skis Bring Hundreds to Shore
Posted on Jul 4, 2018 in DOCARE, News Releases, slider
DEPARTMENT OF LAND AND NATURAL RESOURCES
News Release
DAVID Y. IGE
GOVERNOR

SUZANNE D. CASE
CHAIRPERSON
For Immediate News Release July 4, 2018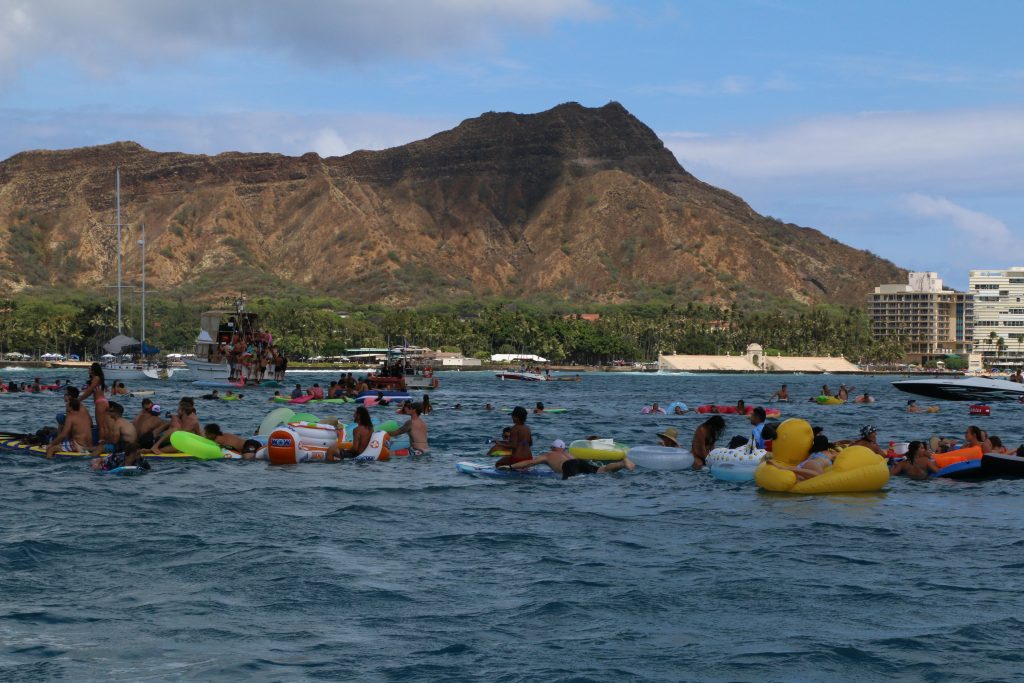 WAIKIKI FLOTILLA REVELERS STAY SAFE THANKS TO PUBLIC SAFETY EMPHASIS
State & City-County Jet Skis Bring Hundreds to Shore
(Honolulu) – Compared to the past two Independence Day flotillas off Waikiki, this year's was tame.  Officers from the DLNR Division of Conservation and Resources Enforcement (DOCARE) joined with counterparts from the Honolulu Ocean Safety and Lifeguard Services Division and the U.S. Coast Guard to show an enormous safety presence at today's annual ocean gathering.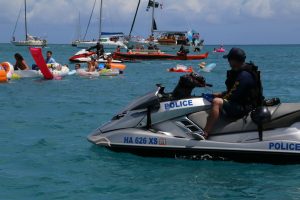 At one point a DOCARE officer counted 132 people in a floating conga line. Some were on individual inflatable toys, some were in groups atop rubber rafts with stand-up paddle boards and other water toys interspersed.  DOCARE also estimates 65 boats in the water at one point this afternoon.  Total crowd size is estimated at 500-600 which is likely half as many as in 2016 and 2017.
Mid-week 4th celebrations usually bring fewer people out, but it's believed reducing the number of people in the flotilla before they drink too much and have trouble reaching shore contributed to a safer event.  As of 6 p.m. there'd been no reports or arrests or medical emergencies.
All afternoon DOCARE officers and ocean safety personnel hauled partiers and their inflatables, by jet-ski, to shore. DOCARE estimates officers transported one hundred people to shallow waters off the beach.  Many asked for rides saying they were getting tired and doubted they could make it to shore on their own.
Jason Redulla, DOCARE Assistant Enforcement Chief said, "The focus on public safety is the highest priority for a law enforcement agency like DOCARE. Events like the floatilla divert enforcement focus from other important priorities such as our natural resources role on a day when many are outdoors using our state's recreational resources."    
# # #
MEDIA CONTACT
Dan Dennison
Senior Communications Manager
Hawaii Dept. of Land & Natural Resources
Communications Office
[email protected]
[email protected]
(808) 587-0396 (Communications Office)
(808) 587-0407 (Direct Line)