DEPARTMENT OF LAND AND NATURAL RESOURCES
News Release
DAVID Y. IGE
GOVERNOR

SUZANNE D. CASE
CHAIRPERSON
For Immediate News Release July 25, 2018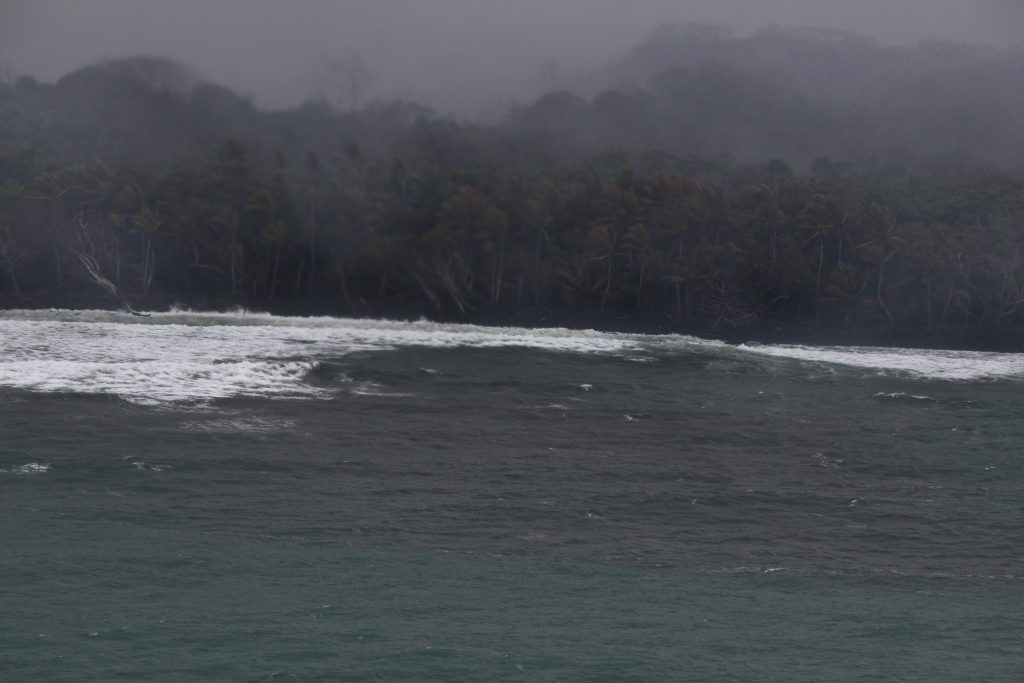 DLNR TEAMS UP WITH THE U.S. COAST GUARD TO INSPECT THE PUNA COASTLINE FOR TURTLES THREATENED BY LAVA
(Honolulu) -The U.S. Coast Guard Barbers Point Air Station provided space on a low-flying C-130 plane to DLNR representatives today to look for any green sea turtles that could be trapped by lava flowing into the ocean on the coast near Kapoho Bay and the Pohoiki Boat Ramp.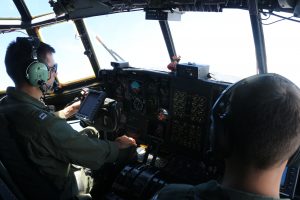 To the naked eye no turtles were visible. Ocean conditions are such that seeing turtles is next to impossible.  Ikaika Marzo, a permitted lava tour boat operator and cultural practitioner from the Puna area, said, "It would be very difficult to save turtles anywhere along the coastline at this point.  The water is so turbid and murky that it would be hard to even spot them up-close from the shoreline. The time has passed." Experts from NOAA Fisheries and DLNR say even if teams could have reached turtles depicted in social media postings, relocating these wild animals is fraught with challenges. Those include difficulty in capturing turtles in the ocean even by trained experts, lack of safe access by land or sea, risk of harm to turtles during capture, and no guarantees that turtles who have very strong home territory instincts wouldn't swim back after being relocated.
Today's overflight is the third mission in the past ten days initiated by DLNR to look for turtles in distress or in danger from the lava flow ocean entry in Puna.  Researchers believe many turtles – those that had clear paths to the ocean — swam away from the area. Various social media postings, some from  early June, indicate turtles that were apparently trapped and/or killed during an active ocean lava entry or in landlocked pools.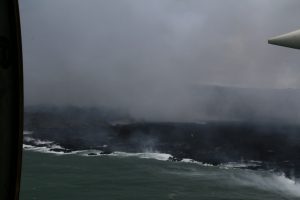 "We're charged with the mission of protecting Hawaii's natural resources and we obviously share everyone's concerns and sadness over the loss of turtles and any other aquatic and terrestrial wildlife," said DLNR Chair Suzanne Case. She added, "The eruption is obviously powerful and dangerous to both humans and wildlife."
Anyone who sees turtles or other animals trapped by lava (outside the restricted disaster zone) is encouraged to report it immediately to NOAA's statewide turtle stranding hotline 1-888-256-9840. You can also report it via the DLNR hotline at 643-DLNR.
Chair Case concluded, "As much as we'd like to rescue and save each creature impacted by the East Rift Zone eruption, much of it is simply beyond all of our control.  The restricted zones are necessary for public safety.  I really encourage everyone to respect and stay out of areas that are off limits as established by the Hawaii County Civil Defense Agency and the U.S. Coast Guard."
As of 2pm today the Pohoiki Boat Ramp had not been covered by advancing lava.  Visibility beyond the ramp into Isaac Hale Park was severely restricted by volcanic gasses and steam.
# # #
Media Contact:
Dan Dennison
Senior Communications Manager
Hawaii Dept. of Land and Natural Resources
1151 Punchbowl Street, Room 131
Honolulu, HI  96813
[email protected]
[email protected]
(808) 587-0396 (Communications Office)
(808) 587-0407 (Direct Line)
(808) 295-8749 (Cell)