DEPARTMENT OF LAND AND NATURAL RESOURCES
News Release
DAVID Y. IGE
GOVERNOR

SUZANNE D. CASE
CHAIRPERSON
For Immediate News Release August 1, 2018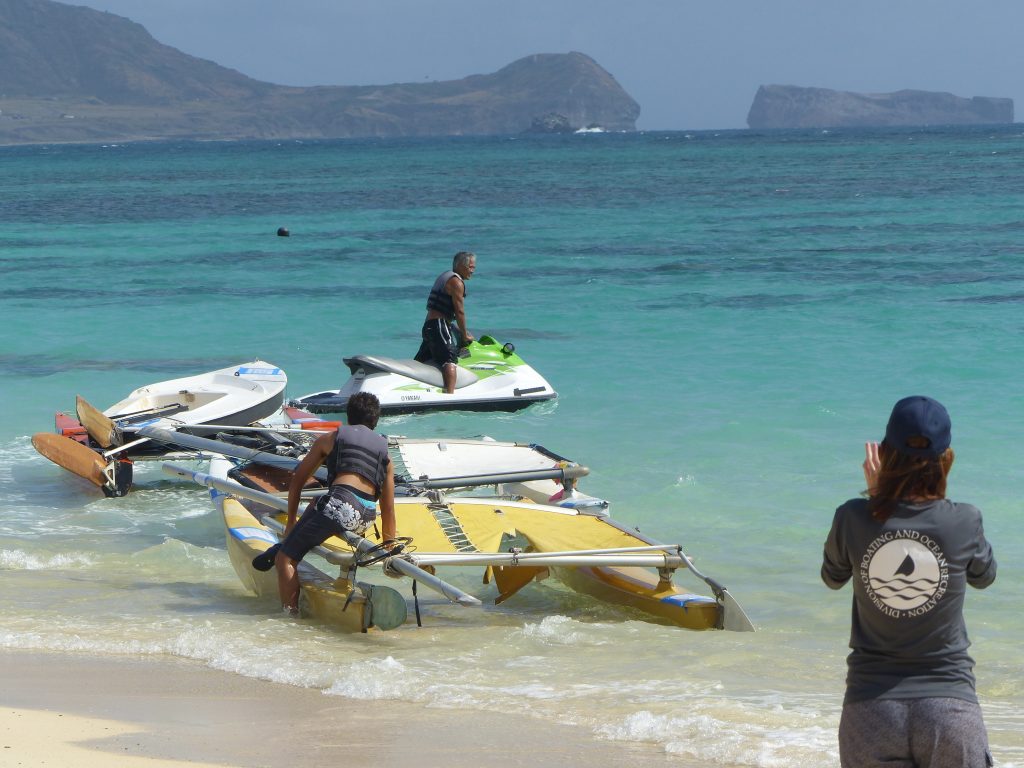 REMAINING UNAUTHORIZED VESSELS REMOVED FROM LANIKAI BEACH
(Honolulu) – In an effort to restore open beach space by removing unauthorized vessels from state unencumbered lands at Lanikai Beach, state boating officials on June 15 posted notice to advise owners of 90 small boats to remove these items or they would be impounded.
Yesterday, three catamarans and one sailboat were removed, as the DLNR Division of Boating and Ocean Recreation (DOBOR) staff, along with Division of Conservation and Resources Enforcement (DOCARE) officers, followed up on the impound deadline.  DOBOR is in the process of confirming the shoreline to determine whether additional vessels may also need to be removed from the beach.
Ed Underwood, DOBOR administrator said, "We have listened to the numerous community concerns about privately owned vessels being stored illegally and taking up large portions of public beach area at Lanikai.  This enforcement action by DLNR was in response to those concerns. We will continue to monitor and seize all vessels that are being stored overnight on the beach without a permit." 
Meghan Statts, DOBOR O'ahu district manager said, "We provided ample time for owners to act on the impound notices. We are glad that the majority of the 90 vessels were removed voluntarily. We have had very good community support of our efforts to restore open beach space."
The four vessels removed were relocated to an impound yard in the Ke'ehi small boat harbor. DOBOR will follow its impound procedures, issue a legal notice and, if not claimed by their owners, the vessels may be put up for auction if their individual value exceeds $5,000. If they are worth less, they will be disposed of.
Based upon the law, DOBOR staff is working with duly organized canoe clubs to bring permits for overnight storage on the beach from the Board of Land and Natural Resources.
# # #
Media contact:
Deborah Ward
Communications Specialist
Hawaii Dept. of Land and Natural Resources
(808) 587-0396 (Communications Office)
(808) 587-0320 (Direct Line)