DEPARTMENT OF LAND AND NATURAL RESOURCES
News Release
DAVID Y. IGE
GOVERNOR

SUZANNE D. CASE 
CHAIRPERSON
For Immediate News Release September 7, 2018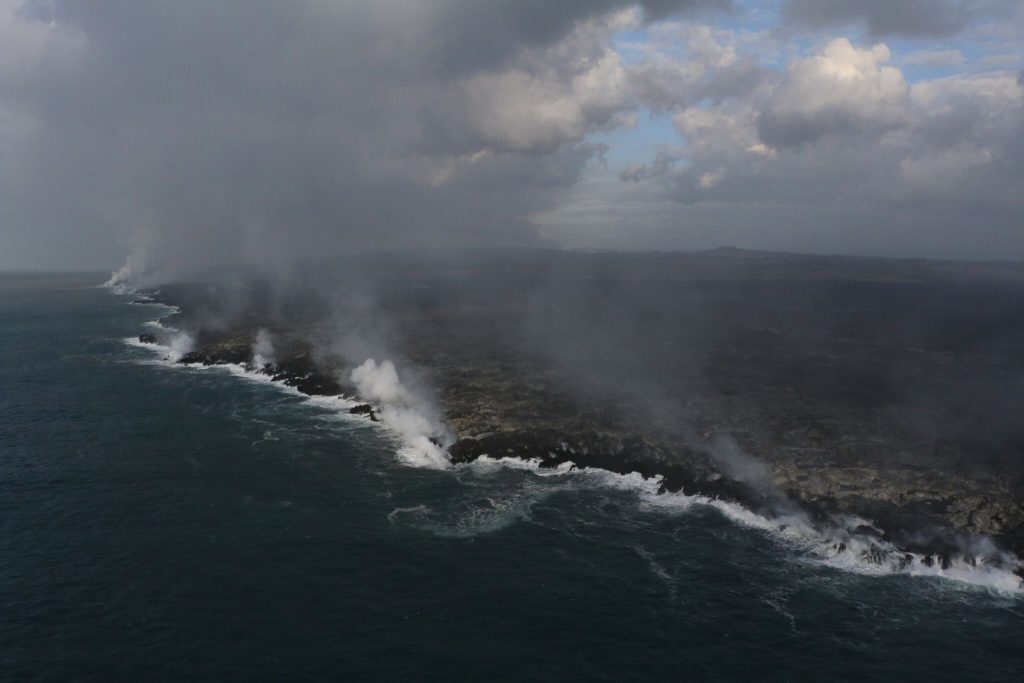 'click on image to watch video'
MACKENZIE STATE RECREATION AREA TO REOPEN SATURDAY
People Crossing Through the Park Urged to Exercise Extreme Caution
(Hilo) – The DLNR Division of State Parks, in consultation with other DLNR divisions and the Hawai'i County Civil Defense Agency is reopening MacKenzie State Recreation Area (SRA) in Lower Puna on Saturday, Sept. 8, 2018.  The park had been closed since shortly after the beginning of the East Rift Zone eruption in early May.
While the park is reopening, there are continuing restrictions for people traveling across recent lava flows to reach the shoreline at Pohoiki.  The route traverses through a portion of the Malama Kī Forest Reserve, which was also closed for several months, and over state unencumbered land.  The forest reserve, also closed for several months due to eruptive activity, is reopening simultaneously with MacKenzie SRA.  A safety buffer of 50 meters from recent lava flows in the forest reserve will be maintained until further notice. Anyone venturing into the restricted zone is still subject to citation or arrest for loitering in a disaster zone. More than 90 people were cited over the course of several months when the entire area had been declared off-limits.
Gordon Heit, the Hawai'i island Land Agent with the DLNR Land Division warned, "We expect a significant number of people will be wanting to explore the newly created beaches on the unencumbered lands north of MacKenzie SRA. People need to use extreme caution when approaching the water.  In some locations, steep, unstable cliffs were formed by recent lava flows and they drop into very deep water where ocean currents are very unpredictable." 
Hikers, sightseers and ocean recreationists should carry ample water, have sun protection and wear sturdy footwear to cross over the rough and uneven ground from MacKenzie to Pohoiki.
The state boat ramp at Pohoiki was never closed during the eruption, but is currently cut off from the ocean by a new black sand beach.  Officials from the DLNR Division of Boating and Ocean Recreation (DOBOR) plan to assess conditions at Pohoiki again next week to determine whether in the future the boat ramp can be used again or begin making plans to build a new ramp at another location along the lower Puna coast.  The construction of a new ramp is dependent on funding and road access to the shoreline.
Lava Tree State Monument, closer to Fissure #8, remains closed and will need significant repairs to make it safe after earthquakes associated with volcanic activity cracked sidewalks and potentially damaged the park's water system, leaving comfort stations inoperable.
DLNR State Parks Administrator Curt Cottrell said, "We are reopening MacKenzie SRA and it is anticipated that many people will use it as the gateway to hike to Pohoiki. We strongly encourage anyone making this trip to be completely self-sufficient and well prepared. The landscape has changed in dramatic and still unknown ways and folks need to be very cautious and pay attention to the terrain."
# # #
RESOURCES
(All images/video courtesy: DLNR)
HD video-MacKenzie SRA, Pohoiki Boat Ramp, Issac Hale Park, Lava Tree State Monument, Lower Puna coastline and Fissure #8 (July 7, 2018):
Media Contact:
Dan Dennison
Senior Communications Manager
Hawaii Dept. of Land and Natural Resources
1151 Punchbowl Street, Room 131
Honolulu, HI  96813
(808) 587-0396 (Communications Office)
(808) 587-0407 (Direct Line)
(808) 295-8749 (Cell)