DEPARTMENT OF LAND AND NATURAL RESOURCES
News Release
DAVID Y. IGE
GOVERNOR

SUZANNE D. CASE 
CHAIRPERSON
For Immediate News Release: October 21, 2018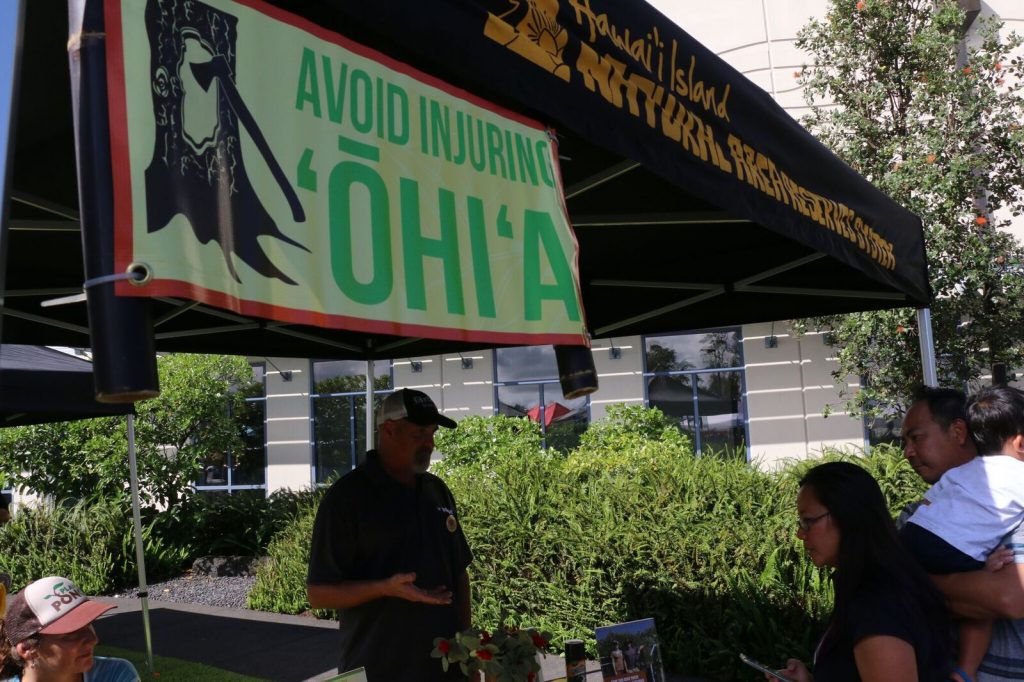 (Hilo) – Rapid ʻŌhiʻa Death (ROD), the fungal disease that's impacted hundreds of thousands of acres of native 'ōhi'a forests in Hawai'i, is the actual reason for the ʻŌhiʻa Love Festival today at the 'Imiloa Astronomy Center. Now in its second year, more than a thousand people honored 'ōhi'a and the many people working to stop the spread of ROD and find effective treatments for it. The festival goes beyond the disease.
Corie Yanger, is one of the primary movers behind today's celebration. She works for the University of Hawai'i's College of Tropical Agriculture and Human Resources on ROD outreach and education.  She said the primary message she hopes people walked away with is, ʻŌhiʻa are important for many different reasons.  Personal, biological and of course culturally. We hope everyone brings their reasons forward so we can celebrate them and all come together to combat Rapid ʻŌhiʻa Death."
Yanger added, 'Ōhi'a plays an integral role in our ecosystems and culture. We are all connected to 'ōhi'a in some way, may it be the water we drink, the ecosystems we protect, the lei we adorn, the mele we compose, the beauty we take in while hiking, hunting, or even driving over the Saddle, or that beloved tree in your backyard or favorite forest. We wanted these connections and our love for 'ōhi'a to show."
Some 40 booths took up space outside and inside the astronomy center. The festival included presentations, demonstrations, Rapid 'Ōhi'a Death info, educational displays, crafts, games, photo booth, food, entertainment, face painting, a keiki scavenger hunt and an adult photo scavenger hunt.
Yanger was impressed by how much knowledge about ROD has increased since the first year of the festival.  Last year, she explained, most everyone knew something about 'ōhi'a but maybe not about the disease.  "This year a lot more people know about Rapid 'Ōhi'a Death, so we're trying to build on that knowledge and expand it further into the community. There was a lot of sharing of information back and forth," she said.
The festival began with a Kīpaipai, which in Hawaiian means "to inspire." The 'Ōhi'a Love Festival was hosted by the DLNR Division of Forestry and Wildlife (DOFAW) and the University of Hawai'i. Funding support was provided by the Hawaii Tourism Authority.
# # #
Media Contact:
Dan Dennison
Senior Communications Manager
Hawaii Dept. of Land & Natural Resources
Communications Office