DEPARTMENT OF LAND AND NATURAL RESOURCES
News Release
DAVID Y. IGE
GOVERNOR

SUZANNE D. CASE 
CHAIRPERSON
For Immediate News Release: October 23, 2018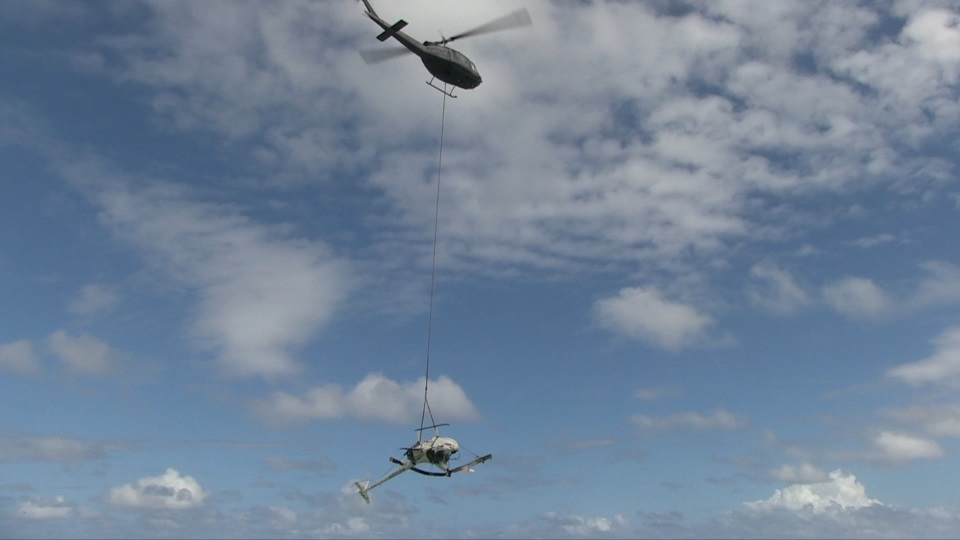 (Click on image to watch video)
HELICOPTER WRECKAGE AIRLIFTED FROM NEAR AHU O LAKA SANDBAR
Three DLNR Divisions Involved in Recovery and Damage Assessment
(Honolulu) – The wreckage of a Robinson R44 helicopter was airlifted out of waist deep water in Kaneohe Bay just before noon today.  Two DLNR Division of Conservation and Resources Enforcement (DOCARE) officers assisted a rigger from Pacific Helicopters in getting straps and ropes around the chopper, which had turned on one side during or after the accident. With four DOCARE officers creating a safety zone around the downed aircraft, a Bell UH-1 (Huey) helicopter based on Maui, lifted the wreckage out of the water and less than 10 minutes later had ferried it to Heeia-Kea Small Boat Harbor, where DLNR Division of Boating and Ocean Recreation (DOBOR) staff had cordoned-off a large section of the parking lot for the recovery operation.
The helicopter owned by Novictor O'ahu Helicopters was on a tour when it went down shortly after 5 p.m. on Monday. The accident happened on the ocean-side of the Ahu O Laka sandbar which is a popular location for tourist boat tours. The pilot and two passengers were seriously hurt but it's reported none of their injuries are considered life-threatening. When the salvage team reached the wreckage this morning half of it was above the water with one skid and the tail rotor sticking out of the ocean.  A large part of the engine cowling and a door appeared to be the only parts of the helicopter that broke apart from the fuselage. DLNR Division of Aquatic Resources (DAR) reef experts had asked the DOCARE officers to report any damage to coral reefs and it appears there was none. The officers did not detect any fuel leakage into the water but reported smelling fuel only when near the chopper.
After the craft was lowered onto the parking lot, any remaining fuel was drained and the Honolulu Fire Dept. sent personnel to contain any that leaked onto the lot.  An expert from the State Dept. of Health was also on hand along with two U.S. Coast Guard representatives.
# # #
Media Contact:
Dan Dennison
Senior Communications Manager
(808) 587-0396