DEPARTMENT OF LAND AND NATURAL RESOURCES
News Release
DAVID Y. IGE
GOVERNOR

SUZANNE D. CASE 
CHAIRPERSON
For Immediate News Release: October 25, 2018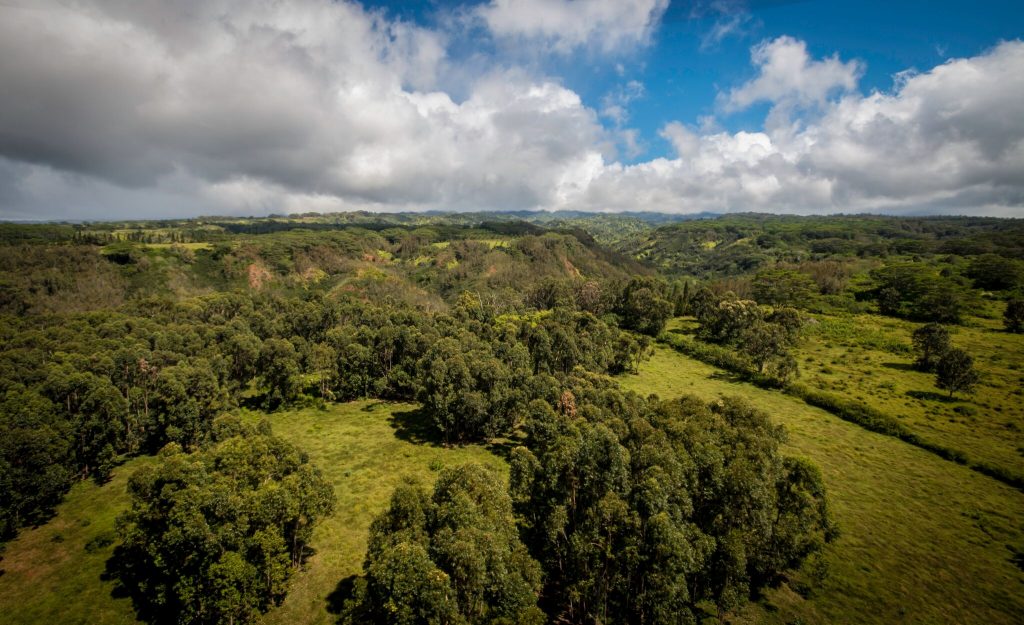 (Click on image to watch video)
HELEMANO WILDERNESS RECREATION AREA ACQUIRED FOR CONSERVATION
Nearly 2,900 acres of mountain watershed and lands set for native reforestation and recreation
(Honolulu) – A recent land acquisition involving federal, state and private-sector partners will result in Oʻahu residents gaining new outdoor recreational opportunities, while protecting Central O'ahu's aquifer and improving habitat for native species, many of them endangered.
The Trust for Public Land and the Hawaiʻi Department of Land and Natural Resources, Division of Forestry and Wildlife (DOFAW), have completed the purchase of 2,882 acres of Central Oʻahu forest and fallow lands from Dole Food Company. Working with the community, DOFAW will create a multi-resource management plan that offers a variety of outdoor recreation opportunities and guides forest restoration, water source protection, and native species habitat improvement.
The Helemano Wilderness Project will provide substantial community benefits. For more than a century, access to the public hunting area at the Poamoho Forest Reserve and the entrance to the historic Poamoho trail, the premier route to the Koʻolau summit, has been on private land. Securing public access through purchase of this property, DOFAW will work with interested stakeholders and user groups to provide access in a more comprehensive way than was previously possible. DOFAW will also explore opportunities for ADA-accessible camping areas, places to picnic, forest-product gathering sites, hunting, and diversified recreation.
In addition, DOFAW will improve habitat for native species by controlling invasive plants and predators in the mountainous portions of the property, while reforesting other areas with native species, high value forest products, and edible forest plantings. DOFAW will partner with Hawaiʻi's hunting community to reduce damage to native resources in select areas, while improving hunting opportunities in other areas. This management approach will recharge the Central Oʻahu aquifers fed by the Helemano, Poamoho, and North Fork Kaukonahua streams, securing clean drinking water for generations to come.  
The elusive, endangered ʻŌpeʻapeʻa, or Hawaiian Hoary Bat, is the official state land mammal. Permanently protecting this property will preserve an existing quality bat habitat, while reforestation efforts will create substantially more feeding and roosting opportunities for bats, along with improved habitat for endangered birds, insects and plants living in native forested areas.
"Watersheds and forests are the very foundation of our lives in these islands, and this partnership is a terrific win for the community and the environment," Gov. David Ige said. "The Legacy Land Conservation Program leveraged more than $13 million in matching funding from federal and private partners to make this purchase possible. We will continue to create opportunities to improve and sustain the 'āina for everyone to enjoy."
Suzanne Case, Chairperson of the Board of Land and Natural Resources, added: "These areas of Helemano and upper Wahiawā, sitting at the foothills of the Koʻolau mountains, combine native forest, watersheds, and good soils in an accessible central location to create an ideal setting to support our communities' physical and spiritual sustenance. We are excited to add these lands to the public trust inventory managed by the department for the people of Hawai'i."  
Lea Hong, Hawaiian Islands State Director, originally from Wahiawa, stated, "The Trust for Public Land thanks Dole Food Company, its Chairman David Murdock, and his Hawaii team Harry Saunders and Dan Nellis, for working with us and the State through many hurdles to see that this land is conserved for the public.  We would also like to extend very special thanks to Andres Albano of CBRE, Dole Food Company's broker, for facilitating the transaction.  Andy is originally from Whitmore, and his dedication and hard work contributed greatly to saving this land around his and my own hometown for future generations."
Funding for the $15,163,800 purchase was made available through an incredible partnership, including contributions by federal, state and private partners:
U.S.D.A. Forest Service Forest Legacy Program ($5 million)
Navy Region Hawaii Encroachment Partnering Program ($3.5 million)
Kawailoa Wind, LLC ($2.75 million)
U.S. Fish and Wildlife Service Habitat Conservation Planning Acquisition ($2 million)
State of Hawai'i Legacy Land Conservation Program ($1,513,800)
U.S. Fish and Wildlife Service Pittman-Robertson Fund ($400,000)
# # #
RESOURCES
HD video: aerial tour of Helemano Wilderness Project area (Courtesy: DLNR)
Map:
and
Fact Sheet:
Media Contacts:
Lea Hong                                                Dan Dennison
Hawaii State Director                          Senior Communications Manager
The Trust for Public Land                   Dept. of Land and Natural Resources
[email protected]                                  [email protected]
(808) 524-8563                                   (808) 587-0396
(808) 783-3653 (cell)