DEPARTMENT OF LAND AND NATURAL RESOURCES
News Release
DAVID Y. IGE
GOVERNOR

SUZANNE D. CASE 
CHAIRPERSON
For Immediate News Release: November 2, 2018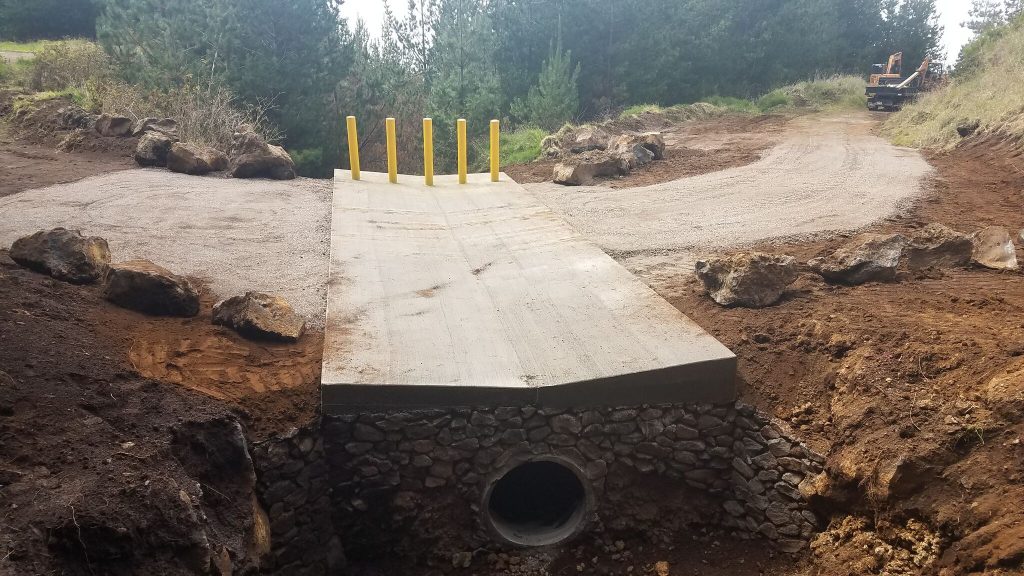 KULA FOREST RESERVE AND POLIPOLI SPRING STATE RECREATION AREA REOPENS FOLLOWING ROAD REPAIRS AND FUEL MITIGATION WORK
KAHULUI – The Department of Land and Natural Resources (DLNR), Division of Forestry and Wildlife (DOFAW) and State Parks Division today opened the Kula Forest Reserve, Waipoli access road, Kahikinui Forest Reserve – Papa'anui Tract, and Polipoli Spring State Recreation Area, following completion of a two-month project for road repairs, road safety improvements, and fuel mitigation work.  
Contractor Sonny Vick's Paving, Inc. was contracted to install approximately 3,000 feet of paved swale along designated road sections that had the most runoff issues and damage caused by runoff during high rain events. This step will help minimize debris and sediment displacement along the road shoulders of the Waipoli access road. Placement of the swales will help efficiently and safely divert runoff into natural drainages within the area. This also reduces the frequency for maintenance work requiring heavy machinery and man hours.
Vares Contracting Inc was hired to install a drainage culvert across a section of the unpaved access road. In the past several years, heavy rains causing copious amounts of runoff would wash out this section of the road because there was nothing in place to channel runoff/water across the road. This situation often required temporarily closing the forest reserve to conduct road repairs using heavy machinery and man hours. This improvement will now allow for safe travels across this section of road during high rain events.
Forestry staff also conducted fuel reduction (cutting and chipping vegetation along the sides of the road) work and improved a few existing firebreaks within the forest reserve.
# # #
Media contact:
Deborah Ward
DLNR Communications Specialist
(808) 587-0396 (Communications Office)
www.hawaii.gov/dlnr       www.facebook.com/HawaiiDLNR          www.twitter.com/dlnr